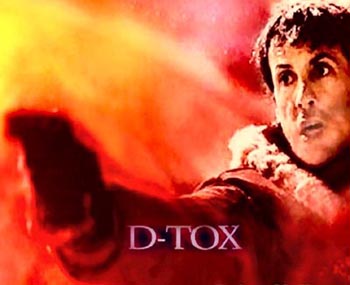 STALLONE LONGS TO BRING BACK ROCKY
Sylvester Stallone/D-Tox Interview by Paul Fischer in Los Angeles.

Once upon a time Sylvester 'Sly' Stallone, the poor, abused kid from New York's Hell Kitchen, was a proud member of Hollywood's elite. But these days, Hollywood may have turned it's back on the Oscar winning creator of Rocky Balboa. His latest film, a violent thriller called D-Tox, may not even get a theatrical release in North America and has taken 2 years to see the light of day. But like Rocky, Stallone is down but not out, and he is handling his varied success with a distinct sense of humour as Paul Fischer discovered when he met the star in a Los Angeles hotel.

Dressed all in black, Sylvester Stallone looks a youthful 52. Despite his age, the still rugged star scoffs at the idea that he is too old running around and shooting people as he does in the new Hollywood thriller "D-Tox." "You kidding me?" he questions laughingly. "Do these look old to you?" He refers to his muscles which he clearly enjoys flexing. It's part of the game which Stallone loves to play.

Whether he is promoting a film about which he is passionate or one that he admits isn't' perfect, Stallone knows how to play the room. He does so with a charming perfection. He doesn't seem to care that "D-Tox", a rather silly thriller which casts Sly as a Federal agent trying to catch a cop-hating serial killer, was not quite the classic he had hoped for. After all, there has to be a logical reason why the film has been kept away from theatres since wrapping production back in May 1999. "I understand if you hate this movie, it's a dark, horrible film and that's ok." Of course he's only half joking. He wants to lay it all down on the table: "D-Tox" is no feel-good movie. "It's a descent into hell and your worst horror, a journey through Hades without asbestos, it's as dark as it gets." Sly adds with a broad grin.

Serious or not, Stallone is both bemused and philosophical when asked to ponder why it is the film is not being released in the US at least initially. "It's weird, because I guess they just want to see if it works foreign or whatever. It's a different kind of mentality."

Different perhaps the mentality that kept Stallone at the top of his game for two decades, through the successes of both the "Rocky" and "Rambo" franchises, and the failures of the likes of "Rhinestone", "Stop, Or my Mom will Shoot", and even last year's multi-million dollar fiasco, "Driven". Yet somehow Stallone manages to rise through it all and his next film could be another Cop Land.

But on "D-Tox", Stallone knew what he was getting into and was eager to embrace a fresh genre. Yet the actor defends the film's international release, arguing that "Americans have a different perception of films, as opposed to Europeans and Australians, who are a little bit broader based in their tastes." Yet even using that argument, a Stallone film that takes some 2 years to hit cinemas, is a rarity, and the actor has no real answer. "I think they were just taken aback and didn't quite know how to perceive it and I think when it was done they were just extremely nervous about the whole thing."

Stallone's Jack Molloy in "D-Tox" is an FBI agent with a drinking problem, that ensued following the brutal murder of his fiancé at the hands of a deranged serial killer who targets cops, and Molloy in particular. Now a drunk, he joins nine other troubled law enforcement officers at an isolated detox clinic in the wilds of Wyoming. But the therapeutic sanctuary becomes a nightmarish hellhole when a major snowstorm cuts off the clinic from the outside world and enables a killer on the inside to get busy. He may be Molloy's initial nemesis.

"I haven't really done a full-on thriller; I really like those films because they really get you out of your seats, like "Memento" or "Seven", Stallone explains when discussing his reasons for taking on "D-Tox". "I think what we ended up doing didn't quite sit right with the studio bosses who had different expectations."

There is of course that other argument, that the Hollywood of post-September 11 is wary of gratuitous screen violence, of which there are copious amounts in Stallone's "D-Tox", and Stallone admits that "gratuitous violence is a thing of the past." Yet at the same time, he jokingly concedes that the villain's demise in "D-Tox" needed to be re-shot because he wasn't despatched appropriately. "That final scene was an afterthought; I had that actor brought back to do that."

Whatever one may think of "D-Tox", Stallone loves emphasising that audiences seeking "chipper entertainment" will be sadly disappointed. "You're not going to walk out clicking your heels and grinning from ear to ear." So why see it, begs the question. "Because it tries hard to be a bit different, the hero is more a reactive character which is a different persona from me." But at the end of this cold tale of isolation and murder, Stallone is happy to report that his next film will make audiences walk out with a smile on their faces. "If you want to see that, then hang out for "Avenging Angelo" [co-starring the late Anthony Quinn]. THAT one I actually like; if you don't like that one, I give up and I'll never speak to you again because then I can't figure you out."

Beyond "Angelo", opening here in May, Stallone hopes to resuscitate his beloved "Rocky". "It's true that I've written a story for Rocky VI," Sly concedes. "This one will hopefully bring forward Rocky's more spiritual side. I really love this character, he's a part of me and I'm longing to bring him back. There are guys my age who still box, after all." Stallone is even prepared to get back to the tough physical regiment required to shoot another "Rocky". "It's brutal, very tough, but I'll do what is necessary to make it real." As for the "Rambo V" rumour, Stallone wants it known that "Rambo is dead and buried. I want it known I'm not going after Bin Laden or anyone else for that matter."

Always Sly, it's good to see that Michael Sylvester Enzio Stallone, is not taking himself too seriously after all.