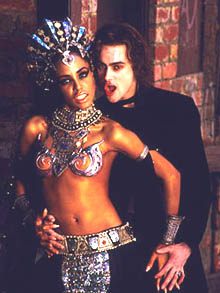 STUART TOWNSEND: VAMPIRES BE DAMNED
Ireland's latest heartthrob Stuart Townsend is about to take Hollywood by storm, what with his starring role as that ageing vampire Lestat in the Australian-shot Queen of the Damned and his new romance with the gorgeous Charlize Theron. In this conversation with PAUL FISCHER, Townsend fesses up on vampires, Aaliyah, boozing with the Aussies and his forthcoming trip to the Australian outback with Miss Theron.

Stuart Townsend is your classically good-looking Irishman, the kind of guy one can easily see as a vampire. Being Irish, he doesn't take himself too seriously. But then how can he, playing an eternal bloodsucker like Lestat. "I think for me it was the opportunity to fulfil all those teenage fantasies of being a rock star", Townsend laughingly concedes in his thick Irish brogue. After all, this version of Anne Rice's trilogy has Lestat 'reborn' as it were as a rock god. "A lot of people ask me, if it's intimidating because Tom Cruise was the star of the original and that kind of thing, but for me, it was just such a different story, it was rock and roll," and Townsend lapped it up.

An adaptation of two of Anne Rice's best-selling novels, both Queen of the Damned and the Vampire Lestat, Australian director Michael Rymer's take on the supernatural adventure follows the legendary vampire Lestat who reinvents himself as a rock star in the contemporary American music scene. His music wakes Akasha (the late Aaliyah), the queen of all vampires, whose malevolent power is so great that all the immortal vampires must stand against her if they hope to survive. As Lestat's music inspires Akasha to make him her king, Jesse (Marguerite Moreau), a young woman with a fascination for the dark side, falls in love with Lestat.

Townsend found the character compelling from the outset, he recalls. "I thought there was a sensitivity. He loved music and he was creative and he wasn't given a choice. He was just created, then he was left alone and then spends a couple of hundred years hiding in the shadows, wanting to enjoy all these powers and wanting to connect but literally emerging as this solitary bird. He despises that, even though he's monstrous at times but he kind of has to deal with that, along with existence."

The film does raise the question: Would we want to live forever? Townsend says no. "Because it would be a drag. Why do we all watch movies? Reality is quite mundane but we have great imaginations such that, you know, there are tons of beautiful things in this world, but I don't think I'd like to be around forever."

Not a likely prospect after his arduous shoot in the Australian city of Melbourne, he recalls laughingly. "It was great being in Melbourne. It was one of the best crews I've ever worked with. They were just my kind of people - Work hard, play hard." Townsend managed to drink a few of the Aussies under the table. "Bunch of pussies the Aussies", Townsend whispers laughingly. "They were pretty good, actually, because they've got a bit of Irish in them which makes 'em ok." Seriously though, "everyone just worked pretty hard and then the weekends, these guys, every night, the weekends, just partying away. It was just great because we were away from family and friends."

Lots of partying might have taken place, but Townsend's mood changes when then conversation inevitably turns to the late Aaliyah, the 22-year old singer who tragically in a plane crash last year, shortly after completing principal photography on Queen of the Damned. "Working with her was amazing," Townsend quietly recalls. "She was a really special person and, I mean amazing on set. We'd walk around and she created this fantastic character, but it was always a sense of fun, like the shoot was fun, and most shoots aren't, and with her, she's very serious about work but off set or in between takes, she was always a lot of fun."

Like everyone who worked on Queen of the Damned, Townsend was in a state of shock following her death. "I didn't know if I'd be able to meet the press and sitting here, doing this, but thankfully, her family want the public to see her performance because it's wild."

Townsend, who recently starred in the cute comedy About Adam, was born in a tiny town in Dublin, Hoath. He recalls wanting to be an actor because he just "loved film and I was bored. It was a very small village I grew up in and we were fed American culture. I mean, Australia's interesting because it's sort of wedged in between English and American culture and so was Ireland. A lot of people understood the cultural references and I felt more connected to Aussies than anywhere."

Townsend was born to pro golfer Peter Townsend and Lorna Townsend, a well-known former model who died in 1994. He first became interested in performing through his then-girlfriend, who was studying at the Gaiety School of Acting. Townsend also enrolled at the school and made his stage debut in the school's production of Tear Up the Black Sail. He made his professional stage debut in John Crowley's True Lines. In 1996, Townsend broke onto the screen with his role in Gillies MacKinnon's Trojan Eddie. Portraying a seductive young man who steals away a bride from her groom on their wedding day, Townsend was afforded the opportunity to work with the legendary Richard Harris. His exposure in the film led to his first starring role, in Shooting Fish (1997), a successful comedy which cast him as a sweet-natured con man.

That same year, Townsend had a supporting role in Carine Adler's acclaimed drama Under the Skin, engaging in emotional dysfunction and phone sex with the film's heroine. He also made a terrifying impression in the Irish crime thriller Resurrection Man, playing a psychotic killer. Townsend subsequently extended his talents to period drama, portraying an impoverished Jew in 19th century Silesia in Simon Magus (1998) and playing a dual role in the 16th- and 20th century-set The Venice Project (1999). In 1999, he was also visible in Michael Winterbottom's Wonderland, an ensemble drama that screened at that year's Cannes Film Festival.

With Queen of the Damned, Townsend's Irish star may be rising, and the actor just hopes "that better scripts come in my door. I mean, it's shocking, the material that one gets to read where you go: Come on, are you serious? But then sometimes a script comes in and you go: This is amazing and then it just goes straight over to someone else. I want this film to enable me to receive a script that has MY name on it. Because there's nothing worse than going: I can really do something with this and then they give it to some guy who might not have as much talent but he's big at the box office. I just hate that, you know?"

Townsend just finished shooting the crime thriller 24 Hours, where he fell in love with co-star Charlize Theron, whom he gleefully describes as both "tall and fearless." He is about to take her to Australia while he promotes Queen of the Damned, then "I'm going to grab a tent and go out to the Outback for a week." A daring move? "Nah, she's more adventurous than I am. After all, she's a farm girl, you know."