SESAME STREET'S HISTORIC 50TH SEASON AIRS ON ABC KIDS ON JULY 11th 2020 WITH STAR-STUDDED SPECIAL
Landmark season introduces a new child cast member and confronts the stresses and pressures faced by today's kids

Celebrity guests include Chrissy Teigen, Charlie Puth, Meghan Trainor, Misty Copeland, Elvis Costello, Dave Grohl, and many more.

Sesame Street got its start at the height of the civil rights movement and the war on poverty, in answer to a simple but powerful question: could television help prepare less advantaged children for school?

In 1969, the show's founders tapped researchers, entertainers, and other visionaries to create a "street" like no other, where colourful monsters, humans, and even grouches lived side by side. Today, Sesame Workshop – the non-profit organisation behind the iconic show, which has grown to reach kids and families in more than 150 countries and 70 languages – is proud to announce the launch of Sesame Street's landmark 50th season in Australia.

The new season begins with Sesame Street's 50th Anniversary Celebration, a star-studded special that offers a sweeping look at 50 years on the Street. Hosted by Joseph Gordon Levitt, the special reimagines classic segments and songs like "People in Your Neighborhood" and "It's Not Easy Being Green" as the Sesame Street friends get ready for a big celebration.

Sesame Street's 50th Anniversary Celebration includes cameos from rarely-seen characters like Roosevelt Franklin and Kermit the Frog, and visits from celebrity guests Whoopi Goldberg, Patti LaBelle, Elvis Costello, Meghan Trainor, Sterling K. Brown, Norah Jones, Nile Rodgers, and Itzhak Perlman. Nearly every human cast member returns including Bob McGrath (Bob), Sonia Manzano (Maria), Emilio Delgado (Luis), Loretta Long (Susan), Roscoe Orman (Gordon), and Linda Bove (Linda) and legendary puppeteers Fran Brill and the late Caroll Spinney also appear in the special.

It will air in Australia for the first time on ABC Kids on Saturday 11th July at 9.30am, and will also be available on ABC iview and the ABC Kids app.

The first episode of the 50th Season will then premiere on Wednesday 15th July at 9.30am on ABC Kids. The season's celebrity guests include: Chrissy Teigen; musicians Charlie Puth, Dave Grohl, and Maren Morris; ballet dancer Misty Copeland; and comedian Michael Che. The season also introduces "Big Bird's Road Trip," a special segment that tours the United States and beyond to find out what kids love about where they live. In each instalment, Big Bird meets new friends – in person or via video chat – and learns all about their families, interests, and neighbourhoods.

"As we mark our 50th season, we want to remind families everywhere of the timeless lessons Sesame Street has always taught," said Steve Youngwood, President of Media & Education and Chief Operating Officer of Sesame Workshop. "Everyone, no matter where they are from, is equally deserving of respect, opportunity, and joy."

Later in the season, a new neighbour will come to Sesame Street. Played by Violet Tinnirello, 8-year-old Charlotte – her friends call her "Charlie" – is the first child to join the Sesame Street cast in more than 20 years. Charlie moves to the neighbourhood with her family, bringing viewers along for the ride as she explores her new home for the first time.

"We can't wait to share this season with Australian families and fans of all ages," said Ben Lehmann, Executive Producer of Sesame Street. "Even as we take time to look back and honour our history, we keep innovating to bring today's preschool kids something that's tailored just for them – holding on to all the fundamentals that make Sesame Street so magical."


Interview with Cookie Monster
Question: Hi Cookie Monster! How have you been?

Cookie Monster : Hiya! Me been good and staying healthy by having virtual dance parties with friends. Dat good for exercise. Me also making sure to wash me hands a lot, and eating healthy foods, and getting plenty of sleep.

Me do miss seeing me friends but me been using the internety to talk to them.


Question: What have you been up to during isolation?

Cookie Monster : Me organising snack chats with me friends, making healthy snacks and trying new foods like hummus.

Baking cookies? Typically me more of a cookie taster than cookie baker, but me learning to bake cookie recipes with the help of me friends. Me want to taste the ingredients like cranberries and almonds and me favorite chocolate chippies, but me friends are teaching me how to control me self. Me learning strategies like sing song as me bake or to talk me self through not eating ingredients. Me say to me self over and over, "me no eat ingredients! Me no eat ingredients. Me wait for delicious cookies!" Then before me know, all ingredients come together into coookieeesss!


Question: Are you happy to start a new season of Sesame Street?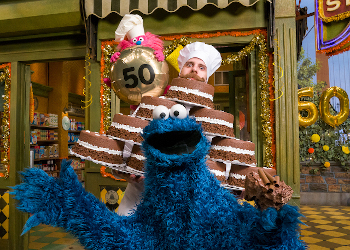 Cookie Monster : Oh boy, so many famous people coming to Sesame Street lately! We had Joseph Gordon-Levitt Chrissy Teigen, Charlie Puth, Meghan Trainor, Misty Copeland, Elvis Costello, and Dave Grohl… yeah, they all came for a nice visit.

Me played new game with Chrissy Teigen called "Name that Fruit," where Chrissy had to guess the fruit's first names. Like Abe Apple or Breanna Banana. It pretty fun.

Oh, and we had someone new move to Sesame Street –her name is Charlie. Charlie likes to play games, make arts and crafts, and count with Count von Count.

Me had so much fun showing her the sights, sounds and smells of Sesame Street – especially the smells of freshly baked cookies!


Question: What's your secret to staying so young and youthful for over 50 years?

Cookie Monster : Well thank you, me look after me fur, and me exercise, eat healthy snacks and sometimes a special treat like a delicious chocolate chippy cookies! That's me beauty secret.


Question: What's your favourite thing about living on Sesame Street?

Cookie Monster : Me love singing songs with Elmo, going to Hooper's Store with Big Bird, gardening with Abby, and baking in the Foodie Truck with Gonger.


Question: Who is your best friend on Sesame Street?

Cookie Monster : Me can't just pick one monster! Me love playing with all me friends. Me sing songs with Elmo. And me love Grover for being so helpful, and Rosita for teaching me to play soccer. Oh, me just have so many wonderful monster friends. Did me mention me also know and love some great humans, fairies, and even grouches? We all great friends!


Question: What have you recently learned?

Cookie Monster : Me been learning it's ok to make mistakes. Me keep trying. And we learn strategies like belly breathing to make me feel better when me frustrated.


Question: What's your favourite cookie?

Cookie Monster : Well me favourite type of cookie is Tea Biscuit. No…chocolate chippy! Oh, maybe Jaffa Cakes! Oh no, me almost forgot digestives. Do me have to choose? Me just love them all!


Question: What's your best memory of Australia?

Cookie Monster : Me did a foodie truck tour of Sydney--that was definitely a highlight! We tried a toastie, pizza, tacos, and finally a chocolate mint cookie for a delicious dessert!

In Melbourne, me also went to an AFL game. Me like Aussie Rules football – have you ever noticed that the football kind of looks like a giant red sweet potato? Oh boy oh boy – me so hungry!


Question: Have you ever tried TimTam cookies?

Cookie Monster : Oh me a Tim Tam Connoisseur from way back! Me favourite is the Double Coated Tim Tam. Oh and the Choc Mint Tim Tam. And we cannot forget about the Chewy Caramel. Oh me so hungry! Can you send me over a supply please?


Question: What is your favourite spot in the world?

Cookie Monster : Me so lucky me get to travel to places all over the world and see all of my friends but me just love being at home with me Mommy on Sesame Street.


Question: Is there anything else you would like to share with us?

Cookie Monster : Me can't wait to see all of me Aussie friends again. Stay safe and me sending you a big, virtual hug – and an even bigger virtual cookie – through the internety!


Interview by Gwen van Montfort