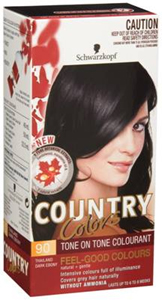 Schwarzkopf, at-home colour, have a product that will give your hair the lustre and expressive colour you desire without the long-term commitment a permanent colour demands.
Introducing Schwarzkopf Country Colors; A gentle, rich colouring crème that lasts up to 8 weeks, so you can keep your beautiful natural tone without annoying visible re-growth.
Country Colors improved formula further reflects its caring approach to at-home colouring. Containing NO ammonia and 9 pure botanical extracts like sandalwood and macadamia oil, Country Colors will give your hair noticeably more suppleness and a beautiful colour shine.
Is this not the best way to get natural and expressive hair colour that is exceptionally caring for your hair?
Country Colours come in 12 shades and retails for $9.95
Test various hair style combination online with the easy to use virtual hairstyles system. Upload your photo and check how you would look with celebrity hairstyles or create your own hairstyle.
www.femail.com.au/virtual-hair-style.htm