Runway Looks
Bedroom Hair
Not everyone has been blessed with that sexy voluptuous hair, but you can achieve it!
Here's how:
** It's important to have healthy and conditioned hair for maximum shine and bounce.**
Wash and towel dry your hair.

Use a volumising product like Charles Worthington BIG HAIR or Tigi Bedhead and apply evenly.

Blow dry hair and use fingers to scrunch and create soft waves.

To finish hair add a spritz of hair shine, or use a small amount of hand crème to separate waves.

An easier alternative would be to plait semi damp hair and comb with fingers. Add some styling wax to loosen the waves.

Makeup Bag Must-Haves

MAC lip gloss in Purrrr and MAC eyeliner in Teddy.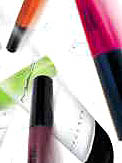 These products are great!

Lip gloss in Purr is a wonderfully peachy rich colour that is long lasting and smells like vanilla marshmallows! Mmmmm...! It comes in a great size that is perfect for a touch up pre-dinner or after dessert.

MAC eyeliner in Teddy is a warm shimmering brown, which can be easily smudged for the smouldering look, perfect for ladies on the go who need non-fuss makeup.


- Belinda Tartaglia