Imagine no more bad hair days ever!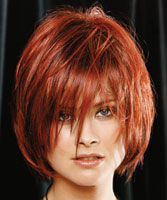 Announcing put on pieces by hair u wear.
You've admired Carrie's perfect ponytail on Sex and the City, marveled at Shania Twain's magnificent mane, been wowed by the wonderful platinum styles of Gwen Stefani.....
Now just like these stars, you can get the look yourself with the fabulous Put on Pieces hairpiece range. From Hair U Wear, the most successful faux hair company in the world, Put on Pieces are now available in Australia.
Featured on catwalks, red carpet premieres, in concerts, film clips and fashion shoots around the world. Put on Pieces are a range of interchangeable hair accessories that give women the hair wardrobe they've always wished for.
Imagine going from short to long, straight to curly, thin to thick, day into evening - there's no end to the styles you can create with this range - and all with just the twist of the wrist - how simple is that?
Made of beautiful, high quality man-made hair, Put on Pieces are carefully highlighted to match countless shades of blonde, brown, black and red. These up-to-the-minute salon inspired colors are the very shades you'd choose yourself..... Some pieces are also available in funky colors such as bubblegum pink, acid green, tangerine dream and ultra violet for your inner rock star!
Put on Pieces are so incredibly real, blending with the shine and vibrancy of your own hair, that you will have trouble seeing where your own hair ends and your hairpiece begins!
There are 14 pieces to choose from in a fabulous variety of styles, from brilliant pouf and texture wraps (on cleverly designed scrunchies); to ponytails of luscious curls; to long falls of hair in sleek straight or wavy styles; to sophisticated braids and fun accent pieces (wisps of hair set on a large hairpin). And to totally change your look? - go for one of the funky Put on Pieces wigs. All pieces are designed to enhance your individual fashion style.
With up to 30 up-to-the-minute shades to choose from, the possibilities are as endless as the heads you'll turn with your glamorous new looks.
Available from selected hairdressers, try a new style, try a new colour, and try having some fun. Why wouldn't you 'Do Something With Your Hair' every single day.
For stockists visit
www.instanthair.com.au