Introducing hypact. a revolutionary advancement in hair care protection and moisturisation. designed by leading belgian technologists, this range maximises hydration and protection performance for healthy, ravishing hair.
The secret formula?
The breakthrough discovery of the mr2 complex: the moisture retention reservoir.
An active lifestyle, not to mention sun, surf and sand, can cause hair to become dry, brittle and lifeless. add to that heat styling, chemical and colour treatments and the need for a product that protects from moisture loss and hydrates your hair is obvious.
The solution? hypact and its "mr2 complex".
The mr2 complex is a revolutionary formula that helps hair retain moisture and provides a moisture reservoir in the hair cuticle, and keeps it there for added protection.
This formulation not only protects from moisture loss experienced during blow-drying, chemical treatments and excessive sun exposure, but it also replenishes the hair from heat and harsh environmental conditions.
The hypact range has 11 products from cleansing to conditioning, repair and protection, to styling and finishing and is the ultimate range for pure indulgence and silky, manageable hair.

Hypact Curl Potion
A curl definition paste for dry, damaged or chemically treated hair. This adds body, volume and shine to hair, redefining curls whilst protecting hair from dryness & dullness caused by blow-drying. Creates separation and definition.
100ml - RRP: $27.50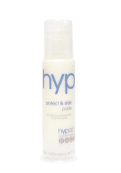 Hypact Protect & Style Paste
For all hair types, this cream-based formula controls frizz and adds definition, taming coarse and unruly hair. Hair is noticeably smoother and more manageable.150ml - RRP: $24.50
For stockists call 613 9510 6051 or visit:
www.luxbc.com.au