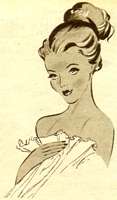 Courtesy of
http://www.adorebeauty.com.au
, we have Kevin Murphy answering your hair questions! Kevin is a hair guru for celebrities such as Kylie Minogue, Jewel, and Neve Campbell, with over 20 years' experience styling hair for magazines and catwalks.
Q.) How can I style my hair to make it look thicker?
A.) The best way to get thicker hair is to apply a thickening product to the roots - a setting lotion or lightweight gel. Apply this to the roots of your hair when wet. Then, taking a large round brush and a dryer, lift the roots on a 90 degree angle from your head and blow the roots up until dry. All the strength of your style depends on the root movement, your roots when blown up will give you body that lasts. You may either blowdry the whole lot with the brush, or for a more natural look blow the roots with the brush and dry the ends with your hands.
Kevin recommends:
Kusco-urphy setting lotion
Q.) I've never worn my hair down because it's so dry and thick that it looks like a haystack! How can I achieve a shiny, sleek look?
There are a lot of girls that are in the same boat as you. Have you ever used a little olive oil in your hair before washing? The secret here is to apply a small amount of olive oil to your hair the night before (about 1/2 to 1 teaspoon) and massage it into your hair. Your hair should just look dirty, not like an oil slick.
Then the next morning wash your hair with a shampoo and conditioner that are slightly acidic (ph 4.5 to 5.5) - most good quality shampoos are of this ph level, including my own Kusco-Murphy washes and rinses.
Over time the oil will fill the little holes in your hair that catch the wind and make it unruly and frizzy looking. I also make a product called
Kusco-Murphy Lavender creme
, this will give you a moist wet look and will weigh your hair down so it won't frizz. Apply to damp hair, to the ends and the mid lengths, and then when it is almost dry apply to the top and front - this will stop it from going too flat on top. The product is water soluble and will moisturize your hair . The product is suitable for every day use.