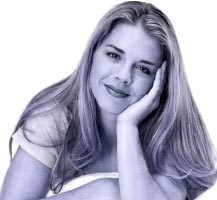 Brought to you by our friends at
VirtualHairCare.com
Long hair is only truly beautiful when it is in good condition, that is with no breakage, split ends or flyaway strands. There is no quick fix to getting good conditioned hair but we can prevent it from getting out of shape or improve the condition by following some of these great tips:
When you get up in the morning, instead of reaching straight for the brush, try raking your fingers through your hair to gently remove tangles first.


Always use a natural bristle brush with a wooden base. Long smooth strokes work best followed by stroking your hand over the hair to eliminate static.


Long hair needs more than just conditioner. We recommend a once-a-week treatment to maintain optimum health. You can apply it more often but hair will only accept so much and the rest will go down the plughole (and out of your pocket).


Apply all conditioners and treatments to the lengths and ends of your hair where they are needed rather than directly to the scalp.


Always brush your hair before shampooing and comb it when wet or, better still, with the conditioner in it.


Heat applied to the hair in the form of dryer or roller will cause damage over a period of time, so it is best to heat dry as little as possible. Always check that your dryer is not too hot as we tend to love our faithful old dryer as it dries so quickly, often because the thermostat has gone and it is reaching an excessive heat level. The thermostat always goes before your dryer blows up! A red element is often a sign, but you generally know when it is hotter than it used to be!


If you like to use heated rollers, tongs, flat irons or crimpers on your hair, save them for those special occasions and don't be tempted to use them more than once a week. When you do use them, also make sure you have used a thermal protector or product containing one to prevent heat damage.


When hitting the beach or swimming, always use a leave-in product to protect your hair the way you use sunscreen to protect your skin.


When sleeping, try putting your hair up in a 'scrunchie' or covered band on the top of your head. This will help prevent breakage if you are a restless sleeper. Silk pillowcases will also help if you are a particularly restless.

How often should you cut long hair?


If growing your hair further, trim every 12 weeks. Spilt ends are your biggest enemy, once they start, your hair will get shorter by the day as they break off. Long hair is only really beautiful when in good condition and split ends will really detract from your look.


If growing out layers cut every 8 weeks.


For general maintenance cut every 6 to 8 weeks.


Choose a hairdresser who also has long hair. They will understand the "I don't want too much off" syndrome.

Thinking about cutting off your Long Hair?


If you are thinking of going for a short look and are not 100% sure, always have your haircut to shoulder length first. This will get you used to the idea without too great a shock.


But, if you have a definite idea of what you want, go all the way because by only going half the way you may not like the result (because it's not what you were after) then give up and begin to re-grow straight away.


VirtualHairCare.com is the only place to find out everything you would ever need to know about your hair. From the latest looks and styles and how to maintain them, through to practical stuff like how to get the best out of your next salon visit, what products are best for you and medical conditions of the hair and scalp. For all the latest about hair, check out Virtual HairCare

If you have a question you would like answered by our hair expert, go to...



Ask hair expert > Hair Care Extraordinaire



Read more hair fashion and hair style fashion articles.



Ever wondered how Nicole Kidman defrizzed her hair? ... Bio Ionic Professional Hair Care Straigtening System - www.femail.com.au/bio_ionic_hair_straightening.htm