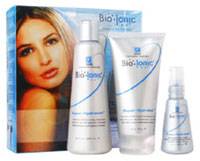 Contains the Super-Hydrator System Products. Brings 'dried & fried' hair back to life. Supercharged Natural Ion Complex accelerates water molecules deep into the hair for extreme hydration. Rich intensive formulas, power-packed with strengthening proteins, essential botanicals and moisturizing humectants rejuvenate hair, delivering strength, shine and and manageability.
The Super-Hydrator System is ideal for hair that is dry, damaged, colored, bleached, permed, chemically straightened, or just plain tired from facing the rigors of today's environment.
Intense Moisturizing Shampoo floods thirsty hair with moisture and protein, while gently cleansing, for a shiny, soft feel.
Intensive Moisturizing Reconstructor rebuilds extremely dry, damaged hair with a generous dose of maximum strength proteins and moisturizing humectants.
Weightless Shine Sealer tames frizzies, smooths unruly hair and helps seal soft ends, without weighting hair down.
Bio Ionic Super Hydrator System Review:
www.femail.com.au/bio-ionic-super-hydrator-system.htm