Christ Gratton - Creative Director - Synergy Hair Melbourne
Long Hair
For best long hair styles, work with your hair's natural texture. If working against the natural texture, ensure that your hair is styled correctly (right styling technique, tools and products). Even though hair can be long, it still must have a strong cut & color.


Short Hair
Don't shampoo your short style too much and use products that enhance your cut, but don't take over your style. Ensure that your hair is cut on a regular basis (4-6 weeks) to keep your style in check.


Dry Hair
For dry hair always, use a conditioning treatment at least once a week. For an in-salon treatment, I recommend Aveda Elixir Remedy and for at home maintenance, I recommend Sap Moss Nourishing Concentrate. At home, always use a regular conditioner, plus a conditioning treatment.


Curly Hair
Shampoo curly hair only once a week but rinse daily and use Aveda Elixir leave-in conditioner as a styling product. Avoid any products that contain alcohol, as these dry your hair out and create much dreaded frizz.


Colored Hair
Ensure that any colour you choose compliments your skin tone & eye color. Also take into account your current style - ensure that the color compliments your style without overtaking it! I always think that color has to also suit the personal attitude and lifestyle of the client.


Fringes
Very fashionable at the moment! A fringe must suit your face shape and not just reflect the current fashion trends. Always have a professional stylist trim your fringe (offered as a complimentary maintenance service at Synergy Hair Melbourne) and NEVER use the kitchen scissors!


Blow-drying Hair Straight
Always use a protective product when styling your hair straight. Good tools are essential - use a blow-dryer with a strong air flow, not just a very hot one. If blow-drying hair straight regularly, use a treatment, weekly, to prevent your hair from drying out and frazzled ends.

Chris Gratton's Star Tip:
Maintenance!!!!! Always use the correct shampoo, conditioner to compliment your hair type, and to support your professionally styled & colored hair!


Long Hair
Long Hair should adopt a 'Sleeker Street Hair' feel and remain in it's natural form! Long hair should always look free, sexy and organic with a rounded shape to accommodate your facial features. And always maintain your longer style every 6-8 weeks.


Short Hair
Should always be styled as a 'cut with movement', which would result in a softer feel crop. The short cut should be strong enough to towel dry and style so that blow-drying is not always necessary, and without making it appear like you've just had it cut! Maintain your shorter styles every 4-6 weeks.


Dry Hair
For dry hair always, use a conditioning treatment at least once a week. At home, always use a regular conditioner, plus a conditioning treatment.


Curly Hair
If you've got curly hair, let it be curly! With curly hair, the curl should always dictate the shape of the cut so that natural definition is enhanced by the cut. Allow curly hair to dry naturally ( remember, a hair dryer is not always necessary!) and style with the assistance of Aveda Elixir or Aveda Be Curly. Maintain your curly style every 4-8 weeks.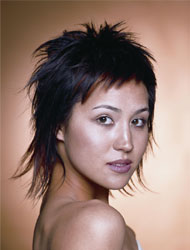 Colored Hair
Always choose an 'edible colour' - colors that encourage and enhance shine, health and sexiness of your hair. Always ensure that the color is personalized to suit your lifestyle and attitude. Shimmering colors are also great for complimenting your cut and style.


Fringes
Fringes should always be maintained in the salon, not at home!


Blow-drying Hair Straight
To blow dry hiar straight, use a paddle brush to get pin-straight hair and always use a protective product to prevent burning your hair.

Steve Binos' Star Tip:
The right shampoo and conditioner will allow your hair to be styled or relaxed without product. Always consult your stylist to find the products that are best for your hair type, color and condition.



Read more hair fashion and hair style fashion articles.



Ever wondered how Nicole Kidman defrizzed her hair? ... Bio Ionic Professional Hair Care Straigtening System - www.femail.com.au/bio_ionic_hair_straightening.htm