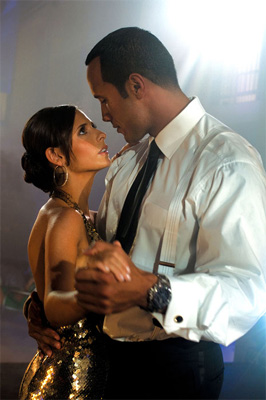 Sarah Michelle Gellar Southland Tales Interview
SARAH MICHELLE GELLAR TAKES RISKS IN SOUTHLAND TALE.

EXCLUSIVE Interview by Paul Fischer.

Sarah Michelle Geller may play an adult film star in the surrealistic tale of would-be nuclear annihilation in the bizarre Southland Tales, but this good Jewish girl doesn't mind the change of pace. " I mean, we're actors, so we look for roles that are different than what we have done in the past." A strange, non-linear film from the always fascinating Richard Kelly, Geller says that on the page, her character is "a combination of everything, which is the beauty of working with Richard Kelly. He has things so incredibly thought out from going into it, so an actor, you sit there and you want to talk about back-story, including four graphic novels already written. At the same time he's so open to participation, to your ideas and to what you bring to the table, that she really sort of took shape the more and more time Richard and I spent sort of coming up with ideas that constantly evolved. What if she had a talk show? What if she had a music career? What if she had an energy drink? Sort of the sheer ridiculousness of it, which now a couple years later doesn't seem as ridiculous." While the movie may appear confusing, one assumes that was not an easy script to read. "It wasn't as confusing as you would think. Initially yes, you get a phone call, and yes, Richard Kelly's who's Donnie Darko and of course you're interested. Instead of sending the script, Richard came and sort of pitched it first, which I found really interesting, because you sort of got a view into his mind, which is one of those that works on that fine line between brilliance and insanity, so it gives you sort of a real view into what he's trying to say. So initially, he's definitely the draw as an actor and also a chance to get to do things that you haven't gotten to explore before."

The actress was in Cannes when Southland Tales would have its contentious premiere, and Geller says that looking back, it wasn't the right launching pad for the film. "I think in hindsight, Cannes was really not the right place to premiere this movie. Richard was nowhere finished with his edit, and we got so excited at the thought that they'd be interested that we jumped without thinking about the consequences. This movie takes place in Los Angeles, it's a love letter to LA, it's a very specific theme. It should be premiered here and I think in hindsight we know that."

Since establishing herself as a major star with Buffy, Geller has done films that are both squarely commercial as well as the Indie world, and the actress says it still takes patience for her to find roles that get her juices flowing. "If you want to make 20 movies a year and do all that, no, you're not going to get that, but I'm fortunate enough that at this point in my life I can take the jobs that interest me, and the people I work with. Whether it's Southland or whether it's The Air I Breathe and working with Brendan Frasier, Forest Whittaker and Andy Garcia. I'm just really fortunate right now that I can wait for those." Geller says she has become increasingly aware of her own evolution as an actress, from her early days as a certain vampire slayer. " I hope I've evolved a lot. I know, from the first season to the eighth season I grew tremendously as an actress and a person. For me ,that's the journey that I hope to continue on, so I hope I've evolved, otherwise I'd be pretty boring to watch." That means an unlikelihood of her agreeing to do a Buffy movie. "I have to be honest. That thought really scares me. Buffy was a movie and it didn't work because her story was longer than that. This was about a girl that you had to get to know and it took so long to figure out how to crack the ending so that people weren't upset. Of course I never say never, so I'm not saying no, but my fear would be to open something like that up again, to only end it again. Like Sex in the City is such a great ending,so I'm curious to see now how they're going to open it up and how to shut it for us again. I feel like a show you love ends, you have like a mourning period, so do you open yourself up to that again, to wanting it but knowing it's going to end. That whole thing worries me a little bit."

Geller is excited about the Indie ensemble piece The Air I Breathe. "I had been following that script for a couple of years. I thought it was one of the most beautiful and different scripts that I ever read. It basically revolves around the concept of emotions, that you can't really understand an emotion until you've experienced its polar opposite. So each of the actors play a different emotion, and you don't really understand how all these emotions are interconnected until you get to the end of the movie."

As busy as she is an actress, Geller also devotes much time to social causes, but not one in particular. "I don't believe there's any one cause that's more important. Right now, a lot of this year has been taken up with my work as an ambassador for CARE. I've traveled a lot to South America and Latin America with them. I'm leaving for Africa with them probably at the beginning of next year and it's something that I've been able to sort of spend a lot of time, because they've given me a much bigger role sort of in that organization in terms of fundraising and raising awareness and to work on all the different levels. Because it's such a different global charity it's given me just massive insight into world poverty and socioeconomic situations, and how that directly affects our socioeconomic society, how we live, and how it affects the greater good of the world. But at the same time, as important as CARE is, and that's my baby, breast cancer is still something that's really close and has hit so many people in my life that I will still always be involved, as well as kid charities and animal charities, in terms of Make a Wish."

One wonders how she is able to balance such a full professional life with a personal one. "I guess I'm just a Type-A personality, in that I do better the more there is on my plate. The more I have on my plate the better balanced I am."



Southland Tales
Starring: Dwayne Johnson, Seann William Scott, Sarah Michelle Gellar, Nora Dunn, Christopher Lambert, John Larroquette, Bai Ling, Jon Lovitz, Mandy Moore, Holmes Osborne, Cheri Oteri, Amy Poehler, Lou Taylor Pucci, Miranda Richardson, Wallace Shawn, Kevin Smith, Justin Timberlake, Abby McBride
Director: Richard Kelly
Genre: Science-Fiction/Fantasy
Runtime: 2 hrs 24 mins