by Paul Fischer at the Toronto Film Festival.
THE REFRESHING IRREVERENCE OF SARAH SILVERMAN.
Sarah Silverman sits outside the patio of Torontos Intercontinental Hotel, the proverbial queen bee, holding court while at the Festival promoting her wildly irreverent Jesus is Magic concert film that screened here at the appropriate Midnight Madness. One doesnt quite know what to expect from the beautiful Jewish comedienne, with that unmistakeable high-pitched voice, whose stand up routines seem to explore a young womans al-pervading and subversive attitudes towards sex, family and being Jewish. Yet Its impossible to know what to believe about Silvermans view of herself. In a blisteringly funny moment in Jesus is Magic, Silverman talks about the granddaughter of a Holocaust survivor. In reality, however, the comic/actress confesses "shes not," and then laughs hysterically at the revelation, clearly not afraid of the deceit or controversy. "But you know what - I dont give a fuck," she says unapologetically. "And you know what else, its true for someone," she hastens to add, arguing that her comedy has a certain universality attached to it, and further insisting that her parents remain supportive of her often outlandish sense of humour. Jesus is Magic is essentially a cinematic record of her stand up routine.
On screen, she never laughs at her own jokes which reinforces he own comically maudlin sense of a reality that may or may not exist. But her material varies from comments on her relationship with her very non-Jewish boyfriend Jimmy Kimble ["I wear this St. Christopher medal sometimes because - Im Jewish, but my boyfriend is Catholic - it was cute the way he gave it to me. He said if it doesnt burn through my skin it will protect me,"] to September 11 ["They were devastating. They were beyond devastating. I dont want to say especially for these people, or especially for these people, but especially for me, because it happened to be the same exact day that I found out that the soy chai latte was, like, nine hundred calories. I had been drinking them every day. You hear soy, you think healthy. And its a lie."] Silverman talks rape and sodomy as only she knows how as part of her routine: "I was raped by a doctor, which is so bittersweet for a Jewish girl."
One wonders whether or not Silverman is outrageous for the sake of it. Probably not, but asked where it comes from, the 34-year old thinks about the question for nearly a minute. "Im sure that we become whatever we become from some sort of formulae of childhood dysfunction or fucked up survival skills we need to create to get through life. It makes you need constant attention, approval or something like that," she says laughingly. "I also think, my parents were boundary-less and maybe what they thought was taboo was not what most people considered taboo, so I wasnt out for shock value, but I cant deny that its a large element of what I do." She is emphatic when it comes to drawing the line -there is no line as far as Silverman is concerned. After all, she pokes fun of the Holocaust, anal sex and religion, to name but three, so what lines are left to cross, one ponders? "I think anything goes if its funny enough and I think thats when it gets offensive. I mean of course its subjective, but when people dont like me I never argue or fight them because comedy is subjective, and if they dont like it, it absolutely is offensive," argues Silverman. One wonders whether Silvermans comic sense of irreverence is little more than a survival mechanism. "Probably, but its not a conscious choice." However, being a comedienne was, she recalls, a conscious choice from the outset. "My mom once showed me a workbook, in which I had like filled out a page when I was in 3rd grade, and it says, When I grow up I want to be a comic, an actor or a masseuse" And she didnt end up trying the whole masseuse thing. "I think I wanted to be a masseuse because my family manipulated me, being the youngest, to rub their shoulders and then they would go, /oh, my god, youre so good at this. "
Born in late 1971 (the exact date is unknown apparently), Silverman grew up one of four daughters in a middle-class home in Bedford, Massachusetts. Silverman was always interested in comedy, and even wrote the phrase "I Love Steve Martin" on her bedroom ceiling. At 17, Silverman performed her first stand-up act at Stitches in Boston. After dropping out of New York University, she graduated to open mic appearances in Manhattan, which led to regular comedy gigs and tours around the country. While on the road, she was spotted by scouts for "Saturday Night Live", and at 22, Silverman was writing and performing on the show.
Silverman first appeared as a Not Ready for Prime Time Player in 1993, but immediately got herself into trouble with the NBC censors. One of her first bits was a commentary on the regular spot "Weekend Update", where she joked about her desire to have an abortion, only to discover that she was only thirsty. More trouble ensued for Silverman behind the scenes, and soon found herself out of a job. She returned to performing stand-up, while appearing in episodes of "Seinfeld" (1996-1997), "Star Trek: Voyager" (1996-1997), "The Naked Truth" (1997-1998) and a recurring stint as writer Wendy Traston on "The Larry Sanders Show" (1996-1998).
Silverman also made her feature film debut in "Whos the Caboose?" (1997), a mockumentary satirizing the television industrys most competitive time - pilot season. The actress had a few small roles in bigger Hollywood fare, including the Farrelly Brothers hit "Theres Something About Mary" (1998), Warren Beattys political satire "Bullworth" (1998) and "The Bachelor" (1999), starring Chris Connelly and Rene Zellweger.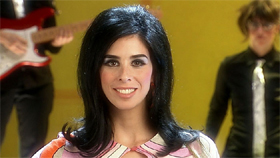 Silverman attracted unwanted media scrutiny with her "Late Night with Conan OBrien" appearance. Silverman uttered the slur "chink" in her act, which created a relentless firestorm spearheaded by Aokis Media Action Network for Asian Americans. Though Silverman never officially apologized, she did write a heart-felt letter to Aoki. Though the controversy faded, it left Silverman embittered. Meanwhile, Silverman landed a regular gig as Alison Kaiser on the TV show, "Greg the Bunny" (2001-2002). She also made more prominent appearances in films: "Evolution" (2001), starring David Duchovny and Julianne Moore; "Heartbreakers" (2001) with Sigourney Weaver and Jennifer Love Hewitt; and "School of Rock" (2003), in which she played the shrewish girlfriend of Blacks doormat roommate (Mike White). Though she has appeared many times on screens both large and small, Silverman has always returned to her first love: stand-up comedy. She inked a deal with HBO to write, produce and star in her own comedy special airing in late 2003.
The deal with HBO, however, was shelved, but a deal with Comedy Central for a sketch show was scheduled to begin shooting in summer 2005. Meanwhile, Silverman was one of dozens of comedians vying to tell the dirtiest version of an old Vaudeville joke in "The Aristocrats" (2005). After she competed in a couple of tournaments on "Celebrity Poker Showdown" Silverman was in episodes of "Entourage" (HBO, 2004- ) and "Pilot Season" (TRIO, 2004-2005), and voiced characters on the animated series "Drawn Together" (Comedy Central, 2004- ) and "American Dad" (Fox, 2004- ). She finished a busy 2005 headlining "Sarah Silverman: Jesus Is Magic."
Silverman may not remember the time she thought she could be paid for being funny, but "I cant remember not being the funny one and making my family and friends laugh. Its just such a boring, trite comedy, stand-up story - but I was the class clown except for some dark years - 13 to 16" Those "dark years" she refers to encompassed "deep depression, not being myself and feeling just total despair. I got put on Xanax when I was 13 by a psychiatrist and he just gave it to me and said, you know, whenever you feel bad just take one. The following week my mom dropped me off and, ah, for my second like appointment and he didnt come and didnt come and then the hypnotist from upstairs - who I also saw for bedwetting - came down crying and was like, Dr - I wont say who, hung himself. Isnt that funny or a kick in the pants?" Silverman has used those dark periods as part of her acerbic humour, and as a performer, seems to be balancing the comic with the tragic, but dont try to get her to analyse what she does. "I hate dissecting what I do, because I feel like thats for other people to do."
To prove shes more than just a wild stand up comic, the very unconventional Silverman has a co-starring role in the more conventional film adaptation of Rent, which opens next month, but despite displaying her musical abilities in Jesus is magic, audiences wont hear her singing any of Rents classic songs. "Its funny because I sang two songs for my audition and I got the only non-singing role", she recalls, laughingly. Silverman plays Alex Darling in the film, "who I think in the play is mostly like phone calls, but Mark Cohen the main character sells out to her - shes the Hard Copy producer." One of her first significant Hollywood experiences, Silverman says "it was really one day, one big scene, and I had a blast. The entire original cast was there so I was like, oh, theres Idina Menzel, or whoever. Chris Columbus is the director and I knew his name from Home Alone, Harry Potter and stuff and he was awesome. I just liked him so much. But I cant really go, We had so much fun, but it was a lot of fun. I have no idea what well end up seeing but so many times when Im in movies I have a blast and then I go to watch it and, not to put down the movie or anything at all - but, its, not what I recall making."
Successful, abrasive with far to offer than beyond her comic persona, Silverman is honest when summing up her own realistic aspirations beyond her stand up comedy. "I love acting but I dont think Im versatile, like someone who is a real chameleon, like Philip Seymour Hoffman. But if you watch someone like Jack Nicholson, hes always Jack Nicholson but you believe the reality of whether hes like a poor man, rich man, President or a hobo. Hes versatile in that he plays everything honestly but hes always going to sound and look and feel like him, and I think thats real acting too."
As for being the pure comedienne, Silverman says that shes happy to continue on that path as long as her frame of mind allows for it. "I like to be happy to be funny and Im best when Im happy. Im no Lewis Black who needs, needs that anger. Im not saying that in a negative way, its just that people need different things and I think a lot of comics feed off of anger or a feeling of inferiority. I do pursue happiness, understanding and learning about things. I do want to continue to be funny, you know, and not settle into one thing that worked, because it has to change with the times, you know what I mean?"
Silverman is writing new material to take on the road when shes ready. "I want to just focus on new material and once it becomes a whole new set Ill go on the road again."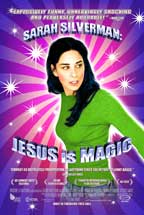 More Female Interviews:
www.femail.com.au/interviewsfemaleactors.htm
More Male Interviews:
www.femail.com.au/interviewsfemaleactors.htm
DVD Releases:
www.femail.com.au/dvd_video_releases.htm