Universal Sony Pictures Home Entertainment Australia has teamed with Surf Life Saving New South Wales and Queensland, and Junior World Champion and World Number 3 surfer, Sally Fitzgibbons, to star alongside The Smurfs™ from The Smurfs™ 2 in a national summer surf safety campaign.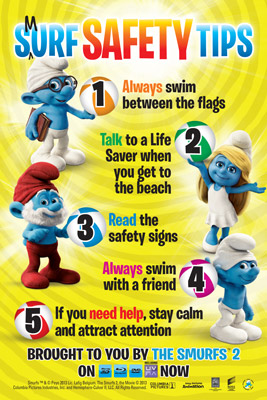 Coastal drownings are at an all time high, with 121 fatalities recorded during the 2012/13 financial year. And with 90 per cent of the Australian population living in coastal areas, educating children about the hidden dangers of the surf is more crucial than ever.


Sally Fitzgibbons has called on her true blue friends, The Smurfs™, to deliver some easy-­to-­understand tips that Aussie kids can follow to ensure they keep safe when at the beach over summer.


An educational video targeted at children, starring Sally Fitzgibbons and The Smurfs™ demonstrating the five surf safety tips can be viewed on Surf Life Saving New South Wales' website at: http://www.surflifesaving.com.au/summer-­smurf-­safety.


Sally Fitzgibbons said, 'Families flock to the beach over the summer holidays to cool off and have some fun together. In a country that's shaped by beach culture, it's important to teach kids about the dangers to look out for to ensure they still have fun, but also stay safe in and around the water.


'Teaming up with The Smurfs and Surf Life Saving means we're hitting kids with the safety message directly, and using characters they know and love, to help deliver five key surf safety tips they can easily put in to practice this summer.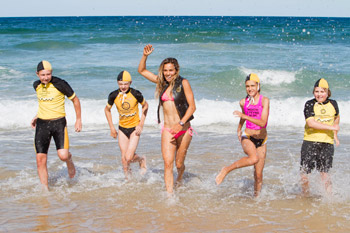 Andy Kent from Surf Life Saving NSW said, 'Summer holidays are a great opportunity for families to relax and unwind, but it is also the busiest time of year for us. To partner with Sally Fitzgibbons and Universal Sony Pictures Home Entertainment during our peak season to help deliver these key surf safety tips will go a long way towards ensuring families can safely enjoy the beach while also reducing the risk of coastal drownings in the future."


The Smurfs™ 2 is available to take home on Blu-ray 3D™, Blu-­ray™, DVD & UltraViolet™ from January 9th, 2014.

SLS NSW Smurf Safety with Sally Fitzgibbons: YouTube
Interview with Sally Fitzgibbons Interview: www.girl.com.au/sally-fitzgibbons-interview