WILLIAMS CONTINUES DARK ROLE PHASE IN 'FINAL CUT'.
EXCLUSIVE Robin Williams/Final Cut Interview by Paul Fischer in Los Angeles.
Robin Williams is nothing if not unpredictable. Being alone with the comic master and actor, in a tranquil hotel high in the Hollywood Hills, the 53-year old is in a pensive mood, occasionally reverting to shtick, but generally incisive and philosophical. Starring in a sombre, yet provocative sci-fi thriller, The Final Cut, Williams says that at 53, his priorities and perspectives have changed, more enhanced as it were, by the recent death of close friend Christopher Reeve, an event that has prompted him to cancel most recent press events. "I mean the only thing is when you start to lose friends like this week, you do feel mortal, and there have been a few friends have gone recently," says Williams, appearing here at times subdued but still energetically talkative. Referring specifically to Reeve's sudden death, the actor was, like the rest of us, shocked at the news. "Yeah, it was like a blind signal, but I never knew and people have told me that he really lasted much longer than they thought and I didn't know that once you have an injury like that, you're kind of on a clock. I knew he'd been fighting and that when you get an infection of any kind, it's pretty brutal because the whole body is disconnected, and not working as a unit any more."
The Oscar winner admits that work is no longer the be and end all of his existence, but rather "friends and family and just taking and doing films only when they are like something interesting and not rushing off to keep working at all costs." And of course fatherhood has made him mellower over the years, he admits "and homed and now that my son is 21 you kind of take stock a lot more. He is graduating from NYU this year, he has got a girlfriend and living in New York and my daughter is 15 which is, you know, revenge, this wonderful kind of thing in my act that is coming to haunt me. She is very sweet, very gorgeous and still that wonderful combination of sensitive but also outrageous."
As for his work, more recently, we have seen Robin spring up in a recent series of dark, edgy films, in which he has plays characters disconnected from the boundaries of society, such as Final Cut, a strangely fascinating film set in a future in microchips implanted in your brain record everything you see and here. Then when you die, a "cutter" assembles the footage into a memorial video for your funeral, editing out all of the unpleasantness. The most sought-after cutter is Alan Hakman (Williams), a detached man who believes his work can absolve the dead of their sins. While editing the memories of another cutter, he uncovers a disturbing piece of his own past which leads him to question the way he's lived his life. Williams' Hakman is another character whose isolation is something he says he can identify with, because "as an only child what is not to know and do I have that in my own life am I capable of being kind of a loner, very much. I mean my major hobby is riding bikes alone, when I go on long distance rides for two or three hours and that is very comfortable for me and the isolation of that kind of distancing is part of also being a comic. You are kind of an observer and then you perform," Williams explains.
Yet on film, Williams has not playing for laughs of late, with Final Cut being the latest in a string of dark characters. I even jokingly suggest that perhaps he decided after the unfortunate Father's Day, he might have decided that he should give popular screen comedy the boot. "No it's just when they sent Insomnia I said are you serious, can I play this? They went 'yeah' and I think that kind of opened up another like 'eeee', he says, imitating a can opening up. I said I would love to and asked my agent to look for them. It wasn't like after Father's Day going, oh fuck off. You know finding a good comedy is a hard deal, but when Insomnia came along I when oh man. First of all to work with Pacino, great, and playing a murderer, yeah," he adds with glint in his eyes. "Then One Hour Photo playing this kind of quite creepy guy that you always see in the news, ['He seemed like such a nice man'], and then with The Final Cut, the technology combined with the kind of complexity, I went I am in. All you have to do is make sure the two parts work, so if the writing is good, which it was, you have to make sure the visuals are good."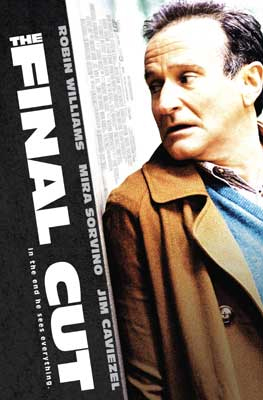 Audiences who have often flocked to see the ingenious comic may forget that the actor is classically trained, and so he says, taking on these dark and introverted characters remind him of why he wanted to act in the first place. "When you are trained to do that, you are trained to do all of this and that is part of it. Is there such a thing as stand up tragedy? No! Do you get to use the skills you learnt back then? Very much and usually with these characters you get to do the kind of the inlay work." Asked what a future cutter may need to excise from Williams' reel if the technology explored in Final Cut were to exist, he offers a laugh, again suggesting that some of his past films, like Father's Day, might need to be cut from the memories of future mourners. "Yeah that is why at the AFI tributes, that one is never mentioned, along with Club Paradise. There are a couple that go: where are those movies, I don't know it is hanging out with Bicentennial Man. Let's see 28, 29 second year Mork and Mindy till about the birth of Zachary but there were a few years which I actually edited out very well with alcohol and have made it very difficult to access that file. I think there are enough cells that you would be like: it is already in a witness protection program and thank god there is no penis point of view. That cam I don't want to know, but I think that would be edited or there would be only a few highlights from that time," says Williams, laughingly.
It was, in fact, the abovementioned Mork and Mindy that truly established Robin as a unique voice in American comedy. Now out on DVD, Williams, who often jokes about the series in his stand up, has vivid memories of the sitcom that changed his life. "I can remember it vividly - I remember the first year as being amazing fun, the second year being kind of fun and then I remember the third year that the network took over. I remember when we had Raquel Welch dressed in a kind of a lift and separate outfit that even Serena Williams would
go; uh, ah, and two playboy bunnies coming to kidnap Mork. I went what an interesting area - I knew that mothers and fathers were saying, put the kids away quick, quickly. Then when I was dressed as a Denver bronco cheerleader, at that point, I went "we're
doomed" and then you saw the network going crazy. But the last year kind of redeemed everything because Jonathon Winters showed up playing my son, and all of a sudden it got to be fun again, then it was over. And when that happened, it wasn't like even euthanasia, because they don't bother to tell you. I read about it in the trades: Mork and Mindy cancelled." But Williams was to eventually find his footing on the big screen, despite early failures with the likes of Popeye. "It was Garp, which thank God happened. Then I started to come back to do Moscow on the Hudson, and then I decided to just do movies, and realised - once the pressure's off you start to do interesting ones."
These days, we don't see Williams in too many big-budget Hollywood films. "But I haven't been offered any big ones in a while. It is not like I am not looking, but it is like if you do get offered a big movie you would be offered a supporting character which is okay. I am 53 now, so I will gladly play the assistant for anything, or the older mentor, but I haven't found anyone I want to do. Until then, there is not that desperate desire to work at all cost." Except when it comes to stand up comedy, which Williams has continued to return to with a vengeance. "Been doing it a lot. I can go out on the road and do a gig like I did one day in Vegas and that pays the bills and it is also there is a lot to talk about." Williams says that as a comic, he is grateful for the existence of George W. Bush. "Oh he has been the gift, thank you god! Good news bad news." Not that he wants this president re-elected by any means, he hastily adds. "I think if it is close it will be very interesting and if there is anything that even approaches what looks like Florida, it will get real interesting." If John Jerry were to win, though, Williams says that stand up comedy will have to change as well. "It will be interesting because then you will have to go, 'okay what are you going to say now funny boy!' But is interesting, because then you have to readjust the firer, because it has been so easy with the boys, with the group. There have been so many great gifts of comedy, my favourite being at the convention comparing Bush To Churchill which is like comparing Mark Twain to Carrot Top. But it has been interesting because I think finally people are listening and I am hoping."
When Robin is not worrying about politics, or immersing himself in a dark character, he heads out on 70 mile bike rides, a passion that has fuelled him for years, and cemented a close friendship with Tour de France winner Lance Armstrong. "I've got a ride this weekend in Houston, Texas with Lance's ride called Tour of the Roses which is a huge ride with thousands of people at different distances, 20 miles, 40 miles, 70 and 100, for his Cancer Foundation. It's a great thing for me because number one I can't dress like a pimp and go
on a golf course. I love bikes and riding for me is kind of the only time I can really shut it down. Where I live is so beautiful, it's not like a hard call to go out 40 miles in this beautiful country and then end up by the ocean, and then climb up, a 4 mile climb up to a mountain top."
Talking to a contemplative Williams, one can understand why he has decided to take on characters that exemplify a sense of inner isolation. There is no Williams persona on screen, but as a wild, crazy stand up comedian, perhaps the real Mr Williams is allowed to shine through. "because on stage you're free. You can say and do things that if you said and did any place else, you'd be arrested. After Mork and Mindy, the only thing that really kind of kept me going was the stand-up because it was like, you could talk about it and somehow, make fun of it and still in a weird way, make money from it and come back from it and that allowed me to keep going. So it was a survival mechanism more than anything else."
Asked what ambitions he till has for himself, Williams pauses. "To be that character actor and to keep doing interesting characters in interesting pieces like Final Cut, working with interesting material and finding groups of people you haven't worked with, at this point. That's the only reason to keep going with it." He can always fall back on doing voices in animated films, as he is doing for Australian director George Miller in Happy Feet. "Oh man it is a blast and he is so much fun because he just lets you rip. He put me in a room with all these Latino comics and it has been so much fun. I play about four different characters: An Argentinean penguin, a big Emperor penguin, and a sea lion, amongst others." Williams says he is dying to visit him in Australia, especially if Bush is re-elected. "I just tell him to just save me a house and find me something by the water". Is Australia ready for Robin Williams? They could do much worse. We'll also see [or hear] Robin turn up in the animated Robots, admitting that doing cartoons, reminds him of his childhood. "I love cartoons and animation and when I did Aladdin, all you do is you go in and rift and then they draw it. It's the greatest job in the world." It appears that Robin Williams may have found his true calling after all.