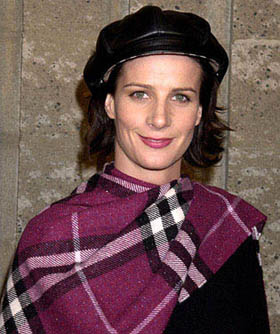 FROM SIX FEET UNDER TO SMALL TOWN TEXAS GAL

It has been quite the year for Aussie Rachel Griffiths. Starring with Dennis Quaid in the biographical baseball picture "The Rookie", she directed her second short film and, oh yes, there's that gig she has on US television in something called "Six Feet Under", for which she became one of a handful of Aussies to take home a Golden Globe for her emotionally rich performance. It was an ecstatic night for the Aussies and she laughs when asked how exciting it was. "Don't I sound happy? Is there one photo of me all going 'woe is me?'"

Griffiths, dressed in a pin striped suit, admits to having been "just ridiculously surprised" and loved partying with all her friends. Though she does admit to having been "pissed off when some prick complained that my Aussie accent was exaggerated. Does this SOUND too much?" Perhaps it's because on "Six Feet Under" she is so seamlessly Californian.

In "The Rookie", Griffiths dons a Texan accent. The film is a bittersweet baseball yarn about true-life science teacher Jim Morris (Dennis Quaid), who had to drop out of minor league baseball because of an injury to his pitching arm. Twelve years later, inspired by the young men on the championship-winning high school team he coaches, Morris is convinced to fulfill his own dream and try out for a professional team. With perseverance and confidence, he finally steps up to the plate, and after his pitching is clocked in the high nineties, he is signed to a minor league contract with the Tampa Bay Devil Rays, and soon after, moving onto his lifelong dream - the major leagues.

Griffiths plays his supportive young wife and knew going in, that she wouldn't be the 'token wife'. "I don't think a director casts me in a movie because he wants the wife in the background, as there are so many other actresses you would cast if that's all you wanted; I think you cast me if you want other textures at play and I just have to trust that," Griffiths explains. "It told me something about the movie that he wanted to make, that he even wanted to CAST me, that I even came into his mind, which made me think that he wanted to do something that I didn't necessarily see in the script."

For Griffiths, "The Rookie" was a great story and she adds, "but I think he made a better movie than the story might necessarily have inspired, and he's really made something very authentic. I think this is the kind of film that's gone back to the original Americana, not the kind of copy of a copy of a copy of Americana."

Griffiths likens the film to such classic portraits of small-town America as "The Yearling" and "To Kill A Mockingbird". "We grew up as kids watching those movies and we were exposed to themes of civil rights, unfairness, bigotry and fathers struggling against the kind of mob of the town, so you remember how you felt as a kid being taken seriously, that you are part of the human drama," the actress elucidates. "So if you think about kids, they do grow up scared that dads are gonna lose their jobs in the other end of town and they grow up so sensitive. They see their parents' marriage play out as a big drama. They see everything, and so to me I just loved how seriously "The Rookie" marked a return to that."

Griffiths sees the film as such an American story. "Like the average American's savings and the American's debt, this is more the real America than those movies where there are, you know, fancy cars with a big white fence and the biggest Christmas tree, and it's all so goddamned rich, and kids have everything," says the fiercely passionate actress.

Griffiths thrives on the challenge of not being repetitive. And she relished going to "The Rookie's" Lori. "Moving from Brenda in "Six Feet Under" where I played a character that has such difficulty in loving. I mean, she kind of WANTS to love, but she's got so many things that stop her from being able to love, so many hurts and damage, that stop her just being clear about the fact she loves. And then to play a character like Lori, for whom love is so clear that love is an action, love is what you do when you wake up and you change your baby's nappies, you make toast for your other two kids, you get everyone ready to go to work, you go to work to make money to keep the family afloat, you come home, that's love for her."

Yet in its study of the mythology of baseball, which remains so symbolic of American folklore, Griffiths, who remains very much Australian, understood that side of this story without relating to it too directly. "It was like a fantasy. Could I relate to it? No. Was I charmed by it? Yes. Sometimes I did feel like an alien, but I think the portrait of the marriage and of the struggle is universal. I mean we used to talk all the time about the Australian experience of the smaller towns emptying into the cities and the young people going, the bush dying and everything, and the town that we shot this film in was that kind of town. So on some level, as an Australian, I could relate to this."

Griffiths has been steadily impressing audiences from "Hilary and Jackie" to "Blow", so it must have taken a lot to persuade her to do a television series, on which she remains under contract for five seasons. She is not surprised by the critical reaction [not to mention high ratings] that this often morbid black comedy has attained. Griffiths says that it's due to writer Alan Ball, who also wrote the Oscar winning "American Beauty". "Somehow this guy is someone that can go places that no other writer can take people, where they stay with him and go back for more. He explores their kind of darkest neuroses, and I think it's his discipline of being a sitcom writer that he just knows when to give us a scene or a line that takes the pressure valve and lets our steam out; he's so original."

Griffiths admits that her only reticence about taking on a series "was not about being bored or being in the position where I couldn't get home for six months. I had a fear of being away from Australia so I've gotten home four times this year, during this season, which is basically every seven weeks." Home, explains Griffiths, is both Sydney and Melbourne. "I live in Sydney, but my partner lives in Melbourne, and my family is in Melbourne." Home is important to the 34-year old actress, as is her need to work. "I've been working like a Trojan this past year but I love it."

She just finished shooting an Australian comedy, "The Hard Word", co-starring friend Guy Pearce and is about to return to the stage in the Australian premiere of "Proof". Griffiths also had time to direct her second short film, "Roundabout", which she laughingly describes as "kind of falling down meets dark day afternoon. It's about a man who has a nervous breakdown, which I call Anxiety Has Arrived, as if I wanted to put you in the seat of having an anxiety attack."

Directing, Griffiths says, represents a different part of her psyche. "That is a really groovy part of me, maybe even better part of me I think; I'm so creative in that environment. I'm so motivated to collaborate with people and help them realize the kind of collective vision. I love to work with the team and the problem solving - it's problem solving in a really vigorous way that acting. Acting is like playing, while directing is really fun, sort of like an orgy," she cheekily adds.

Griffiths is not one of being shy, but then all one has to do is examine her body of work to know that Rachel Griffiths continues to challenge and astound. Look at "The Rookie" and "Six Feet Under" side by side and you get the message, and she wouldn't have it any other way.

Rachel Griffiths/The Rookie, Six Feet Under Interview by Paul Fischer in Los Angeles.