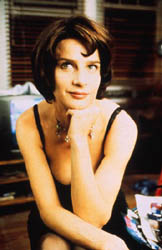 RACHEL GRIFFITHS TAKES ANOTHER STEP FORWARD IN HOLLYWOOD
EXCLUSIVE RACHEL GRIFFITHS/BLOW INTERVIEW BY PAUL FISCHER IN LOS ANGELES

It may be hard to imagine Rachel Griffiths as Johnny Depp's mum in the new movie Blow, but Griffiths' skill as an actor comes shining through in another dazzling performance. Not afraid to take risks, Griffiths is about to start shooting a new film with Dennis Quaid before returning to her other love, directing, as she begins work on her second short, starring pal Guy Pearce. Amidst it all, she found some time to talk to Paul Fischer in Los Angeles.

On a typically sunny day in Los Angeles, in a West Hollywood hotel, select members of LA's Aussie media are feting Aussie Rachel Griffiths, who is draped in a fur jacket. Always amenable to fellow Australians, one would think Rachel barely has time to sit with her friends, never alone the press. "I'm working too hard", she says smilingly, and she wouldn't have it any other way. Ever since her breakout performance in Muriel's Wedding, Rachel has never been out of work, shooting films in her native Australia, the UK and occasionally the US. After her Oscar nomination for Hilary and Jackie, it appears on the surface that Griffiths has avoided going Hollywood, playing that game. The actress denies this with an almost defensive vehemence. "I', not resistant to mainstream and never have been", she exclaims. "It's all about the choices that I'm offered at any given moment and whether or not I get jobs I want. To be honest, there are some huge movies that I've pursued and not got or I've been offered huge movies and not been available. I've never wanted to limit the role I play." Those roles have been diverse, to say the least, from the simple girl living under her autocratic father's thumb in the beguiling Very Annie Mary, through to the cheerless mother of drug trafficker Johnny Depp in Blow. "After Hilary and Jackie I chose to do two comedies (Me Myself I, and the aforementioned Very Annie Mary) because I had done too much drama and I needed a change of pace. I just wanted to lighten up for a couple of years because it really gets to you. I thought my work was just beginning to get too earnest."

Prior to Blow - which marks her return to the serious fare that has often been her acting trademark - Griffiths starred opposite Jonathan Pryce in the often mad but genial comedy Very Annie Mary. Hardly the stuff of big box office, but the kind of comedy that suits the actor's temperament. "I could never see myself doing an Adam Sandler film, but I think Australians just have more in common, comedically, with the British tradition."

Having admitted to "finally getting it right the third time" [referring to film comedy] with Annie Mary, Griffiths takes on a different role again in Ted Demme's Blow. Based upon the book, 'Blow: How a Small-Town Boy Made $100 Million with the Medellin Cocaine Cartel and Lost it All' by Bruce Porter, Blow is the story of George Jung who is currently serving a 15 year sentence. This is the true story of Jung who worked for reputed drug kingpin Pablo Escobar, and is accused of single-handedly importing cocaine into the USA in the 1970's. Jung's rise and fall coincides with the switch from pot to cocaine as the drug of choice among the rich and famous. Griffiths joins the film's eclectic and multi-ethnic cast as Jung's mother. It was a film Griffiths took some convincing to do, she admits. "I had just come back home to Australia having spent seven months in Britain shooting Annie Mary and Blow Dry, and I was going to come home and take at least four months off. Ted Demme rings me from a yacht in the Bahamas, and begs me to do his movie." She got the script and turned it down "because I just didn't want to work. I don't know if I even read it. Demme persisted and Griffiths resisted. "I read it finally and was bewildered as to why he even wanted me for this, after all, she's too old and nasty. Ultimately his enthusiasm and just how great the cast was looking, with Johnny, Ray Liotta, New Zealand's Chris Curtis, Germany's Franka Potente and Spain's Penelope Cruz, just sucked me in. So it was starting to seem like a very exciting film. " Playing this character proved to be a considerable challenge. "Initially she was drawn pretty two-dimensionally as this unhappy woman, and there's no real explanation, except it's clear she's probably an alcoholic." In playing her, Griffiths recalls drawing "on a sociological study of women in the seventies, like her, just trapped in suburbia and in terms of trying to find out why she was so unhappy in her role. You kind of imagine yourself as just unrealised potential, reliant on men, pregnant at 19, your life's down the tube and who knows what she would have been now."

Sporting a convincing East Coast American accent, the almost unrecognisable actress says that shooting the film and playing this utterly miserable character "seemed almost unreal to me", but it clearly worked.

Despite her success, and offers coming in to work here, Griffiths remains adamant that will never make the permanent move to Hollywood. "I couldn't happily live anywhere else outside of Australia", she says, with a slight American twang in her voice. "What I really hate about LA is that my friends and family aren't here If I grew up here and this was where the people I loved WERE, I'd probably find it a really great city. What I personally find difficult is just ABSENCE of friends and family, and ABSENCE of community. My dear friend Kate tells me often that there's nothing as warming as being with someone who knows the name of your childhood dog. And that's just not going to happen here," she says laughingly. But there are aspects of this city that Griffiths loves, such as the city's "mid-century architecture, which I'm obsessed with." She even has praise for the city's array of food. "I'm into Mexican now, and have finally educated myself that it's not all Taco Bell, that there's this whole level of Mexican-Hispanic cooking." But she still misses those Violet Crumbles.

Griffiths will be heading home briefly before shooting "my first family film in a while" with Dennis Quaid, and then back to Sydney to direct her second short. "It's about men in crisis, another drama, with Guy Pearce as a man having a breakdown." Another leap forward for the diverse Ms Griffiths.