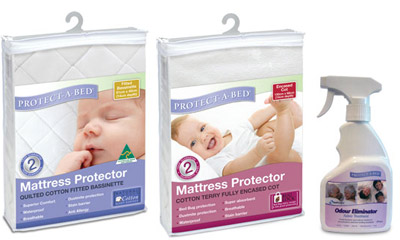 Protect·A·Bed® Bassinette & Cot Protectors

A bassinette and cot mattress protector is essential to your child' health. Protect·A·Bed® mattress protector products ensure that your child will sleep in a healthy and hygienic sleep environment, protected from detrimental allergens that can cause asthma, eczema and rhinitis. As a barrier to stains and allergies, there is no better protection for your child than Protect·A·Bed® waterproof infant products.
Protect·A·Bed® Infant Mattress Protectors

The Protect·A·Bed® various infant mattress protector products are super absorbent, machine washable at high temperatures and can be tumble dried. As an anti-allergy barrier and anti-dust mite layer of protection, mattress protectors utilise the latest technology to maintain a breathable fabric. Your child will be provided with the optimal sleep environment with our mattress protector that's waterproof, stays cool in the summer and warm in the winter while providing year-round allergy protection.

Protect·A·Bed® infant mattress protectors products are some of the best lines of defense for your child against allergens and dust mites. Our extra-soft, anti-slip mattress protectors stretch to fit tightly like a fitted-sheet. Thanks to the revolutionary Miracle Membrane®, our protectors are also 100% waterproof on the top surface, protecting your childs mattress from liquid damage due to accident or other spills. With our wide selection, you will surely find the right protection to meet your needs and budget.

Tip: For ultimate late night ease of use, use two protectors. Just remove the top soiled protector and leave the clean, dry one in place, so as to not cause too much interruption to the sleeping baby.
Protect·A·Bed® Odour Eliminator Treatment

Protect·A·Bed® Odour Eliminator is a discreet and effective spray-on treatment for bedding and furnishings that neutralises unpleasant odours and harmful bacteria from life's little accidents.

The formulation tracks odours within fabrics and neutralises smells including liquid spills, bedwetting, pets and illness. Ideal for bedding and other furnishings in and outside the home such as vehicle interiors.

For a more complete solution, use Protect·A·Bed® mattress, quilt and pillow protectors.

Available from Target and independent bedding stores.

For more information see: http://www.protectabed.com.au/