BROSNAN'S IRISH EYES ARE SMILING FOR LESS BOND, MORE ACTING.
EXCLUSIVE Pierce Brosnan/Die Another Day, Evelyn Interview.
Pierce Brosnan may indeed be known as suave spy James Bond, but for elegant Irish-born star Pierce Brosnan, playing Bond merely allows him to act in smaller, riskier projects such as the 1950s-set 'Evelyn', a film that reminds him of his tough, Catholic upbringing and a world apart from that of 007. In a candid chat during the recent Toronto Film Festival, Brosnan talked Bond, priests and 'Evelyn' to PAUL FISCHER.
Brosnan may not enjoy the publicity process, but in the midst of this year's chaotic Toronto Film Festival, the 49-year old Irish superstar was feeling relaxed and in good spirits. Perhaps it was because he was at the Festival with a film that is the polar opposite to Bond, or perhaps because he was recently married and managed to spend a week vacationing in Hawaii with his new bride.
Looking tanned and elegant, the actor was sporting a smart, blue suit and a carved necklace. "A great Hawaiian carver gave it to me there last week. I think after 11 months of filming, you know, I deserved a break", he says smilingly. "So, one must have action and one must have recovery, so that was recovery." Now it seems it is back to action. Brosnan is only too aware why the press is keen to talk to the actor about a little Irish film of which he is both star and producer. Bond, James Bond. The actor knows that without one, the other would not exist. "I don't think they would have made it, not if I hadn't had Bond under my belt as 'bankability' ", asserts Brosnan. After all, 'Evelyn', directed by Australia's Bruce Beresford, casts the actor as an impoverished single father in 1950s Dublin forced to take care of his three children following his wife's sudden desertion. When they are removed to Church-run institutions, he has to fight against an archaic Irish law. The role is as different from the self-assured Bond as you can get. This is a character that is defined as being ordinary, and there is nothing ordinary about Brosnan on screen. The actor agrees that when it would come to casting a role such as this dishevelled Irishman, Brosnan would be the least likely candidate. "I don't think anyone would have cast me: too this, too that, too pretty, too good looking, too suave." At least he remains self-deprecating about that unfortunate baggage of his that may otherwise preclude him from playing such ordinary characters.
It was also an adjustment for Brosnan to shoot the latest Bond film, 'Die Another Day', immediately after having wrapped 'Evelyn' in Ireland. "I mean it was a bit of an adjustment because everyone had such a wonderful experience on this film. We came together pretty fast and it was after September 11 so I think every man and woman who worked on that film, the actors who came in from America, were very, very pleased to be there. Everyone found sanctuary in working in Ireland away from the horrors of the world and the threat of what was happening to us this time last year. So to finish that December 22, Christmas and then straight into Bond was a bit of an assault to get my head around," Brosnan says.
The actor may not exactly love talking Bond but he sees it as a necessary evil. Not because he doesn't care about the franchise that turned the actor into a major star, but because he is "just sick of talking about it but then you have to do it. It's the same old questions time and time again, it's mind numbing," he says laughingly. But he concedes that, "you just try to go in there and give it your best shot, so you have to sit down and do it." And do it he does, with a sense of humour at hand, describing the 20th Bond adventure "as simply fantastic, I think the best of mine to date."
Brosnan adds that this time around, the film, 'Die Another Day' "is less convoluted and has far more of a linear plot to it." It also has some sexy moments with co-star Halle Berry, so sexy in fact, that rumour has it that one major sex scene could be cut or toned down. Brosnan hopes not. "I've been out of the loop for six weeks, so I'm just catching up on this, I mean, the scene is pretty tame, in many respects, compared to something like 'Monster's Ball'. I mean it's just Halle and I rolling around on top of each other. This is the way it's shot and the suggestion of it." He does believe that this Bond has a harder edge to it than its predecessors, because New Zealand director Lee Tamahori "is a pretty on the nose director as you know and we went for it in the confines of what you can do in a Bond movie."
Times have changed since James Bond appeared on screen in the early sixties. The Cold War that was symbolic of Bond for two decades has been replaced by a harsher dose of reality with the advent of terrorism, and September 11 still fresh in our consciousness. Given those events, Brosnan reflects on how Bond fits into the world of post 9/11. The actor is dismissive. "After September 11, I wondered what the producers were going to do and the effect they would take on this film. I didn't really have in-depth conversations with them about it, but Bond is such a fantasy, it's entertainment and the blood is not real in a Bond movie, although the body count is popping up all over the place. It's not so graphic that you are repulsed by it so, I doubt that there was much discussion really."
Pierce Brendan Brosnan was born in Navan, County Meath, Ireland on May 16, 1953. He moved with his family to London in 1964 "where one of the first films I saw was 'Goldfinger'," he recalls. His adolescence was tough, recalling his early experiences being educated by the harsh Christian Brothers. "I had a very strong Catholic upbringing," Brosnan recalls. "I was in mass, in the choir, and taught by Christian Brothers and nuns." He quietly recalls the brutality of the Brothers. "You'd be standing up saying the Our Father, and trying to remember it, you'd be beaten, punched, kicked, and slapped, just trying to get it right." He admits that experience shaped his experience and life in that "it knocks your confidence. That I should be an actor always amazes me, getting up in front of so many people. There was a great shattering of confidence at that age and then as a boy of ten heading off to the great glorious comprehensive schools of London in the early 60's makes you a fighter," says Brosnan. "You have to survive, you have to nail yourself in kind of certain protective veils so to speak." Brosnan did survive, and remained a defiant fighter, he says.
After leaving school, Brosnan became a commercial artist but was introduced to acting by a co-worker who was in a theatre group in the evenings. He left his job for the life of an actor, and entered the Drama Centre in London, where he studied acting for 3 years. Brosnan recalls being "bowled over" by landmark Hollywood films such as 'Bonnie and Clyde' and a bit later, Clint Eastwood's seminal 'Dirty Harry'.
After several years of stage work throughout the UK, he began to work in television and film. His "big break" came with the 1981 TV mini-series 'The Mansions of America', which led to him getting the title role in the popular long-running detective series 'Remington Steele', which debuted in 1982.
He moved with his wife and children to Los Angeles, California, where 'Remington Steele' was filmed. The series was quite successful, running for more than 4 seasons and 92 episodes. It catapulted Brosnan to major stardom in the U.S. Rumours began as early as 1984 that Brosnan would replace Roger Moore as the next James Bond. Due to contractual obligations, he was unable to accept the role when it was originally offered to him in 1986. Brosnan remained busy as an actor despite that setback, making many TV mini-series, theatrical films and made-for-cable movies, as well as several TV commercials.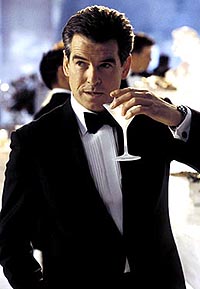 On June 8, 1994, Pierce Brosnan was unveiled at a huge press conference in London as the 5th 007. His first Bond film, 'Golden Eye', grossed over $350 million worldwide, more than any other Bond film to that point. His second Bond film, 1997's 'Tomorrow Never Dies', grossed more money in the US than 'Golden Eye'. His third Bond film, 1999's 'The World is Not Enough', had the largest opening weekend in James Bond and MGM studio history. It is no surprise, then, that Brosnan was able to set up his company Irish Dreamtime, in the offices of MGM, developing projects that allow him to remain truly challenged as an actor.
'Evelyn' will be released in a matter of weeks following the opening of 'Die Another Day', but Brosnan is unconcerned that two such distinctive films will open so closely together. "I don't think 'Evelyn' should come out after Christmas. I think we'd miss the boat there. I mean, it's not a Christmas movie as such but the story is book-ended by Christmas. You'd have to look at that aspect of it. I'm not worried about. I don't think the Studio will worry about it. I don't think it will be a problem."
Brosnan says that he responded to 'Evelyn', partly as a parent himself, but mainly "as an actor and as somebody looking for a good story and then just truly on that basis, just reading and turning the pages." It is only recently, Brosnan says, that he started to go back and rediscover his Irish roots, which forms the basis of his work not only on 'Evelyn', but his desire to have tried and persuaded the Bond producers to shoot in his former homeland. "It never started out being important, it has become important, because I'm Irish and that is my country and where I come from," Brosnan explains. "It is also the essence of who I am as a man and as an actor, that is my true essence and having been brought up in an English school system and class system, I have adopted some of their ways, then an American lifestyle. It is always good to go back and especially to go back as an actor and as an artist so to speak, in order to reinforce one's identify."
Brosnan also sings in 'Evelyn', a side of him, which audiences have never seen or heard before. Taking to it naturally, he admits to having been "incredibly frightened of doing it, especially since I've never had any formal training as a singer", but now the actor even hopes to record an album of Irish folk songs. "I even bought a ukulele while I was in Hawaii," he says smilingly.
When Brosnan's not working, it is his family that is most important to him, his wife and two recent sons, 5-year old Dylan Thomas and 18-month old Paris Beckett to journalist wife Keely Shaye Smith. Given Brosnan's propensity to work throughout the far corners of the globe, "my family travels everywhere with me. My kids are at a very portable age right now."
Next up for Brosnan is another strong departure from the exploits of 007. His company is developing a film based on the Walter Scott poem Lochinvar, which he happily admits is "a big old nut to crack" but won't take the easy road by going the predictable and safe route of Hollywood's mainstream "except when it comes to 007", he says with a glint in his eye.
As to Brosnan's future as 007, the actor may not like talking Bond but he hasn't given up the idea of hanging up his 007 tuxedo right now either, adding "the producers have told me the role is mine as long as I like. I think I could do at least one more but I also know there comes a time to bow out gracefully."