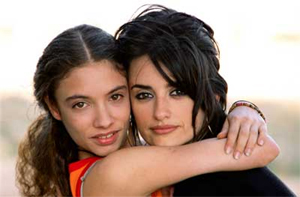 CRUZ DOWNPLAYS OSCAR CHANCES.
by Paul Fischer at the Toronto Film Festival.
Penelope Cruz looks radiant and relaxed, as we chat on the patio of Torontos Intercontinental Hotel. There seems to be a momentum building these days for an actress who has had her share of ups and downs. But now theres the dreaded Oscar buzz permeating through the industry for La Penelope Cruzs performance in Pedro Almodóvars satiric family comedy, Volver. But the actress prefers to take a laid back, pragmatic approach to the buzz surrounding her. "You can be flattered about it because thats already an award, to get that kind of love from people from a movie that they love so much - and for sure it doesnt happen in every movie, because Ive been on the other side too, you know," says Penelope Cruz, laughingly. In a career that includes over 30 films, the 32-year old admits that she has "gotten some good reviews in my career and some bad ones, and I know what it feels like being on both sides. This one is the most extreme experience until now in a positive way, so you can look at it for what it is and be flattered about it but you cannot expect anything. I cannot assume that its going to happen because then you can be disappointed if it doesnt, so I dont want to think about it."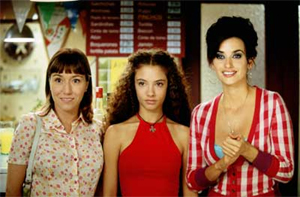 In Volver, Penelope Cruz plays Raimunda, a working class mother of a precocious teenage daughter, who lives in a council apartment in the city with her lazy husband. When her aunt dies, Raimunda returns for the funeral to her native village in the country. There she joins her sister Sole (Lola Duenas) for the mourning, and both of them are very disturbed to hear gossip that their mother - presumed dead in a fire with her husband some years ago - has recently been seen in the town. Being a superstitious lot, Raimunda and her family put this down to a ghostly apparition and return to their normal lives in the big city. Soon her slovenly husband becomes too much to bear, and when an unusual solution is found to this problem, Raimunda is off on her own, unique adventure, eventually finding herself as the unlikely manager of a neighbouring restaurant, coping with a cancer-stricken friend, as well as her ditzy sister who may or may not still be seeing apparitions of their deceased mother. All of this comes on top of Raimundas own, dark secret. Penelope Cruz, who established herself in Hollywood for a disparate array of films that garnered mixed responses, said that while it was a release to work again in her own language, Spain has always remained her home, despite the media-obsessed relationships she had with Tom Cruise and Mathew McConaughey. "In terms of working in my country I never made the decision of not working there and I never left Europe for America. So Ive been combining those things, working in four languages, trying to create the career that I want to have, and trying to take advantage of speaking those languages instead of looking at having an accent like a big problem."
Ironically, in the case of Volver, Penelope Cruz may speak Spanish - but with a regional accent. "We were working in Spanish but we still had to do all the training with the accent, so there is always something, but I love that. The more difficult the character is the more I love it, because the more opportunities you have to get to do something."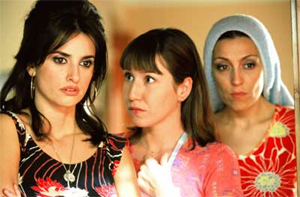 The on-screen relationship and friendship between Penelope Cruz and Almodòvar goes back to 1997s Live Flesh, with the pair re-teaming for 1999s All About My Mother. Its a relationship that has given Penelope Cruz the opportunity to show off what she is truly made of, so of course it is no question that when the director calls her up for a new film, she accepts without hesitation. "Even before reading it he knows that I trust him completely, so I dont need to read it to say yes. However, when I read it I was so happy that he was giving me that character and I knew it was an amazing opportunity for my career." Penelope Cruz says that this particular woman in Volver was important to her, because "I felt like I knew women like that, and I love that she refuses to be a victim, I love the dignity that Pedro gave her in the script, and I just wanted to give her that." In preparing to play one of the most complex and colourful female characters of her career, Penelope Cruz also looks different, slightly more buxom. "I only ate all that I wanted because I could not lose any weight for the character. So I gained like 3 or 4 kilos, and we rehearsed for three months, then there were a lot of hours of looking at the dialogue and adapting all the characters - sometimes different dialogue to each one of us. We would then do costume fittings like months before we would shoot and start creating the look of each character. I was also taking cooking lessons because I specifically handle the food in the movie and hes very precise with those things. He wants everything to be perfect, and I love that a director who is that demanding."
Asked to what extent Almodovar has changed over the years, Penelope Cruz says that "For me every film has been amazing and better and better every time. Its been great and I know how generous he is, but it always surprises me, when he does certain things. For instance, if something is not working he will tell you the truth, and if something is working he takes the time to call you home to tell you that he saw dailies and how grateful he is about what you did. That always surprises me with how busy he is on a set he takes time for those things." While in her early Hollywood career, the still ravishingly beautiful star was known for her looks, often dismissed, at least early on, as another pretty face. But it seems that those days are well and truly behind her. "I feel like I have played a few characters that have made me able to demonstrate where I wanted to go as an actress." Penelope Cruz adds that in the 35 movies she has done, "even the ones that have not been successful they have taught me something, and I feel grateful because they help me stay in the game." For the actress, staying in that game means "just keep going, and there are about 4 or 5 that have been positive in terms of how they were perceived. But Volver has been the most complete experience where its been embraced by critics and audiences alike."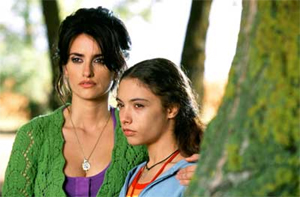 Yet Penelope Cruz has no regrets about her Hollywood career which has certainly had its fill of disappointments. "I think that would sound ungrateful if I would say that somehow the work in America was less interesting than my European work. I think I have worked with great people here that have given me great opportunities, but it is so happens that the character in Volver is more difficult and requires more. When the character is more difficult you have more chances to prove what you can do as an actor and you cannot do that by yourself, as you need the trust of a person that writes that for you and gives that to you. But here, I feel like Ive worked with amazing people here like Cameron Crowe, and Stephen Frears - people that I really respect and want to keep working with, so I feel Ive been very, very lucky to be able to work with them."
Always of fascination to the media for a variety of reasons Penelope Cruz, who never discusses her personal life, admits that both the Spanish and American media treat her equally. "Its all the same and its all periods of time, in that for now for a one month period youre here, now youre going to be that for four months. Its always people trying to put you in different boxes, but as long as you dont believe it yourself, then youre fine. I believe you are the only one that can stop yourself, and for the same reason you should not believe either all the positive stuff. You are always the same person trying to learn and grow - at least thats how I look at my career." And Penelope Cruz, who was a teenager when she first started acting, says she remains all too aware of her constant growth and transformation. "I think every day changes you a little bit and makes you learn something new. Now maybe from the outside that change can be seen like a silent thing, but I think were constantly moving forward, evolving, changing and learning, read material, be a little bit more picky with what I do next, try to spend less time on a movie set and more time creating and developing things. I bought the rights of a book last year and Im a very persistent person so I feel like I can put a lot of my energy into that and not spend the whole year on a movie set, maybe shoot a little less and use more of my time for other things."