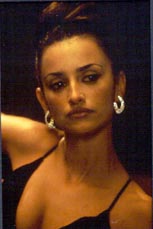 CRUZ ON TOP
Penelope Cruz/Captain Corelli's Mandolin

Interview by Paul Fischer in Los Angeles.

Regarded as one of the world's most beautiful women, Spanish actress Penelope Cruz has been in the glare of the international media lately and not necessarily because of her acting roles. With reported affairs with both Nicolas Cage and more recently Tom Cruise, Cruz has had to deal with fame on an entirely different level. Cruz is currently starring opposite Nicolas Cage in the World War 2-set Captain Corelli's Mandolin set amidst the idyllic beauty of Greece's Mediterranean coast. Paul Fischer sat down recently with the beautiful actress, who, while promoting the film, discussed acting, fame and Messrs Cage and Cruise.

Penelope Cruz has good reason to be feeling a trifle shy these days. Promoting her latest film, Captain Corelli's Mandolin in Olivia Newton-John's Malibu beach house, of all places, the beautiful Spanish star didn't exactly deny her much publicised fling with Hollywood superstar Tom Cruise, her on-screen partner in the upcoming Vanilla Sky. Asked about her impressions of Fiji where the actress reportedly spent a week with Cruise, THIS Cruz was coy in her response. "I'm not going to talk about that. Look, I know the way that's going to be used. I'm not angry that you asked me, but I don't want to talk about it. I wasn't working and so I want to keep those things for myself." Penelope fell for Cruise shortly after the star's break-up from Nicole Kidman. It has been a tumultuous time for Cruz, who is unphased about the media attention she has received as a result of the relationship, and though freely admitting that she thinks about the potentially explosive situation that accompanies such a relationship, Cruz also insists "that I was also thinking about that before. I just don't want to talk about it in an interview; I just want to keep that to myself." When pressed, however, Cruz briefly describes her new boyfriend as being "just an amazing and generous person."

Having now been associated with some of Hollywood's major leading men, Cruz remains philosophical about the unwanted spate of media attention that has centred around her personal life, which has become a part of her new Hollywood success. "I focus on the work, which I think is the only thing that can save you. You work hard to try and learn as much as possible and there's still so much to learn. You learn from life and from relationships with other people. So I try and focus on that. I try to stay away from gossip, I don't read that stuff and I don't find out about all the gossip. I mean, the main things I know, but I think what is important is how you deal with it. I prefer to put my energies on that.

"Since I started work at 15 or 16, it has been like that. Even more now (because of dating Cruise) I protect myself-and you should protect things that are only for yourself and shouldn't be mixed with the work."

Cruz shot Captain Corelli's Mandolin on location on the Greek island of Cephalonia under the watchful eyes of her family, who accompanied Penelope during the film's four-month shoot, "though I didn't see them a lot because I was working all the time and they were like on vacation. But I was happy because they were having a great time. They actually went back and they're there now. They loved the place so they went back." Cruz loved working on the island. "I couldn't imagine a better way of making this movie than be there. I also met people who had gone through similar situations, who had kept refugees in their houses during the war and survived the earthquake, who were also extras in the movie." Mandolin, based on the bestselling novel, stars Cruz as a doctor's daughter who finds herself reluctantly falling for Italian soldier Nicolas Cage, The film also has Cruz ditching Greek fisherman Christian Bale, something the actress says she finds difficult to relate to in her own life, admitting that she hasn't been in the same situation as that character. "I've had different experiences that can be substituted in order to understand her feelings which I understand, and they make a lot of sense to me." Asked if she could relate to the character, Cruz says that "I never ask myself that question when I'm going to play a character; I just want to understand the character, to be able to play her. It's as if I don't WANT to know if I can identify with her because sometimes you play characters that you don't like for whatever reason."

Her next character will appear even more familiar to Cruz fans: Vanilla Sky is a remake of a Spanish movie [Abre los ojos], in which she also starred. Comparing both films, Cruz merely admits that the latter, directed by Cameron Crowe, "is a great homage to the earlier movie, and Cameron treats it with a great deal of respect because he loves that movie." Though in fact playing the same character, Cruz insists that this time around, "the character is very different. I won't say WHAT is different, but structurally there are differences."

When Penelope is not working, she studies photography, laughingly admitting to "taking photos of other photographers which they really hate." Next up for the beautiful Spaniard is "a nice rest, perhaps study some more photography until about February, when I might be starting a new movie which I can't talk about."