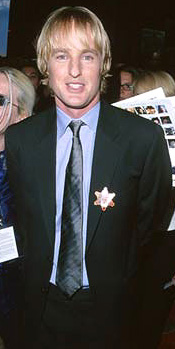 Owen Wilson/Royal Tenenbaums, Behind Enemy Lines Interview
By Paul Fischer in Los Angeles.

Owen Wilson is rapidly emerging as one of Hollywood's bright young stars. Also a screenwriter, Wilson first drew acclaim as co-writer of all three Wes Anderson films, including his latest, "The Royal Tenenbaums", which is in stark contrast to his starring role in "Behind Enemy Lines", both featuring Gene Hackman. PAUL FISCHER reports from Los Angeles.

Owen Wilson's lanky, laid back off-screen quality seems perfect for the irreverent characters he has played of late, be it Jackie Chan's smooth sidekick in "Shanghai Noon", or the ex-lover of hapless Ben Stiller's fiancée in "Meet the Parents". Even in the current actioner "Behind Enemy Lines", Wilson's apparent nonchalance exemplifies his laid-back Southern charm. "It's a Texan thing maybe". Wilson speaks slowly and deliberately, frequently pausing. Wilson's a busy lad these days, not only with "Behind Enemy Lines" and the offbeat "Royal Tenenbaums", but there is the upcoming "I Spy" with Eddie Murphy and a sequel to his "Shanghai Noon" hit on the horizon.

Wilson is unphased by all of this sudden attention. . "It doesn't really seem scary, but more like a gradual thing," he said. "We did 'Bottle Rocket' seven years ago, and none of our movies have found big audiences. Some of the stuff I've acted in, I see people like Bruce Willis or Eddie Murphy, and I can imagine that could be difficult. I'm at the point where people come up and are nice to me. You notice the different levels. The first level is, 'Did I go to school with you?' And the second is, 'Are you in a TV show or a movie I've seen?' and you're to audition for them, listing your credits - and they'll say, 'Yes, but I don't even remember you.' Which is what you dread. Then you get to; 'You're the guy from that movie!' And you get people who know your name - and that one's a little odd."

33-year old Wilson came from small-school filmmaking with close friend Wes Anderson, with whom he wrote the duo's "Bottle Rocket" and the critically acclaimed "Rushmore". Born and reared in Dallas, Texas, Wilson raised enough hell in high school to get expelled from one institution in Year 10, but still managed to attend college at the University of Texas in Austin and graduate in 1991. Along with his degree, Wilson's Austin years resulted in a budding partnership with aspiring filmmaker Wes Anderson. Their first film together, a short about a bookstore heist called "Bottle Rocket", played at the Sundance Film Festival in 1993, attracting the attention of producer Polly Platt and writer/director James L. Brooks. With Brooks' support, Wilson and Anderson expanded the short into a feature. Though it made little impression at the box office, this distinctly offbeat comedy became something of a cult favourite.

Alternating between supporting roles in Hollywood spectacles, collaborations with Anderson and Ben Stiller, and smaller independent projects, Wilson worked steadily for the rest of the 1990s. By 2000, Wilson began to take centre stage in larger Hollywood projects, joining Jackie Chan in "Shanghai Noon" (2000) and nearly stealing the movie. Wilson worked with Stiller in "Meet the Parents" (2000), and Stiller's supermodel farce "Zoolander". "A lot of it is luck and good timing. Who would have known that I'd end up in two movies with Gene Hackman, and me as an action hero in one of 'em."

It was Hackman who actually pushed for Wilson to star in "Behind Enemy Lines" and it was a coincidence that the pair would end up in "Tenenbaums" shortly thereafter. "Gene liked me in "Shanghai Noon" and recommended me for "Behind Enemy Lines". I agreed to do it so they recommended me for that. We'd always wanted him for the "Royal Tenenbaums" and Wes finally persuaded him during "Behind Enemy Lines." One can imagine that by now, the veteran Hackman is almost an adopted father to the younger Wilson. "It's funny. The reason I really was excited about working on "Behind Enemy Lines" is because of him, but we didn't have that much stuff together. He's on the ship. I'm behind enemy lines, so we didn't do a lot of stuff together," he adds laughingly.

"The Royal Tenenbaums" is the polar opposite to the more mainstream "Behind Enemy Lines". Co-written and executive produced by Wilson, "Tenenbaums" casts Hackman as the patriarch of a large, dysfunctional family of eccentric geniuses. Hackman's Royal attempts to reconcile with his estranged family, including tormented former tennis star Luke Wilson; resentful widowed father Ben Stiller, and sullen, secretive Gwyneth Paltrow. Hackman's separated wife Anjelica Houston, meanwhile, attempts to marry business partner Danny Glover over Hackman's unsubtle objections, while Paltrow cheats on her much older husband (Bill Murray) with a sweetly drug-addled Western writer, played by Owen Wilson. Wilson and his friend and writing collaborator Wes Anderson, have turned 'quirky' into something of an art form. Their work - and "Tenenbaums" is a classic example - refuses to find solace within the conformity of mainstream Hollywood.

Wilson argues that he and Wes "kind of do stuff that comes naturally to us, I don't know exactly how you would describe it but I know the humour is not really clinical or mean-spirited. It seems to come more from enthusiasm or earnestness," Wilson explains. "The things that Wes and I find funny are derived from characters we all knew and grew up with."

Wilson and Anderson faced the daunting challenge, in "Tenenbaums", of creating an eclectic collage of off-beat characters, but it was a challenge the pair faced. "Trying to write an ensemble movie, rather than focusing on one thing, was certainly challenging, but I think it ended up pretty much being Gene Hackman's movie. However, early on we didn't quite know how it was going to work out." Wilson smiles when asked if he was ever tempted to write more for his own Eli character in the film. ""No, the character that I probably actually would have, liked to have written more of or identified with was Ben [Stiller]'s character which I really liked a lot.  Wes really wrote a lot of Eli's stuff, and I think it worked out better that way," Wilson explains. "It was like, I showed up for work and Wes was like, 'What do you think about having war paint?'  And [I was like], 'I don't like that idea.  I don't want to have war paint.'  And the next thing I know I've got war paint."

Wilson says he and Wes have ideas about future collaborations, "including a Western and a movie with an Ocean setting." Neither will be conventional. As a straight actor, however, Owen continues to star in very conventional blockbusters but playing unconventional characters. Apart from "I Spy", another film based on a classic TV series, Wilson is about to start shooting "Shanghai Knights" with Jackie Chan, presumably on location in England. "It's supposed to be England, if we go back to Jack the Ripper time. I don't know where, maybe Prague and London. I would like it to be Dublin, to be Ireland, because that's where my ancestors are from and I think I get along well with Irish people." Ah, the luck of the Irish!