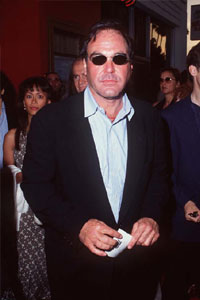 Stone Takes on a Great Alexander.
Oliver Stone/Alexander Interview by Paul Fischer in Los Angeles.
He's an Oscar winner, obsessive and a reputation for being tough, but there is no denying that Oliver Stone is one of then most formidable and controversial directors of his generation. A ferocious intellectual, Stone has wanted to tell the story of Alexander the Great for over a decade. Meeting in a Los Angeles hotel room, Stone often has difficulty remaining focused, but when he does, he pulls no punches, commenting on why it has taken him so long to return to the cameras in a feature film, the politics of Hollywood, and the controversy surrounding the bisexual elements of the film.

Q: Directing takes a lot of stamina. How wiped were you with this one?OS: Good question. I knew that I had to make it and I knew there was tremendous pressure from the other films to make it. But when you look in hindsight you say those were projects that made us move. But the main issue is always the script - that had to be solved. You can't do a poor script with a great actor; that won't work. I couldn't yes to Morritz (Borman, producer) - he wanted to get out faster and we were getting killed in the press - and we had a hard time making foreign deals and but in the end we concentrated on the script and it came true gradually. It was a European production - an independent production-it started Germany, France came in, England came in big time, Korea, and then America.

Q: You're a filmmaker of enormous passion - why the need to make this film?

OS: You know I can't answer that - you know the need is in you. You may not be aware of it sometimes. There was an unconscious desire to do a film about a hero - I think Jim Morrison is in part a working out of that direction, because Morrison lived elaborately a lot like Dionysus; ironically Val Kilmer is in the movie and he's now playing the father. You have to look at the irony in these situations - PLATOON was almost made ten years before; it was almost made with Sydney Lumet and I was broken-hearted when they didn't make it - I said the Vietnam truth will never - well 86 cut, I never thought I would've directed it and I did and it opened many doors for me. Same thing happened to me in 79, I wrote Born On The 4th Of July and it was made 10years to the day in 89 with Tom Cruise. Who could've thought that would happen -I was heartbroken when the German tax fund just self destructed before shooting began - Kovac almost killed himself he was so depressed. Who knows these ironies? Colin Farrell was destined to play Alexander - I thought it would be Val - or Tom Cruise - but it was destiny - he was probably fourteen years old at the time - and drinking heavily (laughs)

Q: You're a very political filmmaker. Was this a movie that you specifically did or did not want to draw any political correlations to?

OS: If anything I wanted to get out of this time and go back to another time.- I'd always done contemporary films. Honestly I started the film concretely in 1980. In 2001 I did four scripts. The Iraq thing is an irony that is very rich - I don't know if I can draw a conclusion because we haven't seen it play out yet - it's going to take time. But there's something going on, right? But remember, Alexander is remembered for 2500 years.-he's the youngest man ever to take over the world; but he's remembered for his generosity. There was a special quality and compassion - he cried for his soldiers on the battlefield. What king had done that? He's remembered. That's the test of time.

Q: What made Colin Farrell right for the role?

OS: Alexander was all inclusive, he didn't care what you were - as long as you worked out a peaceful relationship - he built an empire on commerce and trade - after his death the Hellenic world and the Eastern world co-mingleda lot more. He was the prototype for the Roman Empire - he was called the last Greek - he created in his wake - he trusted the locals and included them in his army - it's unfortunate that the present policy didn't become more inclusive of the United Nations, of other countries. Alexander would have seen the opportunity as a diplomat to reach beyond one country's nationalism. But he had to deal with a huge issue of nationalism - his Macedonian troops were the biggest resistors to change.

Q: Why is CF the ideal Alexander at this time?

OS: I don't know, he walked into --- the screen test was when he sold me, the first meeting was a disaster. He was a skinny little Dublin boy, drunk as a skunk - breaking glasses in the restaurant, with his hand on my thigh the whole time. I couldn't stand him. He was a feisty fellow - I didn't seem him then as Alexander, I saw him as an interesting actor. Then I took him home we had passionate sex (laughs) don't quote me on that one. He coalesced at the screen test. He put some Doris Day wigs on his head. I didn't think he could do it - he's Tyrone Power, he's black Irish. The point is, he became blond. He convinced me - my producers were convinced. And of course he got hotter. And he proved he could be a good actor he could stand the test with Pacino and Cruise - those are major actors - he stood right up there, a young cocky kid-he had the craft, the technique. He is very -there's a great structure up there.

Q: Any parallels between Alexander and your own life and career?

OS: No, I think all young people should see something in him because there's an idealism there. A desire for change, to shake up the world, a desire to be famous - frankly I'm not saying that's great, but it was a desire for glory - to be Achilles. I applaud his imagination and daring and courage. Let's not forget-- that was the last generation where a 26 year old controlled the political leadership of the times - we're living in the older men now - the tribal chiefs. The young men controlled the world.

Q: The accents? Irish? Macedonians were speaking with Irish accents, the Greeks. what was the decision behind the accents?

OS: It wasn't that cut and dry. There were no American accents in this movie. Let's say that Ancient Greece was a patchwork of accents at that time. In the North you have the Macedonians who were Celtic. Some say Alexander had red hair, and white skin. Celtic includes not just Irish, it includes Scottish and Welsh. We had a guy from Liverpool, so I said why not? Val went Irish - clear Irish, not Colin Irish - we classed him up, we gave him workouts, horses, sun - and then he still went out all nite and then he still got up and went out in the sun and outlasted us anyway - he became Alexander. He fought with his self doubt - he had a lot of it.

Q: Are you a perfectionist?

OS: No - perfect is the enemy of good. I'm not like Stanley Kubrick - I do ten takes at most - but I lack spontaneity - I encourage free thought - I stop things when I don't understand it.

Q: You started out talking about scripts. Were there a lot of false starts?

OS: I started writing this in 1986. The first draft that I wrote was very linear. If you look at Robert Rosson's film - and he was a very good director and screenwriter by the way, he wrote the HUSTLER - but his films putters for me - because it's speechy. He plays out the whole Greek story -it's hard to get thru Persia and India and give the whole story. I wanted to do the whole life - I wanted to get thru Babylon, Backtria, it's really five acts. I wanted badly to make it into a 3 actor - for me the big victory was in the editing room and getting it into three acts. The two battle scenes are really bookends.

Q: I've read that an hour was cut from the film - that the original cut was close to four hours.

OS: Well that's true of all movies. The original cuts - we whittle down, we look for essences - we all do that. In the old days they were more economical - the script was controlled, the director was in charge. That's not to say we're indulgent wasteful, we have more film, we have more film to cut.

Q: So is the DVD going to be the definitive directors cut?

OS: This is the directors cut. I'll live and die by it. I don't have a director's cut. I hate that terminology. Now the DVD guys say that's just a marketing tool - no - if it's gonna be a cut that I do, it's going to be a PG 13 cut - if these mother fuckers would pay. I don't make a dime on the DVDs, it's like the biggest rip-off in modern corporate history - one of the biggest - almost as bad as Enron. They made a deal in the 80's with the actors, writers and directors and then they defused it.

Q: Is there a period in history that you would like to explore?

OS: I think the Greek period is the best - obviously the Egyptian period is fascinating but it's been done to death by The Mummy.

Q: Are you working on anything at the moment?

OS: NO, I'm completely into this, it's been five years.

Q: Will it be another five years before we see another Oliver Stone film?

OS: I hope not. But I've had my fill of this business.

Q: The documentaries how rewarding were they?

OS: Very - except the abuse I received from the press for a film that hadn't seen. It's been seen all over Europe and people aren't saying bad stuff.

ALEXANDER OPENS IN JANUARY.