OMO Ultimate and OMO Small and Mighty Capsules
Complete Cleaning Clout Crammed in a Capsule
OMO introduces Australia to Capsules Laundry's latest technology means no mess, no fuss, no waste
OMO, Australia's number one laundry brand*, has introduced Australians to a completely new way to do their laundry - OMO Capsules.

Making their Australian debut in NSW, OMO Small & Mighty Capsules combine brilliant performance with ultimate convenience.

OMO Small & Mighty Capsules are OMO's most advanced liquid ever**. The perfectly measured 40ml dose of concentrated detergent contains 50% more pre-treaters***, providing active cleaning and care for your clothes, while at the same time offering complete ease for busy mums and people on the go. The pillow-shaped OMO Capsules are made from a biodegradable PVA film that dissolves on contact with water, releasing the powerful liquid in the drum while at the same time leaving no residue in the wash.

OMO Small & Mighty Capsules are available in both Active Clean and Sensitive variants. The Sensitive variant has been specially formulated and dermatologically tested to ensure clothes are kind to sensitive skin. Both variants are available in Top Loader & Front Loader versions, RRP $12.99.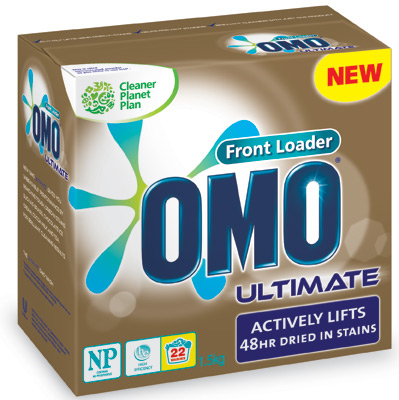 OMO Ultimate
Australia's number one launches Ultimate, the answer to the prayers of Aussie mums.
Packed full of vital cleaning ingredients such as activated oxygen bleach, optical brighteners and pre-treaters, OMO Ultimate cuts through 48 hour dried in stains, delivering super cleaning and brilliant whites from just one product.

The ultra-concentrated powder dissolves in the wash, attacking the kind of stubborn stains that Aussie mums deal with everyday; from grass, grease and gravy to cooking fat and cocoa milk.

OMO Ultimate is unbeatable** versus the leading competitors (in both cold and warm water) at removing tea, wine, chocolate ice-cream, lipstick, grass, cocoa milk, gravy, chocolate ice-cream and cooking fat stains; meaning busy mums who don't have the time to wash their family's clothes everyday can relax.

OMO aren't the only ones who believe in the outstanding cleaning power of Ultimate. Leading machine manufacturers Whirlpool, LG, Bosch, Siemens, Samsung, Simpson and Electrolux all recommended OMO Ultimate.

OMO Ultimate is available nationwide in 1.5kg (RRP$15.49) & 5kg(RRP$38.49) and Top Loader & Front Loader variants.