Changing The Mood In Your Bedroom
Inspirational Mood Setters: The Psychology of Colour
"Colours, like features, follow the changes of emotions" - Pablo Picasso.

Inspirations Paint & Colour, Australia's largest and leading network of paint specialist stores understands the application of colour can create different moods and affect our energy levels and how we feel in our environment.

The home is an escape and the bedroom, our oasis. Both need to be designed and painted in colours that suit our personality and evoke the mood we wish to create. According to Inspirations Paint & Colours' loyalty program, the Colour Clique, which records paint colours used by Colour Clique customers in their homes, the master bedroom is by far the most popular room painted. This trend will no doubt continue as Australians increasingly opt to spend more time retreating at home and making the most of their leisure time.

With the link between design and wellbeing increasingly evident, Inspirations is here to help us understand the psychology behind colour and how best to apply it to our surroundings, especially in the bedroom.

With the link between design and wellbeing increasingly evident, Inspirations is here to help us understand the psychology behind colour and how best to apply it to our surroundings, especially in the bedroom.


The Psychology Behind Red
Red has often been associated with passion, love, emotion and energy. Red will lift the pulse rate and is not considered a restful colour. It is for this reason that special consideration must be given to just where and how much is used within the bedroom.

If you have trouble falling asleep, you shouldn't use red, however, to spice up a tired relationship, red may be just what the doctor ordered.

Incorporating Red Into Your Bedroom:
According to Inspirations Colour Consultant Michelle Sloan, red should be used sparingly in a bedroom.
"Try feature walls and accessories only. Red is a great colour when paired with neutrals", says Michelle.

Inspirations Colour Consultant Lisa Christie says, "It's a good idea to vary the shade of red on one wall or just use it for accessories. Red is a good colour for sheets or blankets, because if it becomes too distracting it can ebe hidden until you wish to evoke those responses".

Red should never be used in a baby's room.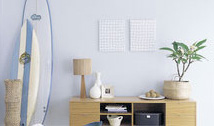 The Psychology Behind Blue
Blue is considered one of the most universally popular colours associated with, calmness, serenity, loyalty, protection, blue skies and seas.

Blue prevents nightmares, promotes intellectual thoughts and is believed to keep hunger at bay.

It is the one colour that stretches across the widest spectrum from Aquamarines through to Violets and Lavenders.

Incorporating Blue Into Your Bedroom:
Lisa Christie warns that, "depending on the natural light in the room and its aspect, blue can look cold and therefore be unwelcoming".

Both colour consultants agree that Aquamarine shades teamed with white achieves a lovely fresh and revitalised feeling.


The Psychology Behind Yellow
Yellow is almost always associated with happiness, laughter and good times. A person surrounded by yellow feels optimistic because the brain actually releases more serotonin when around this colour.

Yellow manages to be both rich and delicate - a quality that allows it to be used in many spaces. Some shades of yellow are associated with the promise of better times.

Incorporating Yellow Into Your Bedroom:
Michelle Sloan states that "yellows in a bedroom are seen to be purifying and stimulating to the nervous system". She recommends using warm tones that life the spirits and are restful, especially for bedrooms that are a little on the dark side.

Lisa Christie says, "Yellow can be quickly overpowering if over-used, but used sparingly in just the right place itJ:\femail-img\purplewall_s.jpg can be beautiful. Try darker shades of yellow, verging into golden shades, as it may be more appropriate for the bedroom".


The Psychology Behind Green
Green promotes feelings of well-being, harmony, nature, security, stability and balance. The colour green is known to aid concentration and creative thoughts.

Green is a calming colour that is very pleasing to the senses. It is also the colour associated with envy, good luck, generosity and fertility. It is the traditional colour of peace, harmony, comfort, nurturing and well paced energy.

Incorporating Green Into Your Bedroom:
Michelle Sloan says, "green is a soothing and restful colour that can be easily teamed with accent colours. It's often a favourite for bedrooms, especially babies rooms".

Lisa Christie recommends injecting different shades of olive green to ensure that you rroom doesn't make you too complacent or laid back.


The Psychology Behind Orange
Orange in its various forms is warm, friendly and reassuring. It is an active colour that evokes feelings of excitement and can also aid digestion.

Incorporating Orange Into Your Bedroom:
According to Lisa Christie, oranage is becoming increasingly popular. "In 2011 oranges are rich, cosy and slightly spiced, but be aware that orange can make a room look smaller, therefore only use orange in a room with lots of natural light."

"Orange isn't seen as conductive to sleep and relaxation, so it's best avoided in quantity on bedroom walls. Temporary accessories or artwork teamed with taupe walls are a great way to make your bedroom an exciting or active place".

Lisa's favourite is various shades of orange teamed with shapes of taupe.

www.InspirationsPaint.com.au