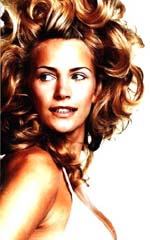 NATASHA TAKES ON A NEW KIND OF SPECIES
Natasha Henstridge/Ghosts of Mars Interview
by Paul Fischer in Los Angeles.

She romped about naked as an alien species, now statuesque Natasha Henstridge kicks some alien butt in the new John Carpenter sci-fi actioner Ghosts of Mars. It was a pregnant Ms Henstridge that chatted to Paul Fischer.

It appears that Natasha Henstridge has a habit of being pregnant when doing press for a new movie, "but I don't plan it for THAT reason", Henstridge says laughingly. When we met, she was in her seventh month, and admits her first son, Tristan, is excited about having a baby brother or sister. "He talks about all the time and can hardly wait," the beautifully glowing actress says.

Henstridge is best known for her portrayal of that all-nude, nubile alien in Species, the film which launched the ex-model's Hollywood career. "I had been modelling and living in New York doing small acting bits in commercials. I asked my agent to put me up for a movie role and Species is what happened. I thought it would be cool to be in a movie and it would get me to L.A. I was tired of New York and looking to move." But she is glad to put the whole Species thing to rest, "because there was so much attention and no experience. I couldn't believe people were hiring me. I didn't trust myself, so the first four years after Species was a lot of self-sabotage. I didn't really know what I was doing, had no training as an actress, and suddenly all of these 'things' were coming at me. It's hard to say, looking back, if I was trying to live things down." Henstridge was contractually obliged to do Species II, and was concerned from the outset they were going "include more nudity and more sex, all of which made sense for the first one. I thought they might want to up the ante a little bit, which I didn't want, so instead they brought in strippers and whores and did it anyway," she adds laughingly.

Most recently, Henstridge has finally been able to exorcise the sex symbol tag, replacing it with actress, as she landed major roles in the likes of Bounce and The Whole Nine Yards. "I was suddenly getting roles opposite huge stars and they were treating me like an equal, and that felt so good,"

Henstridge explains. Her latest is in John Carpenter's Ghosts of Mars, a futuristic actioner, in which she plays a determined cop, who teams up with criminal Ice Cube, when a team of ghostly creatures threatens their survival. Henstridge took over from Courtney Love who quite the project claiming physical injury. It was Henstridge's fiancé, Liam Waite, who suggested to Carpenter that Natasha might be available. "Liam was already cast in the movie and had been at the martial-arts boot camp for two weeks. When Courtney was negotiating to get out of her contract, he told John he thought he could talk me into filling. I was just finishing this cable TV movie Beauty And Power, so I literally came in just days before filming began." Henstridge admits that making a movie such as Ghosts of Mars, brought out the kid in her. "It was cool. I was a real tomboy growing up, and I've always loved action stuff. I'm the person who, when those movies like G.I. Jane come out, is the first in line; I just love all that stuff. I just LOVE women in action, and you don't see enough of that, which is why I guess it's so new. So it was great in this, being able to kick some ass instead of being dragged around by the guy who's doing all of the ass-kicking."

Though she had studied some martial arts, Henstridge admits filming Ghosts Of Mars was hard work. "It was like doing a musical. The action sequences were so tightly choreographed and all the while we were carrying these heavy guns and wearing heavy vests." As for worrying about Liam becoming jealous over a seduction scene between the actress and Brit Jason Statham, Henstridge was unphased. "Liam and I were in another movie together called Second Skin, in which I'd had a more intensive love scene with my co-star [Angus MacFadyen] and he had to deal with that the whole time. Luckily the three of us got along very well; otherwise it would have been a very unusual situation."

Henstridge has a couple of more films coming out but has no desire to return to modelling. "Since the day I got Species, I haven't done another modelling gig. I was turning down God-knows-how-much-money once the acting took off. I'm glad it worked out."

Henstridge is content to take some well-deserved time off. After all, being pregnant affects your career choices to some extent. "My pregnancy means I'll have almost eight months off and it's a break I'm looking forward to. Our first pregnancy was planned. This one was a bit of a surprise, but a wonderful one. We're almost certain we're going to have a girl this time, so when we eventually get married we'll have a ring bearer and a flower girl for our wedding party." Not bad planning at all.