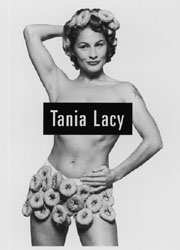 Theatrically, her autobiographical one-woman show "All of Me" did a sold-out national tour and was short-listed at the 1995 Edinburgh Comedy Festival for 'The Perrier Award' and 'The Best Newcomer's Award'. Her 1997 short film "Tistiana Booberini" screened at the Telluride and Sundance Film Festivals and earned her a 'Best Actress Award' at the Exposure Film Festival in Brisbane. In 1997 she was awarded the 'Nicole Kidman Best Actress Award' at Australia's internationally- revered Tropfest Short Film Festival, for a short she wrote called "Pussy Got Your Tongue?" The following year her short "Jesus Is Lord" was a finalist at the Melbourne International Comedy Film Festival.

Wildly popular with the Australian youth, Lacy has recorded several informational videos for the Queensland Government's Anti-Drug Campaign, the University of Melbourne, and The Department of Education and Employment.

A classically-trained dancer who was born in Singapore but grew up in Melbourne, Lacy has choreographed for international singers Kylie Minogue and Kids in the Kitchen as well as numerous corporate clients.

For the last year and a half Tania has been residing in Los Angeles where she has been performing her new one-woman show 'Suburban Refugee'.

Read on for a compelling interview with Nathan Soulsby (Marie Stopes representative) and the ideal Marie Stopes spokesperson, the very outspoken, Ms Tania Lacy!

Q. Tania, can you tell me where you were born and raised as a youngster?

Tania Lacy: I was born in Singapore, moved and grew up in QLD. Ended up going back to Singapore to live for a while and eventually settled in the Melbourne suburb of Ringwood. At this point in my life I live in St Kilda.

Q. What was your first job?

Tania Lacy: My first job was as a Ballet teacher from the age of 16.

Q. What did you always dream of being when you grew up?

Tania Lacy: I thought I would be nothing other than a dancer. I trained my whole life to be a dancer. In my second year at the Victorian College of the Arts School of Dance I had a life/career-changing incident. My dance teacher was holding me up above his head and dropped me to the ground, I shattered my knee and I was in rehabilitation for 1 year after that. It was a known fact that my teacher was a drunk, which made it even harder to comprehend. After rehabilitation I got into the area of choreography. It was at the ABC that I was spotted by Molly Meldrum fooling about in the background and he invited me to open "Countdown".

This is when my comedy career began. I received a call from the ABC the next day and was invited to audition for a new show called "The Factory". I got the job and was initially the youth affairs reporter but ended up being more at home doing all the comic relief. Co-hosts included Andrew Daddo and Alex Papps. This gig lasted for 2 years or so.

Q. Where to from there?

Tania Lacy: "I then went on to host Countdown Revolution with Mark Little. This lasted for 6 months. Since then I have had an array of guest appearances, TV commercials, short films and most recently my second One-Woman Show."

Q. Could you tell me more about the One-Woman Show?

Tania Lacy: My first show was a sell out which travelled the nation titled, "All of me" It was a huge success. The second show was titled, "Suburban Refugee" and this I performed at comedy clubs throughout LA. It lasted 2 seasons of 2 months. Aside from the success of the show, while in LA, Ellen Degeneres spied my tape and invited me to audition for her new sitcom.

Q. How often do you work?

Tania Lacy: "24 hours 7 Days a week. I always wake up in the middle of the night with ahead full of ideas, then I can't stop thinking about them, then I don't sleep, then I have to get up and write them down, then it's time to get up anyway."

Q. What is your biggest career achievement?

Tania Lacy: "I don't think I've had it yet. I think the future holds so much and there is a huge amount to come my way."

Q. The best piece of advice that you have been given?

Tania Lacy: If you write everyday, you will become a better writer. Paul Kelly gave this to me.

Q. Your favourite toy as a child?

Tania Lacy: Thumberlina the doll. She had new dresses for every special occasion and received gifts for her birthday and Xmas.

Q. What burning issue in the world are you thinking a lot about at the moment?

Tania Lacy: I'm tired of male politicians or leaders making decisions, which affect women's lives, dis-empowering women here in Australia and throughout the world.

Q. What are you angry about?

Tania Lacy: "More to the point what am I not angry about. I'm a very emotional, dare I say it, angry woman. I think that's why I write comedy. Without anger I'd probably be writing nice, pretty period dramas. Not that there's anything wrong with period dramas. I feel that once a comedian loses his/her anger they lose their humour."

Q. Why at this point in your career have you chosen to be a spokesperson for Marie Stopes International Australia?

Tania Lacy: I have a great life; I have people that love me, a roof over my head, food on the table. I feel it is a great time to now give back to the community. And it is basically good Karma.

I want to highlight the plight of disadvantaged women both here in Australia throughout Indigenous communities and throughout the developing world. I want women both here in Australia and throughout the world to be able to access the same service and care that I take for granted.

Q. Why did you choose the work of Marie Stopes International Australia to promote, and what are your plans with them?

Tania Lacy: Marie Stopes are not afraid of tackling the real issues for women, they go where a lot of organisations don't. Marie Stopes provide women with the tools to enable them to make informed decisions about their reproductive health choices. I feel that the empowerment of disadvantaged women is high priority.

I plan on taking away the stigma attached to reproductive health and allow women to speak more comfortably about the issues that affect them.

"I will publicly promote the work of MSIA both in Australia and overseas. 600,000 women worldwide die every year as a direct result of pregnancy, that is the equivalent of four jumbo jets crashing everyday, with no survivors. Statistics like this make the decision to support the work of Marie Stopes very simple."

To find out more about this vital organisation call 1800-222-114.