Naomi Watts in The Ring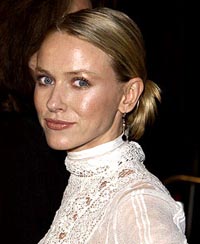 NAOMI GRABS HOLD OF HOLLYWOOD'S BRASS RING/
EXCLUSIVE Naomi Watts/The Ring Interview.

Naomi Watts has reason to be all smiles. It has been twelve years since we first met. Back then she was very much the proverbial unknown young actress, trying to make a name for herself back in Australia. But now the British-born Aussie has finally been discovered by Hollywood. Now starring [and literally carrying] her first Hollywood film, the eerie thriller "The Ring", Watts laughs at the notion that here in Hollywood, at least, she is unknown. If one talks to the local media in Los Angeles, despite her having done some 30 films twelve years on, Watts is Hollywood's 'next big thing'. "Look, whatever they want to believe is fine", she says amidst peals of laughter. "Perspective is perspective and you can't mess with that. It's fine in a way when they say 'Oh, she's fresh'. I mean, who can argue with that?"

In Los Angeles' trendy W Hotel, Watts is a radiant presence. The beautiful 34-year old is wearing a pink striped shirt, grey pants and a woollen tank top, her blond hair hangs perfectly at her shoulders. Always luminous, on and off the screen, Watts recalls that as an adolescent, she was far less the attractive young woman who has developed over the years, recalling that she was very much "a later bloomer", as she recalls her plain Jane days of being a tomboy. "I had a big brother and never had Barbie dolls. Instead, we played with action men and drew pictures of wars, not noses", she says, laughingly. "Me and my brother were climbing trees and I was just in awe of him, so all of his friends became MY friends. I wasn't a 'girlie girl' who was precious or any of that. Grooming and that kind of stuff never entered into it. I never had pretty pink nail polish on or pretty pink dresses. None of that was a part of my life; I was about force and being a tough girl. I never became aware of my body or looks until I was in my early twenties."

Born in England, Watts moved to Australia when she was just 14. She recalls how she felt having been uprooted from her friends at the time. "I moved around England a lot when I was a kid, and that was unsettling at the time when my mum was still trying to find her feet in terms of what career she wanted, "she recalls. Her parents divorced when Watts was 4 "and my dad was on the road all the time, so we lived with my grandparents, and I ended up going to 7 different schools." Her maternal grandmother was Australian, which was one of the factors that prompted her mother to make the decision to move to Australia, "which I just hated the idea of doing. At 14, you know, you're just trying to find your feet." Initially wary of her new homeland, Watts eventually settled in. "Once I got there, it was a bit of a culture shock and there were obviously some things we all had to adjust to, but I ultimately loved it and in retrospect it was the best thing that my mum ever did."

Her acting career began in a small way, appearing as one third of a trio of friends in John Duigan's "Flirting", in which she appeared with long-time friend Nicole Kidman. Watts may have had no idea at the time how successful Kidman would become, but still close friends, the actress recalls seeing how she coped with the kind of fame and spotlight that may well be imposed on herself in the months to come. Not that the pair necessarily discussed this in any great detail. "I've experienced it with her, and when you're a friend, you watch and learn. It's not that you ask advice and get pointers. "

Watts' own Hollywood career has come in fits and starts. She had high hopes that films such as 1995's "Tank Girl", 1999's "Hunt for the Unicorn Killer", or the as yet unreleased thriller "Down", would elevate her profile. But Hollywood success can be fickle and she recalls the number of times she was seriously thinking of packing it all in. It was her friend Nicole that urged her not to give up. "She was always very encouraging and when the chips were down and I was really thinking of throwing in the towel, she kept on telling me to hang in there, that all it takes is one thing, and she was right."

That 'one thing' was the unexpected theatrical release of David Lynch's "Mulholland Drive", which was originally made as a television pilot. She was both surprised and not, that it was that film that emerged as her Hollywood springboard. "It doesn't surprise me because of that role, which was just so outstanding and not many actors could get to play that in their whole career, let alone in one movie." On the other hand, she adds, reflectively, "I never thought I'd EVER get a chance so it ended up being surprising that it took David Lynch, one man, to have the guts to believe in me and help everyone else understand that I DID have something."

Hollywood has now, finally, beckoned in a big way. The name of the game is choice and she has plenty to choose from, which suits her just fine. Watts is now starring in her first Hollywood film, "The Ring", a remake of the acclaimed Japanese horror picture in which she plays a reporter trying to unravel the chilling mystery of a videotape that kills whoever watches it, exactly seven days later. While it is a genre film, Watts was attracted to this as her first big US film, "because it's such a great role, especially the protagonist being female when that kind of part is normally reserved for the guys. She gets to go through such an incredible journey, not just with the struggle and chaos that's happening around her, but her own personal journey." That journey has her starting out "as this very flawed woman, which attracted me. I like her complexities and the fact that she thinks everything's OK because she's not fighting with her son. She then discovers that throughout the journey that she needs to be a better mum, has a moment to reflect and think: OK I've learned something through this, which I liked."

Although there are moments of absolute terror and creepiness in "The Ring", Watts relied a lot on her imagination to express the kinds of fears her character conveys throughout much of the film. "I'm someone who has a degree of fear like any normal human being," she explains. "I love to play it, because it's a really good emotion to play. I love that I can contribute to manipulating someone else's emotions because we all can trick our own minds into believing or feeling things where you can go to a movie and have someone else trick you."

Not specifically a fan "of the next big genre movie coming out", Watts says that she loves "really good, psychological thrillers. Most of the HORROR films that I've loved are those that take more time to frighten you, which are creepier, like "Don't Look Now" and "The Shining". I think "The Ring" has that air of intelligence about it."

Although she plays a reporter in "The Ring", Watts found few parallels between that aspect of her character, and her real-life relationship with the tabloid press, although she does admit that America's tabloids are tame in comparison to what she is used to. "In Australia they're definitely more brutal", she smilingly concedes. "I think they're up there with the worst of them and the British ones are pretty bad too. It's funny, though, people want to know about my preparations in playing a journalist and the truth is that I went literally from the set of a movie in south Wales to the set of "The Ring" in Seattle, so it really wasn't enough preparation time for me to explore that. Therefore, the imagination was at work, and also, the film does this quick gear change going from: Journalistic skills out the window to let's just survive here and what mechanism can I use to protect, survive and arguably save the world? It's not about an angle or a scoop."

Nor is there an angle or scoop into the private life of Naomi Watts. Always guarded about her privacy, Watts won't discuss her much publicised relationship with fellow Aussie Heath Ledger, whom she met on the set of "The Kelly Gang", in Australia. Although now much more in the glare of the spotlight than she was a little over a year ago, the actress is preparing for the fame that she may have to contend with, "by doing what I've always done, which includes hanging out with the same people. All of this stuff [undertaking massive publicity tours] definitely fills up your life, which becomes a lot fuller. However, it's a just a part of it despite it being pretty stressful, unusual, unnatural, all the attention, focus and stuff, but you just keep on doing what you've always done. I just never want to be one of those people who is too afraid to leave the house and miss out on experiences."

Watts is now in the kind of position she has been fighting to attain for over a decade, and with that, comes the kind of choices she wants to make, and those choices have brought with them some amazing offers. This month, she will begin rehearsals for "21 Grams", directed by Alejandro González Iñárritu, who made Amores Perros, and which stars Sean Penn and Benicio Del Toro no less. "I grew up on Sean's work and he's such an extraordinary actor, I'm in complete awe of working with him." Watts recently wrapped "Le Divorce", which she shot in Paris with Kate Hudson, the British film "Rain Falls", with Kate Beckinsale, "Plots with a View" co-starring Brenda Blethyn and of course the Australian film "The Kelly Gang" with Heath Ledger and Rachel Griffiths. Life couldn't be sweeter for Ms Watts. No wonder she is all smiles.



FEMALE.COM.AU
CONTACT US