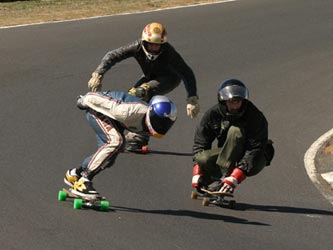 Exciting new next generation event to strike Mount Panorama
Mount Panorama in Bathurst is getting set to stage the newest youth festival on the Australian event calendar - Newton's Playground. This gravity fuelled extreme sport and music event will hit the slopes of the iconic motor racing circuit over three days from 7th - 9th March 2008.
Utilising some of the most famously hazardous sections of the Mountain circuit, Newton's Playground will accommodate competitors from Australia and overseas across a range of downhill gravity sport disciplines including Luge, Downhill Skateboarding, Gravity Bikes, In-Line Speed Skating and Freestyle Skateboard Sliding.
Not only will Newton's Playground be the first festival of its kind in Australia, it also boasts World Cup sanctioning from the gravity sports governing body - the International Gravity Sports Association (IGSA).
"I've seen some motor racing footage from Mount Panorama in recent years and I know my Australian counterparts refer to the Mountain as downhill sports utopia so I'm looking forward to experiencing it first hand" said President of the IGSA, Marcus Rietema. "Some of those corners look pretty nasty and I'm told to expect 125km/hr+ down Conrod Straight on board the Street Luge."
"We have a very strong following here in the Northern Hemisphere so it's very exciting to see our sports expanding into the Southern Hemisphere. Newton's Playground will sit alongside our other World Cup events in USA, France, Germany, Austria and South Africa in 2008 which will really put Bathurst, and in particular, Mount Panorama on the map from a gravity sports perspective" Marcus went on to say.
Australian downhill skateboarder Gareth Fitzgerald said "At the speeds we will hit on Mount Panorama, fear gets left behind, then slaps you in the face coming into the next turn."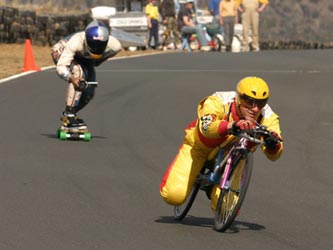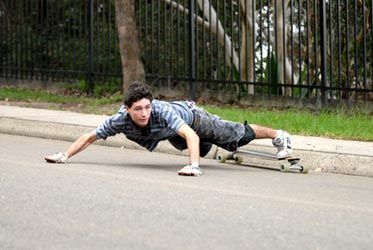 Alongside the downhill disciplines which will be managed by the Australian Skateboard Racing Association (ASRA), various other on and off track sports plus a couple of next generation air sports will feature in the program. Slalom Skateboarding, Mountain Bike Road Rash, Carveboarding and Dirtsurfing are among the other on-track disciplines.
Off-track will involve three separate Mountain Biking competitions being managed by the Central Tablelands Mountain Bike Club, a BMX Big Air Dirt Dance competition hosted by Freestyle BMX and a Freestyle Skateboard miniramp jam competition staged by Skateboarding Australia. Skydive Oz will complete multiple airsport demonstrations of Wingsuit Flying and Swooping directly over the Festival site ensuring spectators receive an overdose of adrenaline for the weekend.
Newton's Playground is a great opportunity for the Australian public to enjoy a unique, world class event in their own backyard. The festival will also play host to some remarkable musical talent across two stages with an exciting band lineup announcement due within days.
An action packed weekend will be assured with other highlights including performances from well renowned DJs, flatlander demonstrations, a dedicated chill out zone, an industry village, gravity related rides and a variety of food and beverage outlets.
Festival patrons are encouraged to embrace the great outdoors with their choice of accommodation. Sulman and Reid Parks, adjacent to the Festival site on Mount Panorama will be dedicated campsites and cater for those who like their sleep and those who feel sleep can wait for later.
Tickets for Newton's Playground will go on sale at 9am Monday December 3 via Moshtix. Tickets are limited so spectators are urged to get in early to avoid disappointment.
Additional Newton's Playground announcements will be made over the coming weeks.
For all event information please visit
www.newtonsplayground.com.au