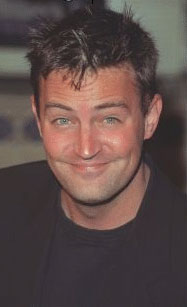 LIFE AFTER FRIENDS IS A WHOLE TEN YARDS FOR PERRY


Matthew Perry/The Whole Ten Yards Interview by Paul Fischer in Los Angeles.
There was a time when you couldn't stop Matthew Perry talking about the series that changed his life. That was then, this is now. Promoting his new movie, The Whole Ten Yards, the sequel to his one major film success 2000's The Whole Nine Yards, again with Bruce Willis and Amanda Peet, Perry's agenda is focused on spreading the word that his post-Friends career is up-and-running with a new movie. Sporting a colourful, purple, shiny shirt, jeans and sunglasses propped on his head, Perry, who completed filming the series finale of the ten-year old sitcom earlier this year, says he didn't feel the need to cry the day it was all over. "I kind of had that feeling of you're just about to cry for five hours, but Jennifer Aniston's over there sobbing so you have to go take care of her," Perry concedes, smilingly. Ten years on, returning to broad screen comedy in Whole Ten Yards, Perry says that he learned a fundamental lesson from Friends, which "was this idea of best joke wins, no matter who thinks of it. If there's a tyrannical presence, it's wrong in a comedy world." Relating that back to his movie, "This movie is kind of a nice and funny place to be, while everybody's shooting at each other, which is kind of fun. So, it does scare you and you find yourself laughing at the most crazy, weird things."

In The Whole Ten Yards, Perry reprises his role of the perennially paranoid dentist who forces himself to realign himself with a supposedly kinder, gentler and domesticated ex-contract killer [Willis] when the former's wife [Natasha Henstridge] is kidnapped. Perry may not be enamoured with the press, but rumour has it that was while participating in the press junket for the first film, that he and Willis hit upon the idea to do the sequel. "I don't know that if it was the press junket or the fact that the day after the movie came out, it did really well," he says, laughingly. "But the reason we are here doing it again is we all like the ensemble cast and had such a blast doing the first movie. Then everybody watched it and it had this great shelf life on DVD and all that stuff."

Originally, Perry hit upon the idea of having his and Willis' characters undergo a certain role reversal for the sequel, with Willis all soft and gentle, and Perry macho and tough. But somehow that didn't seem to work, Perry concedes. "It just wasn't that funny. One of the great things about the first movie was that I was scared of everything, so in the opening table read, we had the idea of making me kind of this Clint Eastwood guy in the beginning and him being this Martha Stewart kind of person, but we had to drop half of that out."

While Perry is trying to hide from his Chandler alter-ego, he admits that there are similarities between his television character and his Nicholas 'Oz' Oseransky in Whole Ten Yards, except it's "Chandler times a thousand", he insists. Yet Perry admits that it's a challenge not to repeat himself and keep everything fresh. "As an actor, being on autopilot is the worst thing possible, so you just make sure the script was written by the right person, you make sure you're surrounded by funny people and then you just literally try to beat the joke. The goal is to have to do the shot again because the camera guy shook a little bit as he was laughing. Without that happening, I'm not happy because there's nothing better for me than a world that everybody's just trying to make each other laugh and that everybody's trying to analyse the funny and trying to make it as good as possible." After a reflective pause, Perry adds that "I think Chandler grew up through the 10 years. What I love about a character like Oz is there are no rules. He's a scared guy who's in a set of very scary circumstances and can do all these really physical over the top kind of things." Getting back to Chandler, Perry finally admits that it was not difficult finally putting him to rest. "I loved doing the show but I love the opportunity to go and now do different things."