by Paul Fischer in Los Angeles
THE LATEST BOND BAD GUY IS STARTING TO FEEL THE HEAT
The Danes have imported cheese and ice cream, amongst others, but now movie goers will be introduced to Denmarks own brand of superstar, Mads Mikkelsen. Mikkelsen, you see, is the latest Bond villain in Casino Royale, the film that promises to completely reenergise the longest running franchise in cinema history. But Mikkelsen, who plays the deadly Le Chifre in the screen version of the Fleming novel does not concern himself with past heritage or the source material. The down-to-earth actor, in Los Angeles for some limited pre-publicity, doesnt know if his screen incarnation is distinct from Flemings original creation. "I have no idea because I havent read the book," the actor replies, matter-of-factly, nor has he seen previous film versions of the book. "I havent seen the films and the reason for that is that were not doing the book or the films, but were doing that script and the script is Martin Campbells blood and heart. So I am going to work with him on that and with my fellow actors and will eventually read it and see the other films." Not that Mikkelsen is not a fan of the classic Bond films, but wouldnt be drawn on comparing Daniel Craigs take on 007, to that of his predecessors. "Well they all bring in their own personal things into the films but I think that Daniel might contain all differences within one character. I mean hes strong, he looks good, hes got a beautiful language, can kill people with his bare hands, and can throw a punch like anyone. I think he has taken this Bond and dragged him into 2006."
While there is a danger of stereotyping a Bond villain, Mikkelsen says "it is not entirely up to the actor, but its got to be somewhat the script as well, and you have to work with the director to do that." The actor adds that at times it is necessary to have villains that are one dimensional "to tell the story the proper way, but I think we managed to make this guy human, in that hes in there, in it for the money, something we all can relate to and I think we found something likeable about him as well as unlikeable."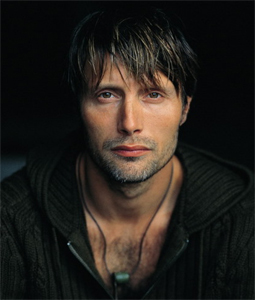 Mikkelsen admits that while the Bond franchise is a big deal, he didnt allow himself to become distracted by that facet of doing Casino Royale. "I cant use that for anything, because thats just peoples expectations. I mean imagine a guy running around doing a marathon and all hes thinking about is what people expect him to do, so I try not think about that. Of course now I understand, when we do the interviews that it is a big, big franchise." Big or not, the normally cool and collected actor laughingly concedes there is still a cool factor in being a Bond villain. "That is fantastic and I can take that out of the photo album when Im hopefully 80 and show it to my grand kids, but when you work you dont think about it."
As for life after 007, Mikkelsen says that doing a Bond film opens the doors to bigger and better things. "Ive started to get some offers and well just wait and see after the opening." Meanwhile the actor is content living in Copenhagen and seeing what being in the latest Bond thriller will do for his career.
James Bond Collection:
www.femail.com.au/james-bond-dvd-collection.htm
Casino Royale
www.femail.com.au/casino-royale-james-bond.htm