A Love Affair That Won't Break Your Heart!


Passionate trysts, endless summer days, glorious architecture, great artists, mouth-watering pasta, vino with friends...the Italy we all dream of escaping to.
But whilst an Italian sojourn may stretch the budget, the Lavazza Italian Film Festival 2007 will keep you (and your bank manager!) happy, with 16 sensational new films that have been lovingly selected from the recent Venice, Rome and Cannes International Film Festivals, and have also enjoyed block-buster theatrical releases in Italy.
Australia's most romantic film festival, now in its eighth year, will weave its magic around the country between September and November, with a line-up that will make you laugh, cry, dream and fall in love all over again. And the Festival is proud to continue its long-standing association with Lavazza, Italy's finest coffee, who as a major sponsor, continue to offer Festival-goers an incredible espresso experience.
Manual of Love 2, the enchanting sequel to the hit romantic comedy Manual of Love (IFF 2005) will open the 2007 Festival. Directed by Giovanni Veronesi and starring Carlo Verdone, Monica Bellucci, Sergio Rubini and Barbora Bobulova, Manual of Love 2 explores the innermost recesses of the human heart through four inter-connecting stories that depict that most mysterious of emotions, in all its frailty.
Attending IFF 2007 will be akin to a front row seat at the David Di Donatello Awards (Italy's Oscars) with the latest movies from renowned directors such as Paolo and Vittorio Taviani (The Lark Farm), Pupi Avati (The Get-Together Dinner), Ferzan Ozpetek (Saturn in Opposition), Francesca Comencini (Our Country), Roberto Ando (Secret Journey) and Ermanno Olmi, whose feature film One Hundred Nails marks the end of his career as a director of fiction. Add to this a cast list featuring Stefano Accorsi, Laura Morante, Margherita Buy, Valeria Golino, Luigi Lo Cascio, Giovanna Mezzogiorno, Claudio Santamaria, Paz Vega, Tcheky Karyo, Diego Abatantuono, Maria Schneider, Emir Kusturica, Moritz Bleibtreu and rising stars Elsa Pataky Riccardo Scamarcio and Ambra Angiolini, and you have every reason to celebrate!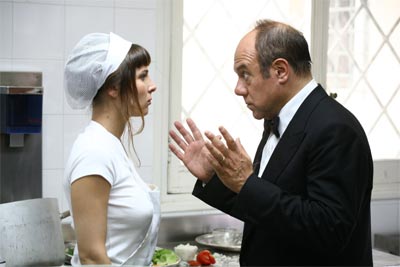 Highlights from the 2007 programme include:
The Get-together Dinner (La Cena Per Farli Conoscere)

Director: Pupi Avati
Pupi Avati (A Heart Elsewhere) delivers a touching comedy about three stepsisters playing cupid for their father, a jaded TV star whose career has seen better days. As lacerating as it is comical, Avati's first film set in Rome shines against the sparkling backdrop of Christmas in Italy.
Saturn in Opposition (Saturno Contro)

Director: Ferzan Ozpetek
Multi-award-winning Italo-Turkish director Ferzan Ozpetek, (Facing Windows) takes a compelling look at a group of friends, who are forced to re-examine the very essence of their relationships with one another.
One Out of Two (Uno Su Due)

Director: Eugenio Cappuccio
The touching new drama from celebrated director Eugenio Cappuccio is a refreshingly real depiction of a successful businessman's emotional rebirth following a major health scare. In his hospital room, he meets a truck driver, marvellously played by one-time Pasolini regular Ninetto Davoli, who seems to understand him better than he understands himself.
The Night Before Finals (Notte Prima Degli Esami)

Director: Fausto Brizzi
Set in the 80s, Fausto Brizzi's clean-cut teens stumble through crushes and cramming in this gently ironic high school comedy which reigned supreme at the Italian box office, delighting youthful audiences drawn by the new cast, and older audiences, keen to reminisce.
One Hundred Nails (Centochiodi)

Director: Ermanno Olmi
Ermanno Olmi (The Tree with Wooden Clogs) tells the story of a young theology professor who retreats from the complexities of university life, abandoning friends, family and all material possessions in the process. Living in a deserted farmhouse, he befriends the local inhabitants, and gradually realizes that all things are possible
NATIONAL DATES FOR THE LAVAZZA ITALIAN FILM FESTIVAL 2007 ARE:
MELBOURNE: Sept 19 to Oct 7 Palace Balwyn, Como and Westgarth
SYDNEY: Sept 26 to Oct 15 Palace Norton Street and Academy
BRISBANE: Oct 11 to Oct 28 Palace Centro Cinemas
PERTH: Oct 18 to Oct 31 Cinema Paradiso and Luna on SX
ADELAIDE: Oct 25 - Nov 7 Palace Nova Eastend
HOBART: Nov 2 to Nov 11 Liverpool Picturehouse
CANBERRA: Nov 8 to Nov 11 Greater Union Manuka
www.italianfilmfestival.com.au