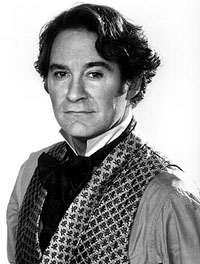 The House that Kline Built

Kevin Kline has a self-deprecating manner about him, but these days, given recent events, it's hard to retain a sense of humour. So Kline, who plays a dying architect in his new film "Life As A House", tries to explain precisely why life IS a house, at least in this movie. "It's an ambiguous metaphor and rather broad. For an architect manqué, which my character is, it's more like a house. A house is an expression of yourself, as well as refuge and shelter, and it's got an interior and an exterior; it's like life. Like a person maybe." Normally a man of more words, Kline is in New York, preferring not to fly to Los Angeles to participate in the PR rounds for this film. Yet it's a film of which the Oscar-winning actor is proud, as well he should be.

Kline is George Monroe, a failed architect, the anti-social, eccentric inhabitant of a tumble-down shack that's an eyesore on a wealthy California cul-de-sac. When he's given a terminal diagnosis, he decides to spend his remaining days repairing his home, and by extension, his relationships with his ex-wife (Kristin Scott Thomas) and troubled teenage son (Hayden Christensen). A happily married father, Kline says he identified greatly with his character. "He leapt off the page at me," he said. "I loved the story and that screenwriter Mark Andrus allowed for the humour in the most dire situations. What I related to was his rather mordant sense of humour and his ill-timed sense of humour." Kline sees his character "as just pushed into living. He's pretty hooked into his misery. I have a feeling he's very comfortable with it," Kline said.

The actor, who lost nearly 20 pounds for this movie, happily admits that he has made an old fashioned tear-jerker. "I love a good cry, and I'm embarrassed to say when I saw the movie the first time, well, I was just a mess," he laughingly recalls.

Yet despite the often emotional moments in the film, shooting "Life As A House" was a far more cheerful experience than the film's subject matter. "I was happy all the time," he said. "I remember doing 'Sophie's Choice' and people would say, 'It must have been harrowing.' It wasn't. It's fun, invigorating, to act with wonderful writers and actors and a caterer whose food you love to eat but you're starving yourself. It's fun because you need an antidote to these dramatic scenes." Kline also insists that the film is far from preachy. "The moral of the story and the lessons one learns are reminders of things you knew all along but it's good to be reminded of," Kline said.

Even the film's depiction of a family that comes together to build a house and restores itself in the process isn't meant to be some kind of universal truth. "That just works for George," Kline said. "It's not the building of the home that unites them but provides the context they can all work together. Ironically, it's a home he's building, as much as a house and it provides a space where he finally can do what he's postponed for much of his life: relate to his loved ones and build the house he's always wanted. He's had to destroy the abusive, alcoholic ghost of his father to build himself." For Kline, 'building' the house depicted in the movie, meant that he could practice some of his own handy work. "I'm a useless carpenter. Maybe doing this film has taught me to hit a nail", he quips.

While Kline can relate to some of this film's universal truthfulness, the battles with his fictional adolescent son have not translated into Kline's real-life family saga. Married to actress Phoebe Cates since 1989 and the father of two young children, the 54-year old Kline said, "I'm still in that blissfully happy period where my son is only 10 and that adolescent demon hasn't emerged." In fact, some Kline family bonding took place when the actor shot "The Anniversary Party," the recent comedy about Hollywood types, for which Cates stepped out of retirement to play Kline's wife in the film. Kline says he was initially opposed to having his daughter, Greta, and son, Owen, appear as his and Cates' on-screen children. "Not because they'll get a taste of acting and never shake it off," he said, "but to protect their privacy. But Jennifer (Jason Leigh, who co-wrote, co-directed and co-starred) is Phoebe's closest friend, and only she could drag Phoebe out of retirement. Maybe that's part of the package, and that made it attractive for Phoebe. The kids enjoyed it. We shot our whole part in 12 or 13 days. There were no dressing rooms or trailers. We just hung out. It was more like going to a party than making a movie - like going to a Sunday barbecue."

Kline's own career, like many of the themes of his latest film, reflects his own diversity as a screen chameleon, from the tragic to the pure comic, and he has had hits and misses. He made his film debut in 1982's "Sophie's Choice" and emerged as a major star the following year with "The Big Chill". In 1991's "Soapdish", he made fun of his own beginnings on TV's "Search For Tomorrow". He was charming as a substitute U.S. president in the hit "Dave" and less effective in "French Kiss". He earned a Best Supporting Actor Oscar for "A Fish Called Wanda", two Tony Awards on Broadway, was nominated for the MTV Movie Awards' Best Kiss trophy for making out with Tom Selleck in "In & Out" and shared a Worst Screen Couple Razzie with Will Smith for "Wild Wild West". But ultimately, the kudos don't matter; it's family that remains his priority.

Asked if Kline would change any of his own priorities if facing his final birthday, he pauses slightly. "I would live even more intensely than I do now. I would relish just hanging out with my family. Tell my children everything I know. That wouldn't take too long. A couple hours. You know, try to die beautifully, happily, with as little pain as possible," he explains with a faint smile.

Kevin Kline/Life As A House Interview by Paul Fischer in Los Angeles.