Kathy Sheeran Online Shopping Interview
According to new market research released today, returning goods bought online is too much hassle for many Aussies. The survey of 1,000 online shoppers by ParcelPoint – the company determined to fix the problem of missed deliveries and complicated returns – found that over three quarters (76.1%) of online shoppers avoid returning something, due to complicated returns policies or expensive return shipping costs. This concerns both online shops and auctioning websites like eBay.

The study looked to uncover the online shopping delivery and returns experience, and discovered that Australia's biggest online shopping bug bears are, in particular, missed deliveries from online stores and the sometimes difficult process of returning unwanted or incorrect purchases.

Online shopping returns were strong among the frustrations listed with 88% of Aussies saying a complex or expensive returns process would impact the likelihood of them purchasing again from the same online retail store.

With 21% of online shoppers holding on to unwanted purchases ranging in value from $100 to more than $500, complicated and time consuming return policies are wasting Aussies money.

And 51% of Aussies admit to occasionally or never returning something because of the hassle, opting instead to keep the item or re-gift the unwanted purchase to a family member or friend.

ParcelPoint champion and online shopping guru Kathy Sheeran says 'With online shopping growing in popularity, there is definitely some room for improvement with the services on offer. The survey shows that 85% of customers check the return policy before purchase, so customers are much more likely to shop again with online retailers that have an easy returns process. Australian retailers with difficult or expensive returns policy are missing out on this customer loyalty opportunity."

Interestingly, the online study also found that most Aussies don't have a convenient or secure place to get their parcels delivered, with many (72.5%) opting for their parcels to be left on the front door step. This is despite nearly half (43%) not being there to receive the package and 42.1% worried about security risk or weather damage.

'Consumers can avoid the frustration when it comes to missed deliveries and stop worrying about the security of their parcels by using trusted services like ParcelPoint who offer convenient and secure locations for parcel deliveries and returns. With over 1,200 participating locations in key locations around Australia, you can opt to have your parcel delivered to a location near work or home."

The Australian-owned ParcelPoint service offers online shoppers the option of having parcels delivered to a secure pick-up point that is convenient to them and open late, with more than 1,200 participating newsagents, convenience stores, supermarkets and pharmacies across the country.


Interview with Kathy Sheeran
Question: Were you surprised that 75% of Aussies don't return items they've bought online?

Kathy Sheeran: Not at all, I'm often part of that 75%, depending on the returns options offered by the retailer! The whole process can seem all too hard.


Question: Why do you believe most people don't return unwanted online items?

Kathy Sheeran: It just seems all too hard if you have to go to the post office. I don't think it's intentional; I say to myself 'I'll post that back tomorrow", but then the thought of lining up at the post office gives me a headache. It's easier to put the item in the cupboard or at the back of my wardrobe - out of sight, out of mind. Lazy I know!


Question: After a negative experience do most people choose not to shop online again?

Kathy Sheeran: I don't think so. In the early days of online shopping I had a couple of bad experiences. I bought a watch online which I never received then found out the seller went broke and I never got my money back. That being said, I still shop online; I've been shopping online for 10 years now. I love shopping and I use to visit the shops on a regular basis. Then I was working longer hours so I didn't have the time to visit the shops so I quickly became addicted to the convenience of shopping online.


Question: How can we change this statistic?

Kathy Sheeran: More convenient ways to collect and return your parcels are now on offer. ParcelPoint is the answer to making online shopping a completely convenient process and experience. There is no stress caused by missed deliveries. Queues at the Post Office are now a thing of the past and returns are also simple, all you do is print your return shipping label and attach it to your parcel then drop it off at one of the hundreds of trusted store locations. When I first heard about ParcelPoint I didn't think I'd find a collection point so close to home but I was wrong, I practically drive past one every day. I've used it a few times and I love it. No queues.


Question: What are your top five tips for making the most of online shopping?

Kathy Sheeran: Only buy from websites you know and trust. Be wary if the website looks unprofessional or makes unrealistic promises. If it's too good to be true it generally is.
Make sure you read the full description of the item before you buy. Including sizing, especially from an overseas website.
Read all the fine print, including the returns policy.
Before you click buy check the postage costs. You may be buying a bargain but once shipping is included, it may not be that cheap.
When paying, use a secure payment method like PayPal or BPAY. Never pay by direct debit or email your banking or credit card details.


Question: Why do you prefer online shopping over the traditional method?

Kathy Sheeran: I'm time poor and don't have the time to shop during business hours. On weekends, I'd rather be in the surf than a shopping centre. Did you know that 60% of people who shop online do it for convenience not price?!

I can shop online whenever and where ever I want. I even shop from my mobile devices. It's a great way to compare product and prices from all over the world. And who doesn't love receiving a parcel delivery?


Question: What should we be most aware of when shopping online?

Kathy Sheeran: Security. Think of it this way, when you go to the shopping centre you make sure your wallet is safe and protected. You should think the same way when you shop at home on your computer. Make sure you have a good internet security software programme and also think about how you're having your parcels delivered. If there's a chance of them being left on your doorstep or out in the weather, consider using a secure collection service, such as ParcelPoint.


Question: How important is checking the return policy before purchasing and what should we be looking out for?

Kathy Sheeran: Checking the return policy is really important when you're shopping online. Ask questions if you are unsure and especially if there is not a returns policy posted on website. The key things you need to know are:
If the item is on sale can it be returned?
If the item is faulty at whose cost is it to return?
Is there a time limit to return items?
Is there a refund offered or is a store credit issued?


Question: What inspired you to begin ParcelPoint?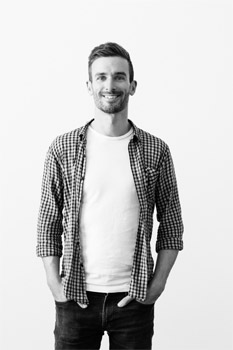 Julian Leach: I was inspired by a frustrating experience with buying a book from the US. I missed the delivery and it ended up being sent back, so then I had to get it re-sent. The waste of time and money seemed ridiculous. I quickly realised that this was a big problem for many Australians in a fast-growing online market.

So I turned my rented Bondi apartment into a neighbourhood delivery point. I handed out flyers in the local area and before long I had a steady stream of paying customers. This prompted a decision to expand the network to nearby late-night convenience stores and pharmacies.

As the business started to grow I encountered Phil Lee, another entrepreneur who had already set up ParcelPoint on the other side of town. We joined forces under the ParcelPoint brand, and now the ParcelPoint network has over 1,200 stores.


Question: What does ParcelPoint offer consumers?

Julian Leach: ParcelPoint offers consumers a convenient solution to avoid missed deliveries and difficult returns. By choosing ParcelPoint you can pick up and return items at your local store – when it suits you. No more waiting around for deliveries to arrive or lining up at the post office. The process is simple to use with email/SMS updates, parcel tracking and insurance.


Interview by Brooke Hunter