JoyFocus is the female fronted band from the mighty suburb of Wheaton Illinois USA. Cyber Suburban Electro Rock Circus is the third release for the band, and the biggest in regards to recording and lyrically the most cohesive of the three.
JoyFocus is made up of musician Rikk Currence and singer Holly Joy, their music is radio friendly and full of artistic expression. The play list of JoyFocus latest album, Cyber Suburban Electro Rock Circus, is made up of compelling music and lyrics that produce emotion that any audience could relate to. Think drums, loud guitars, massive vocals, intense lyrics and a unique sound and you have JoyFocus.
Play list of Cyber Suburban Electro Rock Circus:
1.Audrey is Gone
2.Princess Samantha
3.Grey Day My Way (War of Me)
4.Prayer
5.Salvation
6.Halos and Flames
7.All That You Need
8.Here Comes The Rain Again
9.Reprise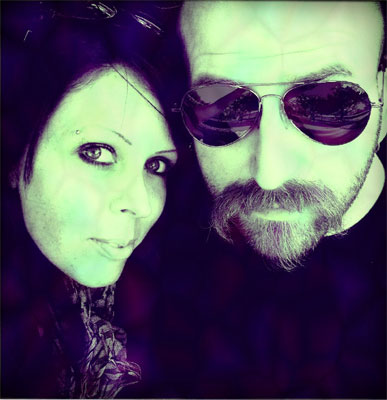 JoyFocus, Cyber Suburban Electro Rock Circus
1. How did it feel to hear your song played all over the airwaves?
Holly Joy
: Humbling & Exciting
2. Did you have any pre-conceived ideas about the music industry?
Holly Joy
: Nothing you haven't heard before...which is sad...
3. Do you write your own songs? What's your inspiration?
Holly Joy
: Yes we do. Our inspiration is every day life triumphs & Struggles.
4. What music/artists do you listen to when you are not playing your own?
Holly Joy
: Weezer, Roger Clyne & the Peacemakers, Queen, Family Force 5, Cyndi Lauper, Coheed & Cambria,Neil Diamond & anything recorded between 1981 and 1989.
5. What's next? Tour/Album/Single?
Holly Joy
: Album, then tour
6. Was there a moment you contemplated throwing in the towel?
Holly Joy
: Nope.
7. Do you prefer performing live or recording?
Holly Joy
: I prefer recording but love them both. In the studio it's about creation and live it's about presentation. So it's two very different processes.
8. What/who was your inspiration to go into the music industry?
Holly Joy
: Cyndi Lauper & Annie Lennox made me /want/ to sing, however my earliest influences were the Beach Boys & Carol King.
9. What is the biggest challenge you have faced along the way to your musical success?
Holly Joy
: Not becoming part of "the machine" while still attempting to be heard on an international level. Also trying to be a positive Female role model instead of taking the easy way out and selling skin & sex appeal. With me (us) it's all about the music.
10. What's a typical day like?
Holly Joy
: Hmm... Sleep in, surf the net, home school my son, watch TV, Love my Mr., go to bed, do it all over again the next day.
11. What has been your favorite part of becoming a music artist?
Holly Joy
: Being able to express my thoughts & feelings in an artistic way that connects with others.
12. If you could collaborate with another artist, who would it be?
Holly Joy
: Neil Diamond.
13. Are you single? What do you look for in a partner?
Holly Joy
: I'm very married - I look(ed) for the perfect man & found him!
14. Do you have a website fans can visit?
Holly Joy
www.joyfocus.com
15. Can you tell us 5 things required for a happy healthy & enjoyable life?
Holly Joy
: Be responsible for yourself, no matter how good you are, realize there is always someone better, love with all your heart, eats lots of chocolate, live with no regrets.
16. What message would you like to say to your fans?
Holly Joy
: Thanks & we love you!
17. What is the story behind the bands name?
Holly Joy
: My middle name is Joy, and Rikk thought it would be cool to incorporate that into the name, as it is also my "stage name", so JoyFocus was born.
60 Second Quiz
Full Name
: Holly Joy Currence
Nickname
: HoJo
Star Sign
: Sagittarius
Music Talent
: Singing
Favorite Food
: Cupcakes
Favorite Film
: What about Bob
Favorite Actor
: Bill Murray
Pet
: My Daschund - Boba Fett
Describe yourself in 3 words
: Happy, Fun, Loving
Best Feature
: Eyes
Worst Feature
: My Vision (irony!)
Person You Would Most Like to Meet
: Alec Baldwin
Hobbies/Interests
: Jewelry, Photography & Flickr
First Job
: T.J. Maxx - discount retail
Are you a Pub, Bar or Club kind
: I'm a "stay home & watch TV kind".
What Can You Never Leave Home Without
: my keys & gum.
What is the first thing you think of when you wake up in the morning
: My Husband