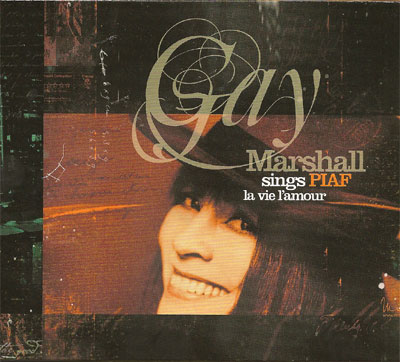 Gay Marshall
Gay Marshall is an American actress who has produced this brilliant French CD, PIAF. Gay Marshall has personally translated many of Piaf's songs in an extraordinary and sophisticated manner.

Gay Marshall says "By chance I picked up a book about the life of Edith Piaf and then searched for recordings of the songs I'd read about. When I heard them I didn't just want to sing them, I had to sing them. I'd always wanted to be a singer and she made me one. She was more than an inspiration to me; she changed the course of my life."

On the CD there are also four bonus tracks which are English adaption's of The Carnival Crowd, All in White, Lost and Lonely Souls and The Lady for Pigalle.

Gay Marshall has translated gorgeously with help from her orchestra to construct a CD that is perfect for anyone familiar with Edith Piaf or a lover of France.

Track listing:
1. Padam
2. La Belle Historie d'Amour
3. Enfin Le Printemps
4. Les Amants d'un Jour
5. L'accordeoniste
6. Avec Ce Sokleil
7. La Vie En Rose
8. Les Blouses Blanches
9. La Foule
10. Elle Frequentait la Rue Pigalle
11. L'hymne A L'amour
12. Le Droit D'Aimer
13. Les Momes De La Cloche
14. Milord
15. Non, Je Ne Regrette Rien

Gay is married to Jean-Louis Blondeau, the accomplice of Philippe Petit.