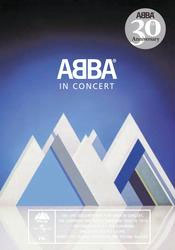 ABBA's 1979 concert tour of North America and Europe was an adventure marked by excitement and anticipation. Not only did the group tour very rarely, but for the first time their many American fans would get the chance to see them in live performance. The European leg of the tour was no less thrilling: in England, ABBA achieved the formidable feat of selling out London's Wembley Arena for six nights in a row.
This triumphant journey across two continents was vividly captured on film in ABBA in Concert. In intimate backstage scenes the group confronts the American touring circuit - travelling, rehearsing, relaxing, and preparing for their show. The camera then transports us to London, England and an unforgettable concert at a cooking Wembley Arena. ABBA in Concert exposes the four Swedes at their dynamic best, delivering hit after hit: Waterloo, Take a chance on me, Knowing me Knowing you, Chiquitita, Dancing Queen and many more.
More than two decades have passed since ABBA last were together on a concert stage. But the magic of their music continues to capture the world's imagination - perhaps more so now than ever before. ABBA in Concert is an invaluable document and a rare chance to experience the real thing: ABBA live, as they really were.
Songs Performed:
Waterloo - Eagle - Take a chance on me - Voulez-Vous - Chiquitita - I have a dream - Gimme! Gimme! Gimme! (A man after midnight) - Knowing me, knowing you - Summer Night City - Dancing Queen - Does you mother know - Hole in your soul
Bonus Tracks:
The way old freinds do, previously unreleased on DVD, introduced by Agnetha and Bjorn.
I have a dream, unedited live version.
Thank you for the music, previously unreleased performance from the tour, never broadcast.
Interview with director Urban Lasson
Interview with promoter and tour producer Thomas Johansson
Tour Souvenir Programme Picture Gallery
Mamma Mia! trailer

Run time: 100 min





Thanks to Universal Music, here is you chance to win your very own copy of ABBA in Concert DVD to add to your collection. CLICK HERE!