Jo Ryan Johnson's Bedtime App Interview
JOHNSON'S® has released new research highlighting that the nation's mums will likely miss out, with the greatest challenge of early parenthood revealed as lack of sleep (75%). More of a burden than financial strain (38%) and disrupted social life (24%), it's no surprise that limited snooze-time topped the list. JOHNSON'S research showed that, on average, new mums only get three to four hours of sleep and wake up five times per night to settle their baby.

It's this issue that has led the baby products expert to launch the Australian -Tonight We Sleep' challenge and JOHNSON'S® BEDTIME App. The -Tonight We Sleep' challenge and BEDTIME App feature JOHNSON'S clinically proven 3-Step Routine, which, if followed over a seven day period, can help baby get back up to an extra hour of sleep at bedtime. The routine incorporates bath time followed by massage, to enhance bonding and engage the senses, as well as peaceful quiet time to relax baby into a restful sleep."

The importance of sleep is well-documented. Although sleep deprivation can have serious side effects in extreme cases, for many new parents, loss of sleep is mainly associated with absent-mindedness and forgetfulness. The research from JOHNSON'S reveals the most common blunders worn-out parents make includes forgetting or mixing up dates in the diary (50%), losing important items such as keys (43%) and locking themselves out of the house (14%).

Experts say that the best way to improve sleep habits with young children is to establish a bedtime routine. 'Once a bedtime routine is established, babies can drift off to sleep more quickly and, after the first few weeks, wake up less through the night. This, in turn, should help mum with sleepless nights too" says Baby Sleep Consultant, Jo Ryan (MPH), who was a Registered Nurse for nearly 20 years and has a Masters of Public Health.

To highlight the importance of reclaiming sleep for the whole family with a new baby, JOHNSON'S has teamed up with Jo Ryan as well as long-term partner Tresillian, a not-for-profit organisation that assists Australian families through early childhood, to launch the -Tonight We Sleep' challenge.

Parents who want to take the challenge and adopt the 3-Step Routine can learn more by downloading the new JOHNSON'S BEDTIME App - a resource which offers tips and support to help get baby to sleep, as well as access to Tresillian Live Advice, which is also available to access from the JOHNSON's website. This Tresillian resource allows mums to chat directly with a Tresillian Nurse online for expert advice between the often challenging hours of 5-11pm on weekdays.

Tresillian's Operational Nurse Manager, Leanne Daggar says 'At Tresillian we understand how difficult sleep deprivation can be for new parents. Our nursing staff work with parents to recognise what are known as baby's 'tired' signs and then how to respond. There are several ways parents can calm baby prior to bedtime including a warm bath and massage along with lots of cuddles and reassurance and support from organisations like Tresillian, so baby can discover their own way of falling asleep".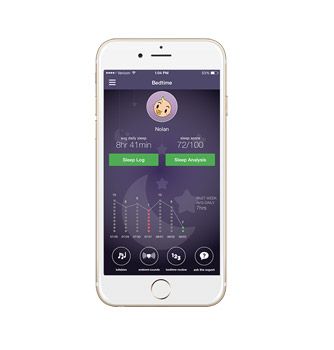 The Tonight We Sleep Challenge aims to equip parents with the expertise they need to avoid sleep deprivation.

The JOHNSON's BEDTIME App can be downloaded from the App Store on iOS or Google Play on Android devices. In addition to information about the 3-Step Routine and access to Tresillian Live Advice, the JOHNSON'S BEDTIME App offers a number of resources including a baby sleep tracker and downloadable lullabies. Visit www.johnsonsbaby.com.au/bedtime for more information.



Interview with Baby Sleep Consultant, Jo Ryan (MPH)
Question: What is the Johnson's 3-Step Routine?

Jo Ryan: Warm bath: Bath time is the perfect way to start your baby's pre-bed routine. There are lots of ways to help build confidence and make bath time a success. Remember, very young babies need constant support in water, so never take your hands off them. And never leave any baby, regardless of age, alone in the bath, not even for a minute.
Gentle massage: A soothing massage is a wonderful way to make your baby feel secure, loved and ready for sleep. Massage can help you recognise and respond to your baby's body language and it's a great way to make your little one feel safe and secure. In fact, research has shown that there are many benefits to baby massage, and it's also a perfect time to bond with your baby. Before you dress your baby for bed, apply a small amount of baby lotion like JOHNSON'S® BEDTIME Lotion to the palm of your hand and then softly massage it into your baby's skin.
Quiet time: After giving your baby a warm bath and a relaxing massage, it's time to send them off to sleep with a little quiet time together. Make sure you keep the atmosphere calm and cosy. You can help your baby wind down further by reading or singing softly. If you choose to feed at this time, be sure not to feed your baby to sleep. It's best to avoid active play at this time, so your baby goes to bed sleepy but still awake. This will help them learn how to self-soothe and get back to sleep on their own if they wake up during the night.


Question: What is the Tonight We Sleep challenge?

Jo Ryan: The -Tonight We Sleep Challenge' is a campaign from Johnson's that aims to inspire mums to adopt their 3-Step Routine for bedtime for seven days. This routine is proven to get up to an extra hour of sleep at night for baby and therefore mum too! The Johnson's 3-Step Routine has also been clinically proven to increase continuous sleep, reduce night wakings and increase total sleep time.


Question: What inspired this challenge?

Jo Ryan: The challenge was inspired by research conducted by Johnson's that found that sleep deprivation is the biggest struggle for the nation's mums, with 75% of mums saying that lack of sleep is the greatest challenge of early parenthood, ahead of financial strain and reduced social life. The study also found that on average new mums only getting three to four hours of sleep each night.


Question: Can you tell us about the JOHNSON'S® BEDTIME App?

Jo Ryan: The Johnson's Bedtime app is great – it acts as a tracking tool for mums where they can log sleep sessions, get their baby's sleep score & access tips and advice. Importantly, the app provides the option to live chat with a Tresillian Nurse so mums can access professional advice from the palm of their hand.


Question: How does the JOHNSON'S® BEDTIME App work?

Jo Ryan: When you download the app you enter the age of your baby and then use the Sleep Log to time how long they sleep for each session. This information is then logged in the app's dashboard and analysed so you can see the average hours of daily sleep your baby is getting and other important information. You can also log how long you spend on each step of the Johnson's 3-Step Routine, and see information on how to perform each step. The app also has great resources such as lullabies and ambient sounds to help soothe your baby during the last step of the 3-Step Routine – quiet time.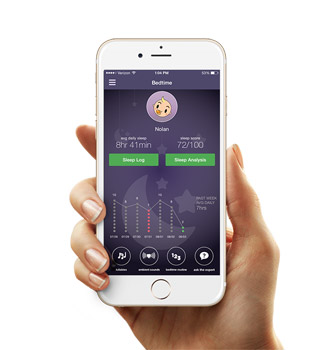 Question: What advice do you have, regarding sleep, for new mums?

Jo Ryan: Sleep is something that a lot of new mums don't think about before they have the baby. They have heard people talk about how babies don't sleep but I don't think until they are in it, can they really relate to how hard the lack of sleep can be. I always tell pregnant or new mums that the one thing that should know is how long a baby should be awake for. For newborns it is only an hour! And it is also good to know that babies often won't just fall asleep, you need to help them go off to sleep.

The other important thing to know is that sleep promotes sleep. So the more sleep a baby has, the more they want. And vice versa. So if a baby is overtired, they often find it very difficult to go off to sleep and then will often only sleep for a short period. So watch your baby for tired signs and get them down sooner rather than later.


Question: How important is routine to a baby's quality and quantity of sleep?

Jo Ryan: Routine is very important. When babies are little you can let them set the pace a bit but it is always a good idea to have a good pre-bed ritual. Babies develop a sense of expectation quite early so they start to understand the process of a ritual. This makes them feel secure. Routine, and it doesn't have to be strict routine, also gives mums a feeling of a bit of control over their days. For babies the routine is really set by how long a baby should be awake for and so if they have a good routine around this they will go down to sleep when they are tired but not overtired meaning they will be able to go off to sleep more easily and sleep for longer.


Question: How does lack of sleep, affect new mums?

Jo Ryan: In the research conducted by Johnson's, mothers rate the lack of sleep as the number one challenge of early parenthood. Mothers will typically get up to baby five times per night, meaning they have not had a decent amount of deep sleep. This causes a whole range of significant consequences for mothers, primarily being more emotional, more irritable and feeling overwhelmed. Mothers also said they had done some uncharacteristic things when sleep deprived, including mixing up or forgetting dates, losing important items or locking themselves out of the house.


Interview by Brooke Hunter