Jean-François Richet Blood Father Interview
Cast: Mel Gibson, Elisabeth Röhm, William H. Macy
Director: Jean-François Richet
Genre: Action, Thriller
Rated: MA
Running Time: 88 minutes

Synopsis: Mel Gibson returns to the big screen with shades of Sicario and Payback in this edge-of-your-seat action thriller. Scripted by Straight Outta Compton's Andrea Berloff and The Town's Peter Craig (based on his novel), Blood Father is brought to the screen by the team behind The Prophet and Rust & Bone and helmed by the César-winning French director behind the acclaimed Mesrine films.



Action and attitude meets humour and humility as Gibson stars as John Link - an ex-con trying - none too enthusiastically - to embrace
life on the straight and narrow. Eking out a meagre existence as a tattoo artist in his trailer park home, he battles with his past and his future. When his estranged daughter, Lydia is caught up in a drug deal gone wrong, she finds herself reaching out to the last man she ever thought she'd need – her father. Only he can protect her from those who want her dead, and only he will - no matter what it may cost him.

Blood Father
Release Date: August 25th, 2016



Interview with Jean-François Richet
Jean-Francois Richet is a French director and screenwriter born in 1966 in a housing project in Meaux near Paris. He became familiar with cinema by watching and analyzing the work of Russian filmmakers. His major influences include Dziga Vertov and Sergei Mikhailovich Eisenstein.

Richet's first directorial and writing debut was the acclaimed Etats Des Lieux (Inner City) in 1995. Filmed with a low budget, this film displays a raw image of humanity in a snapshot of blue-collar life. Etats Des Lieux (Inner City) earned a César Award nomination for Best First Feature and also won the 1996 Cyril Collard Award. Richet's social commentary continued in his next film Ma 6-T va crack-er (1997) where his home town Meaux is the setting for the rebellion of residents unhappy about their living conditions.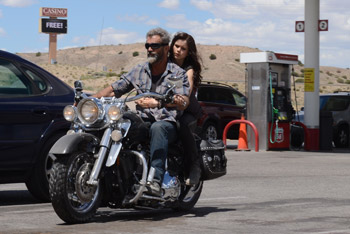 He was eventually noticed by Hollywood and directed his first English language film Assault on Precinct 13 in 2005. This action thriller film starred Laurence Fishburne and Ethan Hawke. From this, Richet went on to write and direct the two part 2008 film Mesrine with a stellar French cast including Vincent Cassel and Gerard Depardieu. The two films, Mesrine: L'instinct & Mesrine: L'Ennemi Public, have been referred to as the French versions of the cult classic gangster film Scarface. The film has received many awards including the César Award for Best Actor, Best Director and Best Sound as well as a long list of César Award nominations including Best Film, Best Editing and Cinematography.
Question: With your eighth movie Blood Father, you've once again worked in the US – ten years after your 2005 Assault on Precinct 13. In this new film, there's no longer a confrontation between lawmen and criminals as in Crack 6-T (1997), the two-part biopic Mesrine (2008) or the remake of John Carpenter's movie. This time, all the characters belong to the underworld. They include Hell's Angels, alcoholics, junkies, drug dealers, criminals, cartel members, prisoners, neo-Nazis, illegal immigrants – you name it. More than a study of conflict and power struggles, would you say Blood Father is an exploration of violence and of survival in a world in which it is impossible to live?

Jean-François Richet: It's always tricky to analyse your choices when you're in the process of making them. That comes next – I can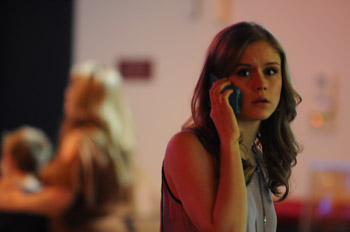 relate this film to my previous work and naturally you can see some connections between all my films. It's my belief that I pick a story based on the narrative, the drama and the story arc – rather than on some carefully mapped out process. I'm aware that my characters find themselves when they're struggling, that they're the rebellious kind and that in the final count their struggle will not make them any happier.

Blood Father is still about a power struggle but with a different approach. When he's released from prison, John Link (Mel Gibson) decides to redeem himself and to work for a living. He lives in a trailer park where he interacts with other working-class people. It's a city in itself, exclusively made up of blue-collar workers who became dropouts because of the economic downturn. All the positive characters of the film are working-class people, including John, his AAA officer, the trailer park community, the young guy from the motel, and the Mexican illegal immigrants who don't speak any English but earn their bread by the sweat of their brow.

So it's true that power struggles are alienating and that violence may be liberating – even though history shows that it comes at a price.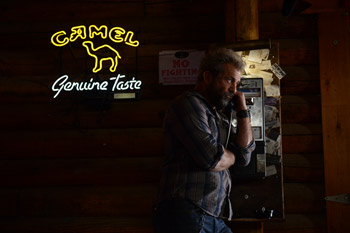 Question: Just like the book of the same title by Peter Craig, who adapted it into the script, and despite the savagery and overall selfishness, the film is about mad love – a father's love for his daughter. John Link seems to be the only character able to love, a figure of sacrifice and faithfulness – for his daughter but also for a Mexican big shot. On a wild, instinctive, old-fashioned note, do you think he somehow embodies a world on the wane – a world that stands for human values, unconditional love, self-sacrifice? A world attacked on all sides and outmoded by the empire of vested interest, trafficking and greed?

Jean-François Richet: I read the novel before I read the script. I'd found it amazing as it portrayed a shaken America, wealthy kids indulging in drugs, orgies and the glamorization of gangster rule – as opposed to working-class America, to people who work their asses off to feed their kids, to immigrant workers picking oranges, to the Link character who finds redemption through work. This was social material I'm fond of. The dramatic conflict between father and daughter was already in place because of the different backgrounds to which they belong.

The character portrayed by Mel is iconic. He actually has values and his life is actually all about sacrifice. All his life he's been taking blows – he even goes to jail to protect his "adoptive father". What does he get from it? Nothing! To save his daughter, to make up for his absence, to give her the joy of living, he frees himself through violence. So violence becomes liberating.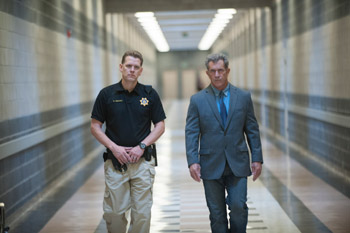 Question: The book focuses on the girl and is a coming-of-age story – Lydia learns how to become her true self after going through some tough experiences. Here, the film focuses on the father – isn't it meant as a paternal nightmare? The best father in the world tries to rescue his daughter from the worst son-in-law ever. That would explain the return of the latter, who is the ultimate embodiment of anxiety, just as a bad dream comes back to haunt you.

Jean-François Richet: The script only deals with the last part of the book. By doing this, Peter Craig was able to capture the gist of it – whatever works in a book can seem more contrived in a film. In a film, you don't necessarily have to explain the whole evolution of a character. The minute the character is introduced, he exists – he comes into being! And the audience embraces him immediately, which gives you the opportunity to explore various issues, conflicts, etc.

The main character isn't the same in the book as in the film. It's relevant to say that the book is a coming-of-age story. The film is all about transmission. The transmission of survival, emancipation, love and self-sacrifice.


Question: I suspect that, as a movie buff, you must be quite familiar with Mel Gibson's work, both as an actor and as a director. How did you work with him? How did you manage to totally disconnect his Hell's Angel character from the Mad Max mythology?

Jean-François Richet: Mad Max never, ever, crossed my mind during the making of the film. I agree that there must in fact be similarities. The film takes place in the desert, you can see bikes and cars but had it not been for Mel, no one would have linked the two. What makes you think about it is the fact that most of us have grown up watching Mad Max and Lethal Weapon. I've rarely worked with someone so humble and self-composed. To me, Mel is one of the greatest living filmmakers – he's up there on my list of top directors along with Michael Mann. And yet he never interfered with my work.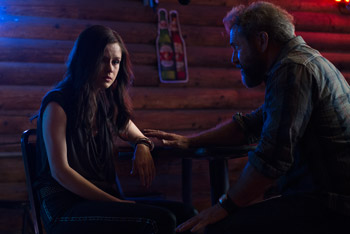 As far as I'm concerned, I always try to be on talking terms with cast members. I would be stupid not to embrace what actors have to say – whenever it's relevant. I hate the idea that a director only has to press a button or that he's directing traffic.

Mel is only interested in one thing and in the end it's the most important thing – what drives the character in each and every scene. That's why he is a great actor and that's why he is a great director. He can't be bothered with trifles – all he thinks about is the character's deep motivations. Mel has such an acute sense of drama. We changed the whole ending an hour before we shot it when Mel got the impression it didn't feel right. We sat down with Mel and Peter Craig. Mel churned out a hundred ideas a minute. Incidentally, he's like Vincent Cassel – he's the same kind of animal. They bring everything down to the character's motivations. That's the key to good drama.


Question: The novel portrayed a major journey through drug land – focusing on old vs. new drugs – and established a drug map in L.A. and Southern California – Calipatria, the Chocolate Mountains, Imperial Valley, the Mexican border… In the film we embark instead on a great journey through American landscapes where all kinds of dropouts and disadvantaged people take refuge –poles apart from John Ford and Anthony Mann's heroic deserts. Did you shoot on location? How did you establish the beautiful ochre palette that defines the film?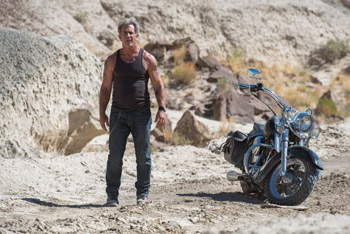 Jean-François Richet: Whereas I wasn't aware of Mad Max on the shoot, I was aware of John Ford. And yet we were not shooting in Monument Valley but around Albuquerque, New Mexico. On more than one occasion, as I was holding the camera, I kept in mind the principle, "one-third land, two-thirds sky, man and God almighty."

Ever since Assault on Precinct 13, I've worked with the same DP, Robert Gantz, whose work I really like. In all those years we've come to know each other and we're on the same page in no time. I could already envision the visual atmosphere of the movie when I read the script, and the scouting process only bore out my intuition – you shouldn't fight what the topography has to offer. You need to adapt locations, pick the right timing based on the lighting and try to control all this as best you can.

On the other hand, when you build the interiors, you're working in a controlled environment. I went for the same dominant colors nature came up with – black, copper-colored, wooden hues. I wanted the actors' skin to bear traces – I wanted their creases to relate to the earth's furrows. It's a movie where earth and dust are dominant.
Interview by Nicole Brenez.
Blood Father
Release Date: August 25th, 2016