Ghostbusters
Cast: Kristen Wiig, Melissa McCarthy, Kate McKinnon, Leslie Jones, Chris Hemsworth
Director: Paul Feig
Genre: Comedy, Action

Synopsis: Ghostbusters makes its long-awaited return, rebooted with a cast of hilarious new characters. Thirty years after the beloved original franchise took the world by storm, director Paul Feig brings his fresh take to the supernatural comedy, joined by some of the funniest actors working today – Melissa McCarthy, Kristen Wiig, Kate McKinnon, Leslie Jones, and Chris Hemsworth. This summer, they're here to save the world!

Ghostbusters
Release Date: July 14th, 2016
About The Production
More than 30 years after the first film debuted… more than 25 years after ghosts were last busted on screen… the long wait is finally over. Ghostbusters is returning to theaters, with a new team and new characters in a new adventure.

The new film began with director Paul Feig, who, as the creator of 'Freaks and Geeks" and the director of Bridesmaids, The Heat, and Spy, has built an impressive comedy resume of some of recent years' most successful, groundbreaking, and memorable comedies. Given the opportunity to reboot the franchise, it was Paul Feig who saw a way to bring one of his personal comedy influences into the 21st century. 'I was an enormous fan when Ghostbusters first came out," he says. 'I saw it the opening weekend in the theater and had honestly never seen a comedy do what that movie did to that audience. People, including myself, just lost our minds, not only because it was funny. It was the funniest people – we all loved Bill Murray, Dan Aykroyd, Harold Ramis, and Ernie Hudson, so seeing them together – this supergroup of funny guys – made it even better.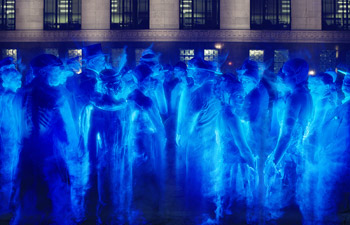 But the thing that put it over the top was the context of an enormous world of fighting ghosts with technology… that's the greatest idea in the world. It's one of these things that make you say, -I wish I had thought of that idea.'"

Naturally, the idea for another Ghostbusters – as a sequel – was one that had been explored for quite a while. 'I've always wanted to do another sequel," says Ivan Reitman, who directed and produced the first two iconic films in the franchise, and now produces the new film with Amy Pascal. 'It's one of those movies that you should revisit and I was really hoping that I could do it. But unless we all agreed on something, it wasn't going to get done. Getting four people – especially these four people – to agree was kind of impossible. And then, unfortunately, we lost Harold."

With the passing of Harold Ramis in 2014, the studio and Ivan Reitman began to look for a new comedic talent to take the helm of a future film. That's when Paul Feig entered the picture. 'I knew they'd been trying to put together a sequel for a long time," says Paul Feig.

'I started wracking my brain. Funny people fighting the paranormal is still the greatest idea ever, and it felt like there was still so much to explore outside the worlds of the first two films. I thought, -How would I do it?' Well, I'd make it with the four funniest women I know. That excites me, because it makes it something new."

'Paul Feig has been intent on doing a big tentpole movie with women, but it was hard to figure out the right film, with the right cast – the chemistry had to be right on every front,"

adds executive producer Jessie Henderson, who is Paul Feig's producing partner. 'We took our first stab at that with Spy, but his idea for Ghostbusters was an opportunity to take it to an even bigger level, with special effects, visual effects, and the ensemble cast."

Ivan Reitman was also excited about the opportunities for comedy in Paul Feig's idea. 'What's really exciting about Paul Feig's take is that it's not about the gender," he says. 'It's the friendship of four particular characters as they do something extraordinary."

With the studio and Ivan Reitman in his corner, Paul Feig teamed with Katie Dippold to co-write the screenplay. 'There was only one person I wanted to write this with, and that was Katie Dippold," says Paul Feig of his co-writer on The Heat. 'I've worked with her on other projects and I know she loves ghost stories. She loves scary movies. It was a match made in heaven."

'At first, we spent a lot of time talking about what we wanted the script to be," says Katie Dippold. 'There were so many different creative debates – what elements of the original do you want to see again? What should feel new? Then we talked about the story and the characters. Nobody wanted to do remakes of the original characters – Venkman will always be Venkman. So we came up with four new characters of our own."

'Paul Feig was intent on making a movie that lived up to the spirit of the original but had a new reason for being," says Amy Pascal. 'It always comes down to the characters, and that is what Paul Feig has always been brilliant at creating."

It was in this way that Paul Feig approached the film as an entirely new story as a new team answers the call. 'I wanted the movie to start with our world today – a world that has never seen ghosts that we can prove," says Paul Feig. 'Our Ghostbusters have dedicated their lives to scientifically proving ghosts exist, but they're considered loonies, because there's no physical proof. But when they actually get to see the ghosts they've been trying to see for their whole lives, they're going to prove that their whole lives' mission was correct. They all have this common goal, and they complement each other."

So, Katie Dippold and Paul Feig created new characters who would mesh well as a team. He explains: 'Abby is the paranormal expert; she's dedicated her life to studying ghosts. Erin is the physicist, who tries to bring a scientific grounding into it. Holtzmann, the engineer, can take the concepts that Abby and Erin come up with and actually build the physical equipment to fight them. And finally, Patty joins the group as the newcomer who knows the ins and outs of New York City, which will be one of the keys to solving where the ghosts are and what's happening to Manhattan."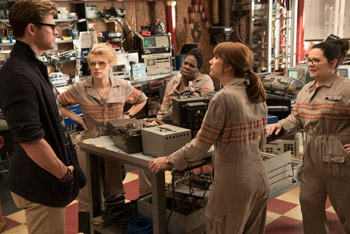 'You've seen men as comedic eggheads but not since Elaine May in A New Leaf have women been portrayed as funny scientists," says Amy Pascal. 'It was a fresh and unique take on the material that needed to be told."

But writing the characters as complementary was only half of the challenge – Feig also had to cast the roles with actors who were hilarious and could bring them to life. Into these roles, Paul Feig cast Melissa McCarthy as Abby, Kristen Wiig as Erin, Kate McKinnon as Holtzmann, and Leslie Jones as Patty.

'I think the reason why Melissa is one of the most successful comedians working today is that she brings an everyman quality to her work," says Ivan Reitman. 'She brings great energy, great truth – she has a quality of being very funny and very real. People love her because she's here to represent them.

When it came to casting the role of Erin, Paul Feig says Melissa McCarthy was already on board, which led to what seems like a first go-to candidate in her Bridesmaids co-star. 'Kristen Wiig's name just kept coming up," Paul Feig says, 'but I didn't even know if she'd want to do it, because she's been showing what a great actress she is in so many dramas lately.

Then, out of the blue, my wife was talking to Kristen Wiig and she said, -Oh, I know Paul Feig's doing Ghostbusters, and if he'd ever want me to do any little part in it, I'd love to.' That was music to my ears, because Kristen Wiig would be so good in this role. She's really one of the funniest people in the world – she makes me laugh and always has."

'For the role of Jillian Holtzmann, we needed an actress who could go outside the box," Ivan Reitman states. 'I saw the extraordinary sketches in which Kate McKinnon plays Justin Bieber, and captures his essence in a totally original hilarious way. For Ghostbusters, she brings a unique, quirky, comedic energy to her role that is perfect! Kate McKinnon is a comedic force to be reckoned with."

For the final role, Paul Feig was struck by lightning. 'I first saw Leslie Jones do a -Weekend Update' segment. About a minute into her bit, I sat up and said to my wife, -That's one of our Ghostbusters,'" says Paul Feig. 'We met, and we bonded over the fact that we both started in standup at about the same time, in the 1980s. She's such a big personality, but it's sincere – she's so passionate about everything she does. She commands the screen as Patty Tolan."

But one other reason why these four actresses were right for the roles was that beyond their individual talents, Paul Feig knew they would blend well as a team, creating a whole that was even stronger than its individual components. 'That's why it was important to me to cast actors who were friends in real life, because when you do that, you get a level of camaraderie, realness, and warmth between them that you don't sometimes get when you put actors together who don't know each other," Feig continues. 'It's always been important to me – it's one of the reasons why I think Bridesmaids worked so well. Kristen Wiig and Melissa McCarthy were Groundlings together, did Bridesmaids and -Saturday Night Live' together. Kate McKinnon and Leslie Jones are on -Saturday Night Live' right now.

All four of them have worked together in various projects, and they all have a very different sense of humour that complements each other: Kristen Wiig is just so good at that contained, neurotic comedy that she keeps very fun; Kate McKinnon is such a physical comedian, but has this inner oddness, providing the movie with a weirdo energy; Leslie is just an explosion that comes onto the set; and Melissa McCarthy is the leader of the pack. You're really getting four very distinct characters, four very distinct personalities, whom also happen to be able to kick a lot of ghost ass."

About The Characters

Abby Yates is passionate about the paranormal and science in general. She's always been a believer – she's given up a lot for that belief, and she won't let the non-believers grind her down.

The role is played by Melissa McCarthy, who re-teams with Paul Feig for the fourth time.

'Abby has always been the believer," says Melissa McCarthy. 'It doesn't matter if people are making fun of her, which they always have. It doesn't matter if nobody else believes. It doesn't matter that people think she's crazy. She's just always believed in the paranormal. I just love that she's stayed the course, no matter what."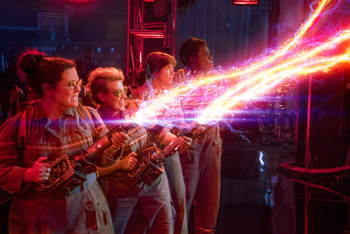 In their screenplay, Kaite Dippold and Paul Feig created a friendship between Abby and Erin, who is played by Kristen Wiig. 'Our characters were friends all through high school – they were the two eccentric girls who believed in ghosts and the paranormal," says Melissa McCarthy. 'But they had a bad parting, because Erin didn't want to defend herself anymore, so she went in a more academic direction. Now, in the movie, they come back together. It's a little bumpy in the beginning, but you can tell that the history is there. And that's easy to portray with Kristen Wiig, because I've known her so long and she's one of the greatest people I know."

That chemistry extends to the entire foursome, Melissa McCarthy says. 'Kate McKinnon is remarkable – she's a true kind of crazy, mad scientist that I just love watching. And to say that I adore Leslie Jones is an understatement…she is truly brilliant and no one else on Earth could do what she did with Patty."

Of the foursome together, she says, 'It felt right. The first time all four of us were doing a scene, it made sense. It was really, really fun."

One of Melissa McCarthy's most memorable moments was trying on the proton pack for the first time. No movie magic here – Melissa McCarthy says that the prop is just as heavy as it looks. 'Especially for what we have to do with them – we're diving, we're running, and we're fighting. Every time we get blown back by something and we land on our backs, there's sharp, heavy jagged metal," says Melissa McCarthy. 'On the other hand, I hate when you can tell that somebody's running with something light, so I'm glad that's not what happens in this movie. We look like we're struggling because we are.'"

Ghostbusters allowed Melissa McCarthy to do many of her own stunts. 'I really love all that stunt stuff," she says. 'I'm asking to be thrown into things. I try to do everything they'll let me do. And then every once in a while Paul Feig would have to say, -No, you're not doing that. You're not getting dropped onto a car from 25 feet up.' And when he says that, I'm thinking, -Yes, that makes sense,' but what I'd hear myself saying is -Why not?' And Paul Feig would say, -You're insane,' and walk away."

One of the stunts that Melissa McCarthy was able to perform herself was crowdsurfing at a rock concert. 'I've never done that before," she says. Melissa McCarthy notes that stunt work sometimes involves complicated rigs or wires, and she asked the stunt coordinator, Walter Garcia, what was the best way to perform a stage dive. 'He said, -The best way you do it is you run to the end of the stage and dive off.' Okay. Let's do that. The first take, I was a little tentative, but once I did it I knew I was in good hands. Of course, I realise there were ten stunt people out there waiting to catch me, so I'm not sure I'm going to try that in real life, but that was wildly fun."

Erin Gilbert believed in ghosts as a child, but as her physics career grew, she realised that her fascination with the paranormal was holding her back and hurting her credibility. She determines to put that old life behind her and forge a new career as a legitimate scientist… until her past comes back to haunt her.

The role is played by Kristen Wiig. 'Erin Gilbert grew up believing in ghosts – she actually saw a ghost when she was a child, and no one believed her except Abby. That really scarred her. She wanted to live a life where she wasn't the weird one, so she left the paranormal world behind and went into academia, becoming a professor at Columbia University. Of course, she finds Abby again and meets Holtzmann and Patty. As it turns out, they're these four misfits that find each other. I love that kind of story."

Like Melissa McCarthy, Kristen Wiig relished the chance to do stunts for the film. "It was unlike anything I've ever done before. We couldn't wait to get into the stunt rehearsals."

Wiig was similarly thrilled by the chemistry between the four Ghostbusters. 'It's always a great experience when you can find that right project to work with your friends and people that you love," she says. 'I've known Melissa McCarthy for many, many years – we knew each other for almost 10 years before -Bridesmaids.' She's just really, really fun to work with and we laugh all the time, so it was so nice to be together again. Leslie Jones makes me laugh so hard with everything she does – every time Leslie Jones said something, I would just lose it. It's a very funny character, but I don't even have words for what she does with every line – she's so specific and it comes directly from her. And Kate McKinnon – Kate McKinnon's the best. I find her so interesting. She's so fearless – she takes chances every scene. She does the unexpected, and it's always funny. I love watching her."

Jillian Holtzmann has always been an oddball. She thinks outside the box, doesn't follow social norms, and she likes putting things together, inventing things. She doesn't judge others but she gets a thrill out of pushing the buttons of uptight people, especially Erin.

'SNL" standout Kate McKinnon plays the engineer. 'I loved the idea of playing a scientist," she says. 'I like playing a woman character that doesn't revolve around a romance, which is rare in a movie. I'm so glad to have been given that opportunity."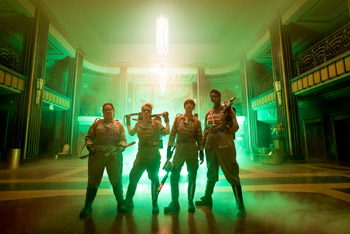 'Holtzmann is a genius," Kate McKinnon says, describing her character. 'Holtzmann is the tech geek in all of this, which is usually the geekiest geek. She is in charge of perfecting the machinery that allows them to accomplish this mission. She is an essential creature. She's bizarre. She is freakish. She's full of joy. She is me. Yes, this is the closest character to my actual self that I've ever played, if that tells you anything. '

'Kate McKinnon was actually the first person I cast in my head," says Paul Feig. 'We had this part of Holtzmann – a really nutty, weirdo part, and if you know Kate McKinnon, she's lovely but she's a nutty weirdo in the most wonderful way. We start casting by asking, -Who could shine in this role?' Kate McKinnon's been shining on -SNL' but not in a film yet. There's something about her that's so charismatic – she's a movie star. It seemed like the part could be a great showcase for her, so it was a really easy decision."

'Holtzmann is the hard scientist, she's the nuts and bolts person," Paul Feig explains. 'I don't even know if Holtzmann has a passion for ghosts, but she has a passion for figuring out how to scientifically interact with ghosts, how to capture them, and how to use her skill to interact with them. She's the hardware nut, and once she starts perfecting her hardware – her proton packs and her synchrotrons and all that – she really starts to go crazy. I'm a big hardware geek, so it was really fun to invent so much cool new weaponry and to have Kate's character do it."

Patty Tolan was born and raised in NYC. She has always loved reading, especially nonfiction and New York City history – and discovering new things, including the paranormal – so really, she's an amateur NYC historian with as much knowledge as any of the other three. After she sees a ghost while on the job, not only does she know who to call, but she joins the team to lend her expertise.

Leslie Jones, another 'SNL" star who has broken through in the past two seasons, takes the role. 'I've been in this business long enough to not believe anything until you actually see it happen," Leslie Jones kids. 'So when they were saying Ghostbusters, I was like, -That's not really going to happen.' Then when I heard Paul Feig might want me in the movie, I was like, -That's not really going to happen; he'll cast Queen Latifah.' And then, I got a call saying that Paul Feig wanted to meet with me – and I actually met with him on the same day they announced that I was going to be a cast member on -SNL.' And even when I was sitting there meeting with Paul Feig, all I kept thinking was, -He's going to see who I really am, and he ain't going to put me in this movie.' But he said, -That's what I want. I want you.' It still seems like a dream. I keep thinking that I'm going to wake up in my apartment in Santa Clarita, where I was before everything happened, and I'm going to wake up and go, -Seriously, that was a great dream.'"

About her character, Leslie Jones says, 'I really was into creating something that was realistic. If I was going to be the person that wasn't a scientist coming into this situation, then I was going to be the eyes for the audience. I'm bringing the audience into this situation as a regular person, and we're observing it together. They're going to be talking about ectoplasm, currents, ghosts, and portals, and somebody has to be the one who's going to ask, -What's a portal? Where does it go? Why?' Patty brings the normalcy – she reads a lot of books, she knows everything about New York, she's a sponge for facts and keeps her mind open. It was important to me and to Paul Feig that Patty is the one who says what the people are going to say in the audience."

Like Melissa McCarthy, Leslie Jones also got the chance to perform her own stage dive. 'That was so fun," she says. 'What was awesome is that Paul Feig did the stunt before I did – we were totally willing to do it, but just a little nervous about jumping into the mats. Paul Feig said, -I'm not going to let you do something that I wouldn't do.' And all of a sudden, in his suit and everything, he dives into the mat. I was like, -If this man can do this in his suit, I can do this.'

And it was really fun! I got it on the second take but wanted to do it a couple more times. And that crowd was sick – they stayed energetic the whole time, chanting Ghostbusters, Ghostbusters. I was thinking, -This is happening, for real.'"

Of course, once the Ghostbusters go into business for themselves, they need a little help out front. And what better help could they ask for than an attractive, dim-witted receptionist. Kevin might be a few apples shy of a barrel but he's good-natured and sweet, and when the chips are down, he's another Ghostbuster at heart – another misfit who finds a home.

For the role, Paul Feig tapped the unexpected comedy chops of Chris Hemsworth. And even though his co-stars are comedy pros, they were impressed by his skill. 'He's one of the best improvisers I've ever worked with," says Melissa McCarthy. 'That completely threw me, because we were doing 18-minute takes during the interview scene and he was never thrown. He was saying some of the strangest stuff, completely in character – we had to hold for four minutes while Kristen Wiig and I tried to stop crying with laughter. He even started singing once, and I had to stop him… I guess he's just bionic."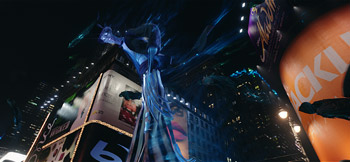 'Kevin is a big, dumb puppy dog," says Chris Hemsworth of his character. 'He's full of enthusiasm and ambition, but he's completely naïve and looks at the world from a very, very different angle than everybody else. It's fun to play someone who is completely unaware."

'We made Kevin into a loveable kind of lunkhead who has gotten by on his looks, but he earnestly wants to be part of the group," says Paul Feig. 'It takes him a while to figure things out – Kevin's a little slow on the uptake – but once he gets it, he gets it. Chris Hemsworth turned him into a three-dimensional, hilarious character."

Just how clueless is Kevin? Check out his glasses. 'From the start, I wanted to wear glasses, and Paul Feig was cool with that. But the problem was, the lenses were reflecting the lights, so we took out the lenses – as if no one would notice. And then, midway through, I started scratching my eye, and Melissa McCarthy started to laugh and said, -You've got to do that again – and I'll try not to laugh.' And the more we thought about it, the more we thought it was perfect – the lenses kept getting dirty, so he took them out. That's a great, practical response, but only if you look at the world from a different angle from everyone else. He's quite unique."

About The Props, Gadgets, And Vehicles

Part of the charm of the original Ghostbusters film is the mix of low-tech and high-tech – cutting-edge technology that seems as if it had been kludged together in someone's shed.

So, in approaching the look of the gadgets, weapons, vehicles and props, production designer Jefferson Sage worked with Paul Feig to bring a similar aesthetic: while the looks have definitely been updated, the props retain the homemade feel – as if Holtzmann really were assembling them on her own. 'We wanted to build in as much extra technology that was different from the original film as we could, and bring it into the modern day, but keep the garage-band spirit of it – it all looks like it was made of parts that were fished out of dumpsters behind electronics stores and colleges," Paul Feig says.

'We wanted people watching to think, -If I was smart enough, I could build that stuff.'" 'The conceit is that these weapons are made in their own shop," says Jefferson Sage. 'Holtzmann is a brilliant engineer, but she's not a designer. She figures out how to make the weapon work, and then wraps it in some kind of casing – it's just a way to hold the technology, rather than something carefully designed. That was out starting point – we had to dig into Holtzmann's mind. We had to think like she would think."

As they dove deep into Holtzmann's wild brain, the designers began to focus on found objects and other materials that could be adapted to Holtzmann's purposes. 'She's the type who'll find old pipes on the street and see a gun barrel," Jefferson Sage continues. 'You look at the weapons, and you think -Well, that looks like a tin can, but they've done something to it.' The goal was to wed the familiar with the new purpose that Holtzmann would have concocted for the thing."

Another way the homemade quality came across in the new film is by showing an evolution and improvement in the creations, as Kate McKinnon relates. 'The evolution of the proton pack is a subplot in itself," says the actress. 'In the beginning, there's a prototype that eventually evolves into a world-class proton machine. You can really see the changes that the technology goes through as a result of Holtzmann's efforts and brilliance. Initially, when they go to the subway to find their ghost, Holtzmann's pushing a huge cart, and she has to attach a horrific electric dog collar to Erin so that she can shoot it – that's really the first proton pack. And then, over time, Holtzmann figures out how to contain everything and make it more compact, so that they can wear it on their backs. The proton packs are still not tiny. They are not light. They are not convenient. But they are portable."

'Paul Feig was very interested in how we portrayed the technology," Jefferson Sage continues. 'It's obviously fictitious, but Paul Feig wanted it to feel real, like it could actually happen. We were able to reach out to a couple of physicists at MIT who were able to talk us through the real science that might be behind the fictitious devices – that was great, and they had a ball. They gave us a lot of real-life ideas that gave us an underpinning of the real world to everything the Ghostbusters use."

He's not kidding – real-life particle physicist James Maxwell, a postdoc at the Massachusetts Institute of Technology, put aside the larger questions about the formation of the universe, becoming the film's technical consultant to help give the movie props a bit of real-world verisimilitude.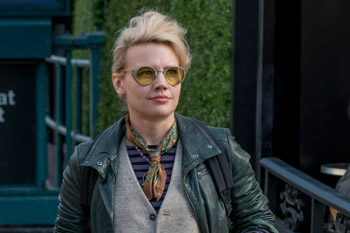 It wouldn't be a Ghostbusters movie without the Ecto-1, so naturally, the Ghostbusters' ride is in the film. But, just as the original film's weapons were updated, so too was the car. The original 1984 film used a retrofitted 1959 Cadillac ambulance, and for the new film, the filmmakers chose a similarly dated car. 'We found a 1981-83 Cadillac hearse," says Paul Feig. 'We wanted to keep the fun of the original Ecto-1, but make it our own. I just loved the look of it – the sleek lines, but also that it's such a big boat. Also, a hearse felt appropriate for working with the undead. Once we had the car, Jefferson Sage and his team made this car really cool – I liked the idea of having a red roof on the Ecto-1. The story is that the car comes from Patty's uncle, so we decided he wanted people to go out of this life in style and that's why it has a red roof. I love the way it looks."

'Our idea was that the Ecto-1 is Holtzmann's mobile lab," says Jefferson Sage. 'A design illustrator went through multiple drafts of the car and what it might look like – from the way out there (outfitted with a satellite dish, etc.) to the more restrained. Ultimately, we decided that they wanted it to look not too sophisticated, again, to give the impression that Holtzmann could have built it herself."

But Jefferson Sage didn't stop at the exterior. 'We also designed the inside of the Ecto with pieces and parts and hanging gear," Jefferson Sage continues. 'We included places to hang weaponry, and the proton packs slide in and out of a sliding rack." That's a nod to the original film, in which the proton packs slide in and out of the ambulance's gurney.

Again, James Maxwell lent his expertise, weighing in on some of the real-world science that Holtzmann would need to know as she chooses the technology she'd bring into the field to do battle with the paranormal.

One assistant art director was assigned to the car exclusively for weeks, outfitting the roof with a series of machine-looking devices, harnesses, tubes, tanks, a siren, a loudspeaker, antenna, batteries, and more, to transform it into the Ecto-1.

This Ghostbusters film also introduces a new vehicle – Kevin's motorcycle, the Ecto-2. And if Holtzmann's designs have a homemade feel, they're homemade by a trained engineer who holds a Ph.D. On the other hand, Kevin's homemade bike shows his unique mind at work. (And because Kevin wouldn't have had the science training or expertise that Holtzmann has, the filmmakers chose not to have the real-life physicist James Maxwell weigh in on the motorcycle.)

About The Design And Locations

Production Designer Jefferson Sage was responsible for the overall look of the film, including the sets and locations.

For the Ghostbusters headquarters, the filmmakers were determined to make a nod to the original film while also making their own mark. The Ghostbusters explore a firehouse, which is deemed too expensive, before they set up shop in Chinatown, above a restaurant.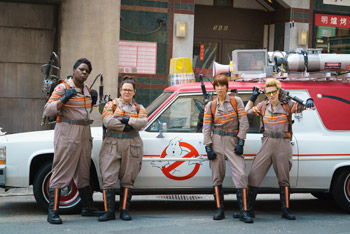 'When the Ghostbusters are short on money, they rent the upstairs space of a falling-down Chinese restaurant," says Jefferson Sage.
'We found an interesting standalone building that gave us a nice sense of isolation – which reinforced the idea that our Ghostbusters are outsiders," says Jefferson Sage. 'We transformed the building – gave it a full paint job and built on an additional garage that would house the Ecto-1. The interior was filmed on a stage – and the architecture of the stage set was matched carefully with the real-world location, so it would always feel like you're inside the actual building. The façade was an exact match – so we could put the camera outside the set, shooting through the window."

The interior set was inspired by the Chinese restaurant location. 'It features the typical look of a Chinese restaurant. It allowed us to use a lot of color and interesting décor – Chinese figures, roofs, and dragons," says Jefferson Sage. 'We designed a big moon door, with a distinctive Chinese look – but of course, it's supposed to have been abandoned, so it's not in very good shape. You can see the restaurant's kitchen and bathrooms."

Jefferson Sage explains that the whimsical location added a layer of comedy to the film. 'We found some beautiful research of an abandoned Chinese restaurant and it gave us ideas for what the basic features would be. That gave us the idea to create a buffet area with a decorative roof element, which becomes Holtzmann's primary lab. It allowed us to marry her technology and science with the somewhat frivolous restaurant architecture that came with the place."

Indeed, the space evolves as Holtzmann makes it into her lab. 'When they first move in, they're still adapting the space to their purposes," Jefferson Sage explains, 'but over the course of the story, more equipment appears. For example, they develop a station in one closet where the proton packs can be hung on the wall and plugged into the power sources and the nitrogen sources that would reenergize the packs."

Another key location in the film is Aldridge Mansion, the supposedly (and, it turns out, actually) haunted mansion. With the exterior filmed at the Boston University Castle, a prominent house near the campus, and the interior shot at the Ames Mansion, an estate now owned and run by the State of Massachusetts as a park, Jefferson Sage says the location formed a fun backdrop for the Ghostbusters to make their first encounter with the beyond. 'The BU Castle a Tudor revival mansion built around 1915, and the Ames Mansion was built in the 1920s. They gave us a great sense of the ghost story that would kick the movie into high gear. We were able to push this design into the familiar world of a Gothic ghost story," he says.

In particular, the interior of the mansion's library was a terrific space for the Ghostbusters to explore. 'The Ames Mansion's library is a beautiful, two-story personal library," says Jefferson Sage. 'There's an upper gallery that goes around the room, and the family's old books are stored there. But there's also an odd collection of different periods – furnishings, chairs, sofas, a beautiful map table, all slightly mismatched in a way that we really loved. The library is full of personal art paintings by Mrs. Ames, paintings of their friends who were prominent artists in the area at the time. It felt very personal – less like a museum about a specific period, and more a museum about a family."

For the sequences set in the subway, where Patty makes her first spectral encounter, Jefferson Sage says designing the set was a great opportunity for a designer to geek out on research. 'Subways are layered, in a way – there are elements from the 1920s, from the 40s, and from the renovation that happened in the 90s," says the designer. 'We layered all of that in there, to give a realistic sense of the tunnel – I think if the tunnel feels more real, the ghost that appears in the tunnel will feel more real." The art department built a 125-foot set, with a platform and bit of tunnel, using digital set extension techniques to expand it.

One of Boston's more prominent landmarks, the Wang Theatre, becomes the space for a rock concert where the Ghostbusters face their first real battle with a being from another world. 'This is a key scene, because the Ghostbusters finally have a call to capture a ghost. So the goal was to combine an action sequence around a comic sequence," says Jefferson Sage. Heavy metal became the perfect venue. 'The ghost has gotten loose in the theater, and by accident, it jumps into the auditorium where the concert is happening. The Ghostbusters are forced to jump on stage to fight," Sage explains.

And not only did the theater itself provide a haunted and evocative location – so, too, did its basement. 'The Ghostbusters have to go into the bowels of the theater to try to find the ghosts. The Wang Theatre has long, narrow, scary hallways that we cluttered and dressed.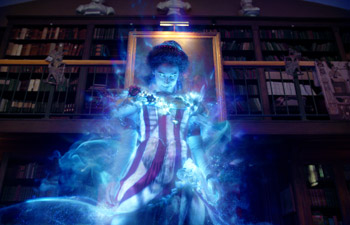 We turned off the lights so that when the Ghostbusters were down there, it seemed like they were in an odd, crypt-like space. It really became part of what made the Wang Theatre into a perfect location for that part of the film."

The film's epic battle takes place in Times Square, and to film it, the filmmakers found the perfect location… in South Weymouth, Massachusetts. To create the set, the filmmakers would need a large area, and found it in an abandoned Naval Air Station. First established as a regular Navy blimp base in World War II, the location was an operational US Navy airfield from 1942 until 1997.

To create the effect, the filmmakers built a large set with a building exterior and other outdoor elements, wrapped in green screen, for the VFX team to fill in later… and, as it turns out, to fill it in twice. 'Part of the big effect during the final confrontation with the bad guy and all the ghosts is that he does a wipe of Times Square and it's suddenly transformed back to the 1970s," describes Jefferson Sage. 'It becomes a great visual statement about his power, taking Times Square back to the mean old 1970s. We in the art department designed the look of the 1970s buildings and the contemporary buildings, and the digital guys put it all together."

About The Ghosts And The Visual Effects

To bring the ghosts into our world, Paul Feig knew he would be calling on CG artists to create visual effects. And while he wanted to create a spectacle, he wanted to do it in a grounded way that fit the aesthetic of the film he was making.

'So many movies with CG effects are all created in the computer, with actors performing with a tennis ball on a stick," Paul Feig explains. 'I didn't want that – I wanted interaction with the actors. I wanted my ghosts to look like people – especially because this movie is a comedy."

Paul Feig was also influenced by the look of the original 1984 film, in which the ghosts were all captured with old-school camera tricks and techniques. Although the film would definitely use contemporary visual effects, Paul Feig admired the old-school look and sought to emulate it.

Visual Effects Supervisor Peter G. Travers says that though the film represents a blend of old-school and new-school techniques, that's not so unusual. 'Old-school techniques of how you shoot a scene have not changed," he says. The difference, he continues, is in how many more options filmmakers have for enhancing a scene after it has been shot. 'Where we can go now, and what we can do, or augment, or replace, has increased exponentially."

Capturing as much as possible in camera was also extremely important to Travers because that was the way that the visual effects match Paul Feig's style of direction, rather than the other way around. 'Paul Feig has an incredible ability to make very appealing, very financially successful comedies. And so much of that is to let him, the Director of Photography Robert Yeoman, and the actors find the comedy in multiple, sometimes long takes. The humor is constantly evolving, even in post. On the other hand, VFX is very prep-oriented. So the question was, how to you incorporate visual effects into his directing style?" Travers relates. 'That was the biggest trick. We couldn't do multiple passes – we had to let Paul Feig and the cinematographer and the production designer figure out what they wanted. Take 10 or take 15 might be the take that's in the movie, but we had to make sure that we were ready to go with every take."

The best example of the way the VFX department gave the filmmakers the tools to find the comedy creatively is in the proton beams, says Travers. 'We put LED light caps on the tips of the proton blasters," he says. 'That created interactive light. The girls could even fire the guns, and the light would come out of the gun cap. They could control when they were firing, there'd be a soft red light that would go where the target was. Paul Feig could change the dialogue, or the camera angle, and everything would still work."

When it came to the ghosts themselves, the first step was for Jefferson Sage's art department to design the look of the specters. When that was completed, the visual effects artists, mainly at Moving Picture Company, Sony Pictures Imageworks, Iloura, and ZeroVFX, under Travers' supervision, put their special touch on the ghosts.

'The first question I had for Paul Feig was, -Do the ghosts glow?'" says Travers. 'If they did – and it turns out they did – then that sent us down a path of how to achieve that."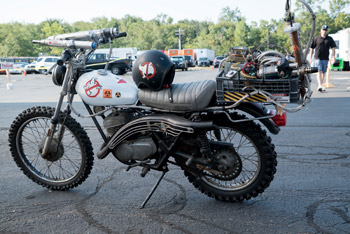 The reason the ghosts' glow was so important was one reason: light. One of the most challenging parts of CG animation is to make it look like it was always there, and lighting the shots practically is a particular challenge. Not only would the ghosts have to be lit by the ambient light from the scene, but the glow they emit would have to reflect off of the world around them. 'CG has to have a symbiotic relationship with the footage that is shot on set," says Travers. 'So if the ghosts glowed, it would have to look like the ghosts belonged in the scene, from an interactive lighting standpoint."

With that effect in mind, the filmmakers found a way to do it. 'We took real actors, and lit them with lighting effects and LEDs, so we could capture a performance," Paul Feig explains. 'Then, we took it into the ethereal world to make it ghostly and add effects. But at its heart is a human quality and a human performance."

To achieve that, the VFX team worked closely with the wardrobe team, headed by costume designer Jeffrey Kurland. 'First we designed the costumes, and then we made light suits that the actors wore under their costumes to let the glow come through," says Jeffrey Kurland. 'The fabrics on the costumes had to be created, because they had to be thin enough to emit the glow, but still look like the actual fabric of whatever costume the ghost is supposed to be wearing."

'It was an interesting challenge to do, design-wise, to not only incorporate the design of a period effect, but then to light it," says Jeffrey Kurland.

'It was great to work in tandem with the VFX crew – a great experience to do something so collaborative with the other people on the movie. You couldn't do Ghostbusters unless it was a team effort."

A good example is Gertrude, the first ghost the Ghostbusters encounter. 'Bess Rous was cast, Jeffrey Kurland designed her outfit, and then wardrobe sewed LEDs into the costume," says Travers. 'When we shot it, Bess was on a platform that went up and down and we put fans in her outfit to give an ethereal, blowing-in-the-wind look, and later, we could go into the computer and replace what we had to replace to turn her into a ghost. Glenn Melenhorst supervised the team at Iloura to achieve this effect." 'Not only did we make Gertrude's gown," says Kurland, 'but the crinoline and the corset underneath were all lit, a suit of lights, to emanate the glow to come through the actual costume," says Kurland.

By mixing old-school effects techniques and new-school CG animation, the film got the best of both worlds. 'When we shot it, because Bess was there in the frame, the Ghostbusters knew where to look, they knew where her face was, she's emoting, the Ghostbusters are emoting… it all works. Another great example of this is the subway tunnel scene, where the ghost on set, played by David Gruber Allen, was littered with LEDs, in which he became a primary source of lighting in the dark tunnel set. And then ZeroFX in Boston took over the ghost in digital form, in some cases fully taking over the performance, along with extending our set and creating a fully digital train."

Again, Kurland's team was on hand to help. 'The striped prison uniform was sanded down to a fine, fine thin cloth, so you could see the light coming through it," says Kurland.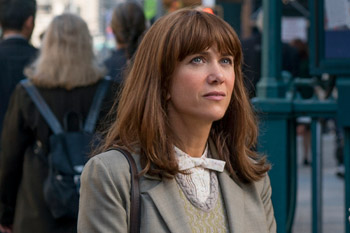 It wouldn't be Ghostbusters without Slimer, and indeed, the fan-favorite ghost makes an appearance in the new film. Though in the final film, Slimer would be an entirely CG creation (created under the supervision of Daniel Kramer at Sony Pictures Imageworks), the character began just as it did in the production of the 1984 film, with a Slimer puppet. 'CG characters have come such a long way since then," he says. 'The puppet was not able to go to the emotive level that we could do with CG. But it was very useful to have some representation on set – if we had just decided that we were going to use a CG Slimer and there was no representation of the ghost on set, it wouldn't look as good as it does in the final film."

At the Ghostbusters' first call, they are tasked with exorcizing a flying ghost from a rock concert. 'We actually had a drone flying around with LEDs, which we later replaced with the rock concert ghost," says Travers. 'Again, eyelines for the entire crowd were all good – they knew exactly where to look. And when the ghost would come close to a wall, we'd get a fantastic green spill from the LEDs. Our glowing ghost, even when it's flying way up near the ceiling, looks like it belongs in that environment. This work was also achieved by Iloura in Australia."

Another of Travers' favorites are the parade balloon ghosts. 'They're from the 1920s Macy's parade – they're gigantic – and they happen to glow, which would be very unusual," he says. 'We got actual lighting balloons that we moved around on the set, to try to get the timing right. It gave us a clear picture on how the reflections would work in the windows and how everything around them would respond to the lighting. You'll never see the live-action balloons in the movie, but they were absolutely necessary for our reference." Imageworks then created fully digital balloons, complete with simulations to create a half-in-control, half-blowing-in-the-wind look. The explosions of the balloons were computationally enormous.

Ultimately, at the film's climax, there are more than 1000 ghosts descending on New York. The entire climax of the film was achieved by the Moving Picture Company, under the supervision of David Seager. 'This is where the film gets really big, and MPC poured so much work into the details," says Travers. Travers and his team had 20 basic ghosts designs in the film, many of which could be varied, mixed and matched to create any number of possibilities.

About The Costumes

In addition to designing, dressing, and even lighting the undead characters, costume designer Jeffrey Kurland was also responsible for dressing the living characters as well. 'It was important to me that the characters have very distinct personalities," says Paul Feig, describing the look of the characters on film. 'I didn't want them to be cartoons, but definitely people who grab your attention. While we're keeping the movie grounded, I liked the idea they could have these eclectic and eccentric personalities that play out." As with the overall design, the costumes were meant to be very grounded and real-world – all the better for the fantastical plot and hilarious characters to play against. And naturally, the central costume of the film was the Ghostbusters' uniforms.

'My inspiration was the script itself," says costume designer Jeffrey Kurland. 'Patty is working for the MTA and says, -I can get you these jumpsuits where I work.' We added the reflective tape – it makes sense, you're working in the subway, when the lights come on you, you have to be seen. And then we added the reflective tape in other places, which you're supposed to assume that Patty did – she brings a certain flair and cool as she brings the suits to another level."

As it turns out, Kurland did not go to the actual MTA for inspiration here. Paul Feig wanted jumpsuits, but the MTA workers do not wear jumpsuits in the tunnels.

In addition to the jumpsuits, each of the four main characters had a distinctive look that was reflective of their personalities. 'It's a very character-driven piece," Kurland says, which required each character to stand out on her own.

Abby's costumes are the most thrown together, as befits someone who doesn't give a lot of thought to her appearance. 'She's a Brainiac, very smart, not really caring about her clothes – it's very workaday," he says.

'Unlike a lot of characters that Melissa has played, she isn't meant to be a showpiece. Interesting lines, interesting patterns and color choices, but nothing outlandish."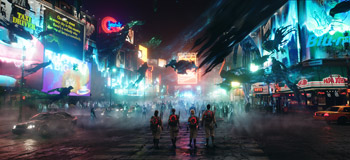 Striking a similar note, Abby's childhood friend, Erin, dresses 'conservatively, but in a preppy way," says Kurland. 'She's a Columbia professor, going for tenure, so she's trying to make an impression. She's not the nerd that she might have been in college or high school – she's grown out of that – but not fully; her insecurity and feelings still show. She's very buttoned-up. You see all of that in the plaid suits and the pleated skirts – but they're short and flirty in their own way, and she wears a nice high heel. '

Of all the characters, Holtzmann likely has the most unique look. 'Holtzmann was my wild card," says Kurland. 'She's got eclectic tastes, she's all over the place, she mixes things that nobody would ever think to mix, and it just works for her. She's wearing jodhpurs at one point, she's wearing painted overalls that you assume she painted herself, she never wears two socks that match. Not many people are wandering around in burgundy smoking jackets and getting away with it."

'The clothes are a huge part of the character, and I said, -We have to have some whackadoo hair to match,'" says Kate McKinnon. 'While I was trying on the clothes, I had just come from an event the night before – my hair was so full of hairspray that it was standing on end, and that was the start. I exchanged emails with Brenda McNally, the Hair Department Head and artist who would do my hair, and I was sending her pictures of Tilda Swinton and St. Vincent. Without the look, I couldn't have been able to play this character. It's pretty cool."

Leslie Jones also has a unique look as Patty. 'She's getting a little older and she still wants to have some pizzazz," she says. 'So that's where the colors come in: her attitude is, -I'm going to let you know I'm here.' You're going to know when Patty walks into the room."

'I did a lot of research in the subways, looking at the ladies who work in the stations," says Kurland, 'It was very interesting, because they all wear that uniform that you see Patty in – the blue pants and the scarf and the blue shirt – but their hair and their nails and their jewelry is very personal. Their personal flair is in their accessories, because they can't change that uniform. That was my clue, and the braided hair is something I took from that research: it keeps it neat and in place, but it has a femininity to it that looks great."

About The Director

Paul Feig's reputation for directing sharp comedies starring the greatest female comedians working today – in genres usually dominated by male actors – has made him one of the outstanding directorial voices in film comedy. However, for Paul Feig and his actors, it's all about bringing the comedy and making a motion picture that will entertain as many people as possible.

'Paul Feig makes me laugh so much," says Kirsten Wiig of Paul Feig, who also directed her in the Oscar®-nominated film, Bridesmaids, which Kirsten Wiig co-wrote with Annie Mumolo. 'We have a very similar sense of humor in what makes us crack up. Once we start we can't stop."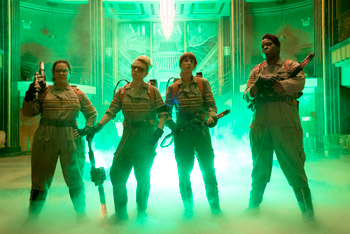 'I found Paul Feig to be fatherly as a director – his demeanor is so calm, accepting, and loving in all moments. I never saw one shred of frustration or disappointment," says Kate McKinnon. 'He is just the most supportive person, who can pat you on the back, while somehow nudging you in the right direction. But something you might not know about Paul Feig is that he's an action freak. He loves the stuff! So he really went hard after the comedy, hard after the action, and hard after the real human friendships encased within this whole universe. And that's why he was the perfect director for this movie. No one else could have nailed that tone."

Of course, Paul Feig is gaining a reputation as much for his sartorial choices as for his skill with comedy: the director wears a bespoke suit every day (even when directing in the heat and humidity of a Boston summer). 'He's Dapper Dan!" says Leslie Jones. 'That dude can dress. His most formal moment and his most casual moment are the same thing. I think his pajamas are probably a suit."


Ghostbusters
Release Date: July 14th, 2016