Vera Farmiga The Conjuring 2
Cast: Vera Farmiga, Patrick Wilson, Frances O'Connor
Director: James Wan
Genre: Horror
Rated: MA
Running Time: 134 minutes

Synopsis: New Line Cinema's supernatural thriller 'The Conjuring 2," with James Wan once again at the helm following the record-breaking success of 'The Conjuring," brings to the screen another real case from the files of renowned demonologists Ed and Lorraine Warren.

Reprising their roles, Oscar nominee Vera Farmiga ('Up In the Air") and Patrick Wilson, star as Lorraine and Ed Warren, who, in one of their most terrifying paranormal investigations, travel to north London to help a single mother raising four children alone in a house plagued by malicious spirits.

The film follows the phenomenal worldwide reception of Wan's 'The Conjuring," which marked the largest opening ever for an original horror movie. It went on to make more than $319 million worldwide and still remains the second highest grossing original horror movie of all time, second only to 'The Exorcist."

Rounding out the cast are Frances O'Connor as the single mom, with Madison Wolfe and newcomers Lauren Esposito, Patrick McAuley and Benjamin Haigh as her children; Maria Doyle Kennedy, Simon Delaney, Franka Potente and Simon McBurney. The screenplay is by Chad Hayes & Carey W. Hayes & James Wan and David Leslie Johnson, story by Chad Hayes & Carey W. Hayes & James Wan. Peter Safran and Rob Cowan, who previously collaborated on 'The Conjuring," produced with Wan. The executive producers are Toby Emmerich, Richard Brener, Walter Hamada and Dave Neustadter.

Collaborating with Wan behind-the-scenes were Oscar-nominated director of photography Don Burgess ('Forrest Gump," '42") and, reuniting with the director from 'The Conjuring," production designer Julie Berghoff, editor Kirk Morri, costume designer Kristin M. Burke and composer Joseph Bishara.

New Line Cinema presents a Safran Company/Atomic Monster Production, a James Wan film, 'The Conjuring 2." It will be distributed by Roadshow Films in Australia.

The Conjuring 2
Release Date: June 9th, 2016



About The Production
Lorraine
After everything we've seen, there
isn't much that rattles either of us.
But this one… This one still haunts me.

At 6:45 a.m. on September 21, 2015, fifteen minutes prior to the official start of principal photography on 'The Conjuring 2," Father Steven Sanchez of Albuquerque, New Mexico"a Roman Catholic Church-sanctioned exorcist and personal friend of demonologist Lorraine Warren"began a blessing of the production before cast and crew on Stage 4 of the Warner Bros. Studios lot in Burbank, California.

Father Steve then extended an invitation for a personal blessing to anyone in attendance. Afterward, he moved through the stage using holy water and anointing oil to bless each room that comprised the main set; making a movie about a documented possession, the filmmakers took no chances.

Then, and only then, did filming begin.

In 1970, the Warrens battled a malevolent presence that permeated a remote farmhouse in Harrisville, Rhode Island"a case brought to the screen in 2013 in Wan's hugely successful 'The Conjuring." Then came the most highly publicized case of their careers, Amityville, which would nearly destroy them.

This summer, writer/director/producer James Wan seeks to terrify moviegoers once again with his depiction of another highly publicized case involving the real-life horrors experienced by paranormal investigators Ed and Lorraine Warren with 'The Conjuring 2."

It's late 1977 when, with the effects of Long Island still haunting them, the Warrens come out of a self-imposed sabbatical and travel to northern London to take on a vile demonic entity that has taken root in the home of the Hodgson family, in the populous borough of Enfield. What is thought by many to be a hoax will become the most documented case in paranormal history. 'Everything Ed and Lorraine have been through since we met them in the first film has been leading up to Enfield," James Wan states. 'Out of the repertoire of cases they investigated over their lifetime, Enfield is one of the most compelling…and frightening. It's also one of the most interesting in that in many ways it is a reflection of the Amityville haunting, so in the film we touch on that as well."

Returning in their roles as Lorraine and Ed are Vera Farmiga and Patrick Wilson. 'It was really joyful for me to step into Lorraine Warren's Mary Janes and sprint another 20 miles," Vera Farmiga smiles. 'It requires you to bring your A+ game, but James really knows our ins and outs and how to reach us, and I think Patrick and I were even more confident and relaxed this time around." 'I believe in the story and the world of the Warrens," James Wan says, 'and the opportunity to expand on their world with Vera Farmiga and Patrick Wilson and bring this particular story to audiences was super exciting for me."

Patrick Wilson affirms, 'There was not one part of this story that felt like we were retreading old ground; we were pushing ourselves to do something different, while still giving the audience the elements that made the first film work, and that was really important to me."

Producer Peter Safran felt that the Enfield scenario provided a natural successor to the story in the first film, due in part to its being 'one of the best-known examples of documented supernatural possession, but also because the circumstances would allow us to make sure the film had a dissimilar look and feel from the first. 1977 London"the miners' strikes were going on, it was the birth of the punk movement"was a really different environment for the Warrens."

Another element unique to this story, producer Rob Cowan notes, 'was the skepticism that surrounded these events. Were these things really happening? Police were involved, reporters, photographers…it got to be a bit of a circus after awhile, with the amount of people that were going in there, talking about it. There was even a ventriloquist checking out whether or not the young girl was throwing her voice."

Further outlining the contrast from the first film, James Wan says, '-The Conjuring' geography was intimate, a farmhouse in the middle of nowhere, and this one takes place in council housing in a big city, so the neighbours are close by, there's traffic. Just by the nature of the setting the people around it are more exposed to what's happening in this house."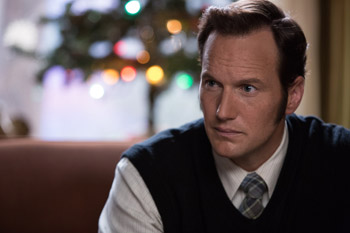 But perhaps the most frightening peculiarity seen in 'The Conjuring 2" is that this time, the family aren't the only ones the possessing entity focuses on…whatever it is, it attacks the Warrens directly, too, causing both Ed and Lorraine to fear for each other as well as for the Hodgsons.

Prior to the arrival of the Warrens, the Hodgson home had also been frequented by German parapsychologist Anita Gregory, played in the film by Franka Potente, and British paranormal investigator Maurice Grosse, portrayed by Simon McBurney. But it was the Warrens that would make the greatest impression on, and the biggest difference to, the family.

'When Ed and Lorraine came to the house, to me it felt like some sort of comfort had arrived for the first time, in that they'd come to try and help us," says Janet Hodgson Winter, the real-life woman who suffered the most in the Hodgson family as a young girl of just 11 or so. The primary target of the possession, she served as a consultant on the film.

'-There's definitely something in this house, Lorraine said,'" recalls Margaret Hodgson Nadeem, Janet's older sister and also a consultant, of Lorraine and Ed's initial visit. 'We told her everything that had happened and how it started and that it was still going on, we couldn't get rid of it, and she said, -I've seen these things before, I'll do my best to try and help you.'" To adapt the numerous real-life events for the big screen, Wan worked alongside writers Chad and Carey Hayes, who wrote 'The Conjuring" and were keen to revisit the Warrens' world once again, and screenwriter David Leslie Johnson.

'This was the first time I've ever worked on a script that was based on a true story," offers David Leslie Johnson, who had been eager to work with Wan for some time. 'I've always been a horror fan, but what was really interesting to me was that this was not only true, but there was so much publicity surrounding this case at the time, and so many witnesses. Even the police had filed reports; this wasn't just one or two people or an isolated family saying what had happened." Chad Hayes states, 'This was such a powerful story about a real family falling apart. The father's gone, the mother's doing everything to make ends meet, and then this happens. Even after all of our research, it's just…unimaginable…but it's true."

'We could see that even with all that Ed and Lorraine went through after Amityville, like being accused of being charlatans," Carey Hayes observes, 'seeing young Janet accused of that as well gave Lorraine something to identify with and Ed something to defend, beyond their usual compassion for families having these kinds of troubles."

All these years later, Lorraine Warren still vividly recalls the fear she felt immediately upon arrival at the Hodgsons' home and on first glimpsing the peril the family was experiencing. 'I could see the girls were in two beds. Then they levitated, they crisscrossed in the air, and the girls screamed. I knew I needed to help them."

Lorraine (to Ed)
Something inhuman wants to kill you.
If we keep doing this you're going to die.

'A lot changed for Ed and Lorraine in the years between the Perron case and the Hodgson case. I think it was six years of spiritual warfare, skepticism and wariness from the outside, six years of demon combat," Vera Farmiga observes.

When the film opens, the Warrens have been called to Amityville, where they hold a séance in order to summon the spirits there. 'They've been called in as experts to see what was going on," Cowan notes, 'so we start the movie with that and we see that they came away from it really believing there was something terrifying in that house."

In fact, there's a rather famous photograph their research team captured that shows the image of a little boy peering over a railing from the second floor, believed to be one of the DeFeo family members who'd been murdered in the house many years prior. The film shows how overwhelmed Lorraine is by a demonic presence during the séance, and later, at home, as it continues to plague her.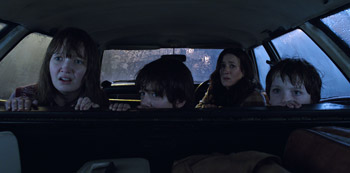 In the short sequence leading up to their trip to Enfield, we see the enormous toll that period takes on the couple, physically and mentally. Vera Farmiga says, 'It took a lot of love between the two of them to get through it, but Lorraine has always said to me, -I know that this gig is ordained, it was meant to be, and like it or not, I gird up.' There was never any doubt for her, and I like that we explore the depths of their partnership in this film."

'For me, part of the reason I came back to do -The Conjuring 2' is the opportunity to work with Vera Farmiga and Patrick Wilson again," says James Wan. 'I had such a great time with them on the first movie, so to expand on this world and work with people I truly love was just great. They really make you care about the Warrens, and I think in horror movies it's important that you care about the characters"then the scares play out so much stronger.

'I also really admired Ed and Lorraine's partnership, and the way Patrick Wilson and Vera Farmiga give life to it," he continues. 'I've always harbored a secret desire to tell a love story on film, I guess my way to do it is to disguise it as a horror movie!"

Vera Farmiga, too, enjoys collaborating with James Wan, and also says, 'As a company, we've grown so close, and I feel like James Wan' imagination is almost the adult version of a kid's fairytale nightmare, there's eloquence and poetry in his vision."

The actress also allows that the role, even more so this time around, requires not just faith in her director, but also an extraordinary amount of stamina. 'There's a lot of darkness that we're portraying and it's arduous, it's depleting. And in this kind of genre, you cannot phone it in, it has to be the most authentic, earnest performance you can find in the depths of your heart and soul." 'We lay the foundation pretty early in the movie that Lorraine has been having troubling visions that affect the people closest to her," James Wan offers. 'So, while she wants to help this family in need, throughout the story she's very tense, very much on guard, because she's worried about what is going to happen, and that she could even lose Ed."

Safran says, 'Ed and Lorraine are truly a couple in love, two people who have found each other and are exactly right for each other…soulmates. That comes through in the writing, but even more in the way that Patrick Wilson and Vera Farmiga play the characters; they give us the touchstone around which everything else revolves. Lorraine herself was on set during shooting and kept commenting on how they captured her relationship with Ed so perfectly."

Though Patrick Wilson never got to meet Ed Warren, who passed away in 2006, the actor says, 'I've been able to spend time with Lorraine so I know him through her eyes, and through Judy and Tony Spera, their daughter and son-in-law, as well as DVDs, audio recordings and so forth. On this one we were even more proactive about finding those character-defining moments in his life that we could put on screen."

One such character trait found its way into the first scene Wan wrote for the film, which became known as the 'Elvis scene," a lighter moment in which Ed sings a song to the Hodgsons. Patrick Wilson explains, 'Ed was a jokester and he loved to whistle, he loved music. Lorraine was happy I was going to sing in the movie because she said the spirit of Ed is there, he was always the first one to lighten the room. He would walk into a séance and say, -I'm hungry. Anybody got any milk and cookies?'"

The 'Elvis scene" was just one of the differences Patrick Wilson appreciated about this film. 'What I love about this case is that, from a dramatic point of view, we didn't tread the same ground," he says. 'With any exorcism, you're going to go with your Bible and crucifix, but Ed and Lorraine are dealing with something very different here, and that's maybe not going to work. As an actor, it was interesting to play, it was a different beast. And even the humour, the romantic stuff, things that spin the genre around a bit…that was exciting to me."

In the first 'Conjuring," Patrick Wilson's character was the protective one, but Wan likes that the tables have turned for the second go-round. 'Now it's flipped, it is Lorraine who's fearful and protective of what might happen to Ed, and I love their dynamic and the way Patrick Wilson plays this practical, almost fearless guy who'll do anything to protect his wife and to help this family."

And it just might take everything he's got. The entity is a strong one; the Enfield case will take a good deal of work and leave quite a mark on both Ed and Lorraine, as well as the Hodgson family.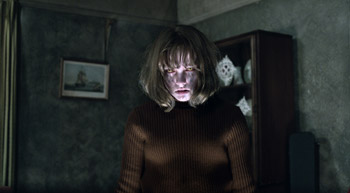 Ed
There is a family that desperately needs our help.

Every parent's greatest fear is seeing their child in pain. But what if that child's source of pain is indescribable, unreachable, and may not even be real? For Peggy Hodgson, it becomes clear that something supremely evil has permeated her home and infiltrated her own daughter, Janet. It's equally clear that there seems to be absolutely nothing she can do to protect her family.

Frances O'Connor, who portrays the overwhelmed Peggy Hodgson, says, 'She's a single mum with four kids living in a council house, so at the start of the film, life's already pretty tough. She's got no money and her husband's not paying any support, so there's a lot of strain within the house. Pretty quickly some small, paranormal things happen and Peggy is so stressed she doesn't even see that it's there."

Until slowly, things begin to escalate. 'One night, she is finally confronted by it when the girls' wardrobe just slams across the room and hits a door. And from there it just gets much worse." Frances O'Connor was aware of the incidents at the Peggy Hodgson home at the time they occurred. 'I'd read the stories and seen those pictures of the girls levitating, that kind of thing, and found it quite terrifying. There was a lot of documentation. So when the script came to me, I was interested in telling that story."

Wan says he 'knew straightaway that I wanted Frances O'Connor for this role. I've been a big fan of her work, all the way back when I lived in Australia. I knew we needed someone as talented as Frances O'Connor to embody Peggy Hodgson's strength, her internal conflict, her desperation."

'On the outside, Peggy Hodgson's somebody who seems quite a harsh character," Frances O'Connor observes. 'I think life really weighs heavily on her, but I like that underneath that, she's got a lot of love for her children, and those elements are really great to play in terms of how she expresses herself emotionally"or doesn't."

While the filmmakers seemed to have quickly achieved their dream cast insofar as the adult leads went, James Wan admits, 'I think the hardest role to cast was Janet Hodgson, to find a young actress who could really capture the vulnerability of what this 11-year-old girl went through, and I've got to say, we are so fortunate to have found Madison Wolfe." With so much of the film's believability riding on her portrayal of a possessed young girl, he adds, 'She was able to play Janet's innocence and naiveté at the beginning, but then slowly change her as she becomes more affected"and infected"by this entity that's living in her house."

Maddy Wolfe says modestly of her character, 'I think she's very smart and a sweet girl, but when these things start happening to her, it affects her a lot, like it would anybody."

Farmiga easily sings her young costar's praises. 'Maddy Wolfe is very impressive, very savvy, for such a young age. She has so much stamina, and she went inward and downward into these cavernous depths of negativity, yet she's really a lighthearted and joyful child. It was quite surprising to watch because she'd go deep in a take and then just snap out of it and talk clinically about it to James Wan, and then go right back into it. It's just a very finely tuned instrument that she has and in my opinion her performance is nothing short of astounding."

Patrick Wilson had worked with Wolfe previously, though her performance"including her English accent"were so good he didn't realise it was the same actress at the script read-through.

'I kept thinking she might be a girl in my son's school, that she was the British counterpart of this other child I've seen," he recalls. 'But then, at the end of the reading, she told me she'd played my daughter in another film, and out comes this Louisiana accent! Granted, we didn't have a lot of scenes together in the earlier film and it was a few years before, but her accent for this film was so good I had no idea she wasn't English."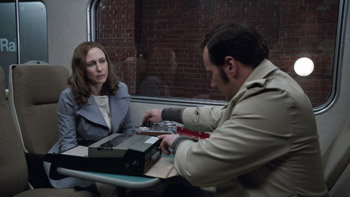 In addition to acting, Madison Wolfe is a cheerleader and a gymnast, both of which assisted tremendously with the physical demands of the role. 'It helped with my stamina, because when you do stunts, you do them over and over and from different angles, so it can get tiring," she admits.

Her favourite scene required a good deal of energy"and speed. 'It was one continuous shot, and the camera started on me sleeping in the chair, and then Frances O'Connor comes downstairs and she helps me up to bed. Then the camera panned to the window and it started raining, and then it was supposed to turn into daytime and the camera backs up and there was me on the sofa. I had to go upstairs, put a robe on, change, run back downstairs and then get on the sofa before the camera came back to me, so the timing had to be perfect. It was really cool," she smiles.

That was just one of the more physical scenes required of Madison Wolfe. During at least one other, Madison Wolfe recalls, Janet and her sister, Margaret, levitate in their beds. 'It was definitely the first time I had done anything like that. They put a harness on under your clothes and put you up on wires, and they had it rigged to where we could cross each other in the room. That was really cool, too." Margaret, Janet's elder sister, is played by Australian actress Lauren Esposito. 'Margaret's very protective of Janet, especially when she starts to get possessed and all these crazy things happen," she observes. 'They become a lot closer, I think, because of everything, even though Margaret's petrified at the same time."

Esposito remembers her scariest moment on set as 'when the drawer comes toward Janet and Margaret and smashes into the door. It was quite scary because it seemed like it was an inch away from actually hitting me."

Since the role required a good deal of screaming, Esposito wisely kept a water bottle close by, 'and some tea with lemon or honey"anything to help my throat!"

The Hodgson boys were both played by young actors found in London. Patrick McAuley plays Johnny Hodgson, the older of the two, and Ben Haigh plays the youngest, Billy, who is troubled by a speech impediment. Haigh had to learn to stutter, as well as alter his accent to one slightly different from his own as the story takes place in North London.

Cowan states, 'We were really lucky with the kids that we found because, as James would say, the hardest thing is to pull off the scares and the fear and if it's not in the kids' faces when we're rolling the cameras, the audience isn't going to feel it either. But these kids were all just terrific." Before the Warrens arrive, the Hodgson home has attracted more than enough attention, from the media, primarily, but also from other experts in the field. German actress Franka Potente portrays real-life parapsychologist Anita Gregory, who was famously skeptical about whether or not the family were making the whole thing up. Simon McBurney is the far-less doubtful paranormal specialist Maurice Grosse. Chris Royds plays real-life Daily Mirror photographer Graham Morris, who covered the events in Enfield for the paper.

The Hodgson's weren't without support, however; they received comfort"and shelter"from neighbours Vic and Peggy Nottingham, played in the film by Simon Delaney and Maria Doyle Kennedy. And as the priest who brings the Hodgson case to the Warrens' attention, Steve Coulter reprises his role of their friend and advisor, Father Gordon.

Both Janet Hodgson Winter and Margaret Hodgson Nadeem were introduced to the young actresses playing them. But perhaps the most touching moment on set occurred when Lorraine was reunited after 38 years with Janet and Margaret, whom she hadn't seen since they were little girls in 1977. Through tears and hugs, Janet whispered to Lorraine, 'You were the only person who really tried to help us."

Janet & Billy
There was a crooked man, and he walked a crooked mile…

Sometimes it's the most innocent things from childhood, such as a spirit board or nursery rhyme, which can make for the most haunting, disturbing images on film. In 'The Conjuring 2," what began as a small part of the story"Janet Hodgson using a zoetrope that plays a 19th century ditty to help little Billy speak more fluidly"turned into a much larger and more terrorising character once the filmmakers decided to give him life.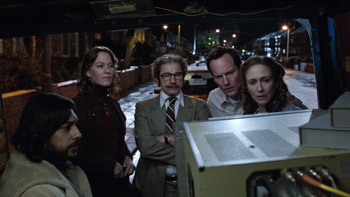 'As time goes on, we feel that the demon in the house is using whatever forces he has to try and frighten the family," Cowan says. 'James Wan thought that one especially effective way would be to bring the little zoetrope character to life…as a six-foot-tall Crooked Man." But he's no innocent creation of a child's imagination.

Nor is 72-year-old Bill Wilkins, former resident of the Hodgson home. Now deceased, his spirit seems…unable…to leave, choosing instead to occupy not only his favorite chair, but young Janet's soul as well. But it seems that even Bill is being manipulated by something far more demonic, something that's been plaguing Lorraine Warren since Amityville.

Janet/Bill Wilkins
This is my house. Get out, now!

Thanks (most likely) to Father Steven's blessing of the soundstage prior to the cameras rolling, the cast and crew experienced far fewer 'unusual" occurrences than on the first film, though there were a few odd happenings before and during production: doors opening on their own, items going missing, shadowy figures seen or felt when no one was actually there, and lights going out unexpectedly.

Even in London, during the casting process, several sessions were interrupted numerous times by a loud scratching noise thought to be coming from under the floorboards of the converted Victorian print house. The agents chalked it up to mice, though none was ever found and the sounds were a bit too loud to come from tiny vermin. Or perhaps a dog in the adjacent studio? No, there was none. Curiously, the scratches were not heard again once casting on 'The Conjuring 2" was completed.

Though principal photography took place in the States, James Wan says, 'One of the biggest things that attracted me to this particular story for the second movie was the setting. I really think London gives it a slightly different flavor and feel, and was more interesting to me from a filmmaking standpoint."

Safran adds, 'James loves to find ways to give an audience a sense of the geography of the piece, in this case and in the first film, meaning the house and its surrounds. In the original, he created a shot that followed the family around as they moved into the house, the kids unpacking, going out in the back yard. In this film, we have the amazing shot that blends together a shot that starts outside the house, comes in through an upstairs window and takes you all around the second floor, following the characters. You immediately get a sense of who they are by understanding how they live."

The tracking shots are representative of the way Wan directs, doing as much as he can in camera, including as many effects as possible, relying on CG only when necessary. 'I think that is the secret to a lot of the really scary sequences he devises," Safran continues. 'It's all happening right there on the screen, multiple scares building on top of each other, all in one extended sequence. James is able to take a scare that, for most people, would be the climax of a scene, and have that be the commencement of a scene, and then build on it so that each cumulative scare is greater and the climax is truly terrifying."

To manage the complex shot, director of photography Don Burgess says, 'We decided to use the RED camera on the MOV to get light and be flexible and portable, so we could maneuver it into and through the house. It involved two different camera operators and lots of light cues to make the transitions as the camera floats effortlessly through the hallways and doorways. These are the kind of shots I love to do"they're very rewarding when you pull them off."

Because the type of council house that served as the Hodgson home in Enfield was a very tight living space, the production team recreated it on the Warner Bros. lot in order to make it more filmmaking-friendly. 'We needed to make our version of their house slightly bigger in order to accommodate the crew and to give the camera the freedom to follow the actors from room to room without cutting," Wan says.

In order to combat the larger sense of scale on camera, production designer Julie Berghoff chose to employ James Wan's characteristic sickly green color scheme that is indicative of paranormal infection, and to darken it down with stains and aging materials that give the rooms a dingy feeling and show water stains and creeping mold that are also symptomatic of the sickly, supernatural presence. The dark walls and darker corners help to shrink the look of the rooms on camera, and bring them more in line with the realistic scale of a 1970s council house.

For a variety of reasons, the filmmakers chose not to use the actual house where the events in Enfield unfolded as the physical model for the Hodgson House in the film, although another, similar-looking house in Enfield was eventually settled upon. Once it was chosen, construction began on Stage 4, which is one of the oldest stages on the lot, built in 1926, and also one of the most haunted. Many believe that the spirits that inhabit the catwalks on Stage 4 are ghosts of former Warner Bros. crews and that they are mischievous but benevolent practical jokesters. Oftentimes the nighttime maintenance crews won't go out on the roof without someone staying inside, because the ghosts like to lock them out, and some crews have claimed to hear whispering, hammering and drilling when no one on the stage was constructing any sets.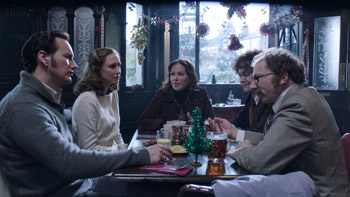 Wan and Berghoff have worked together many times, so she was hardly surprised when the director asked her to build a two-story house authentic to the era but inside a soundstage, so that he could literally follow the actors up and down stairs.

'This was my fifth film with James and he pushes me in interesting directions and inspires me," Berghoff says. 'Any time he takes a project, I know there are going to be lots of twists and turns that allow me the creative freedom to push the limits in many different directions."

'I told Julie that I wanted it to feel like a real house," Wan relates, 'and she did a fantastic job both in look and tone. It never felt like a movie set."

Berghoff's team built a two-story set encompassing three houses from the model street in Enfield, plus the front, walled gardens, sidewalk and part of the street, as well as the backyards. 'I call it -beautifully decrepit,'" Safran says.

Working in conjunction with Wan and Berghoff, Burgess helped to create the claustrophobic atmosphere Wan was going for. 'James is a very visual director, and the cinematography is a big part of telling this type of story"light and shadow, what you see and don't see. It was an absolute joy working on this."

'Julie and Don did a fantastic job of realising James's vision," Cowan notes. 'She really captured the sense of these 1970s council houses, bringing in the texture and tone and color palette, and when Don lit the set in certain ways, where you weren't sure what's there and what's not in the frame, it was really scary. It really helped the actors feel like they were in that world."

Wan was very specific regarding the design of Janet and Margaret Hodgson's bedroom, which was inspired by the photos taken by then Daily Mirror photographer Graham Morris. Berghoff and her team created the look of the rest of the Hodgson home from her own original designs. In addition to all the action happening inside the house, there was also a good deal of rain required in the story, which only served to enhance the London feel. It was always wet 'outside" and cool because they ran the air conditioning, so they really did create the appropriate weather.

The challenges of creating ongoing, credible rain on an indoor set spurred Berghoff to design a drainage and reclamation system that required cutting through the stage floor and excavating a portion of the earth below. 'It's really unusual that you'd have this much rain on stage," Berghoff offers. 'We had to pour a whole concrete foundation with drains, and really think about how to push the water off and keep the set from flooding daily."

Rigging was installed all around the Hodgson house, from the street in front, down the side alley and across the backyard. The rigging was primarily used for shooting 'exterior" scenes that would match the actual street in Enfield. In order to keep the stage as dry as possible, rigging was also installed around the house's windows so that interior scenes could be shot with water coming down the panes without having to drench the entire stage.

The story also called for a basement, and Stage 4 accommodated the production's need to go underground by allowing for the hole in the floor. They discovered a tank underneath that hadn't been opened for 40 or more years, old sets and all manner of bits and pieces that remained hidden away, 'archived" by time itself.

Not everything could be accomplished on Stage 4, including an important sequence when Ed runs down to the basement to try and save Janet while Lorraine and Vic are locked outside in the stairwell in the rain. Part of the Stage 4 excavation took place in order to accommodate the basement stairwell, so that from the backyard set the actors can run down below and open the door, but in reality, beyond the door was nothing but dirt floor and wood pylons set into concrete footings supporting the stage floor. Shots for the scene on the other side of the basement door in the film took place in a tank in Santa Clarita, built to allow for three different levels of flooding. Another element that was used to make views from the stage interior to the exterior appear convincing was an enormous drape that rose 40 feet from the ground to the catwalks and spanned the length and depth of the stage around three sides of the set. Printed on the drape was a composite, high resolution photograph of the actual Enfield street and houses for front, side and back views.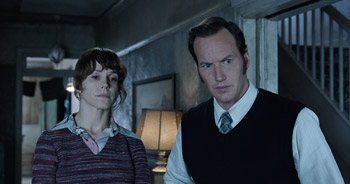 Although the dirt in the front, side and back yards was real"which, due to the rain, created a bit of a muddy mess at times despite being compacted"the grass was synthetic, which allowed it to remain green throughout the shoot. The other plants used outside were all real, however, though many of them were not alive given the winter time period in which the story is set.

Several other sets were constructed on the Burbank lot on Stage 9, including the Amityville attic interior with its iconic window; an upside-down living room set with a trap door for a scene when Janet wakes to find herself on the ceiling; and Ed and Lorraine's artifact room, a close replica of the Warrens' actual 'occult museum," which housed a few of the same pieces seen in 'The Conjuring," such as the Samurai armor, the wind-up monkey and, of course, Annabelle. Three new pieces were provided for this scene by Lorraine Warren herself: original prints of Ed Warren's paintings of haunted houses.

For practical purposes ranging from giving the construction crew time to turn the Hodgson House set on Stage 9 into the Nottingham House, to not being able to effectively cheat certain London locations, the production shot in limited local locations in both Los Angeles and London. The scene in which Ed and Lorraine arrive in London and meet Maurice Grosse for the first time were filmed at the Marylebone Railway Station and required hundreds of extras and a dozen picture cars for authenticity. Three sets were constructed on F Stage at Warner Bros. Studios Leavesden: a train interior, for which an actual vintage passenger rail car was brought to the stage; the set for 'The Becky Rivers Talk Show" scene, which features both Janet Hodgson Winter and Margaret Hodgson Nadeem as audience members; and a 360-degree green screen set with a car for scenes depicting driving through London in the rain. Additional footage was captured in London at such locations as The Warrington Hotel Pub, Maida Vale, and on an unnamed street in Enfield that substituted for Green Street, where the real Hodgson home is located.

Back in Southern California, additional filming took place in Monrovia, for scenes in the Amityville house, and in Encino, for Ed and Lorraine Warren's Connecticut home.

Costume designer Kristin M. Burke worked hand-in-hand with the production design team to recreate the late 1970s world for everyone appearing in the movie. 'Costumes are worn by characters," she says. 'Clothing is a language and it is my job to make sure that the costumes speak for the characters."

Drawing on the research she had already done for 'The Conjuring," Burke expanded upon the Warrens' relationship as it took them to Amityville, New York, for the opener of 'The Conjuring 2," and on to London for the Hodgson case. One of the interesting themes in the Warrens' clothing was the way it mirrored their inner connection; Ed and Lorraine often wore matching clothing so that they appeared coordinated. For example, Lorraine would make sure Ed's ties were made from the same tartan fabric as her skirts. Burke used this real-life detail to unify the Warrens on screen in both films.

'In all of our research, we found that Ed often wore dark clothing next to his face, and that Lorraine almost always had feminine details in her clothing," Burke states. 'We chose a color palette for the Warrens that reflected the cool, businesslike way they approached their cases. You may notice that they are predominantly dressed in neutral colors"navy, gray, beige and the like. The angst-ridden families they help, however, wear earth tones and reds. In this way, we set the two worlds apart."

Lorraine
An oppressing spirit will try to force
you to commit the ultimate sin.

Janet
And what's that?

Lorraine
Murder…or suicide…or both.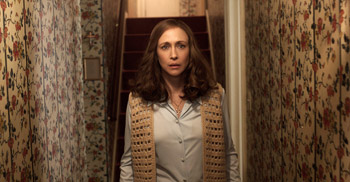 'The Conjuring 2" is the sixth film collaboration between composer Joseph Bishara and James Wan (as either director or producer); Bishara also coached Patrick Wilson on the guitar for the scene in which he plays an Elvis song to the Hodgson family.

Hearing the film's music start to compose itself in his head while he was on set, just two days after completion of principal photography in London, Bishara headed into Studio 2 at the famed Abbey Road Studios in St. John's Wood to record a children's chorus and an adult men's chorus for the film. The children's chorus recorded variations on Bishara's arrangement of the Crooked Man song, an adaptation of the 19th century English nursery rhyme.

The men's chorus, comprised almost entirely of basses and baritones with a single featured tenor, was the first element to manifest as literally the voice of the film, including extended vocalizations and whispers that were melodious and sinister at the same time. Bishara usually got what he wanted after recording one or two takes, so he would move on to experimenting with different variations, creating unexpected moments which brilliantly enhanced the eerie quality of the soundtrack.

Lorraine
Does it feel like the voice is
coming from inside you?

Janet
More like it's coming from behind me…
like I'm being used.

James Wan is a master of paranoia, of playing on such universal fears as being in the dark, being alone and, in the case of 'The Conjuring 2," being overtaken by the unknown. 'Everybody has fears," he says. 'My job is to tie into the collective subconscious and into our greatest fears, in this case it's the unexplainable"demons, possession, haunting. These are things that really happened, that really happen, and that makes them that much more terrifying. For me, as a filmmaker, it's a really creative genre. You can kind of do anything…so long as it scares the hell out of the audience!"


The Conjuring 2
Release Date: June 9th, 2016