Jessica De Gouw Cut Snake
Cast: Sullivan Stapleton, Alex Russell, Jessica De Gouw
Director: Tony Ayres
Genre: Thriller
Rated: MA
Running Time: 94 minutes

Synopsis: Cut Snake is a crime drama set in Melbourne in the mid-'70s.

The film tracks the relationship between Sparra (Alex Russell) and Paula (Jessica De Gouw) and the impact on their lives of the charismatic and dangerous Pommie (Sullivan Stapelton).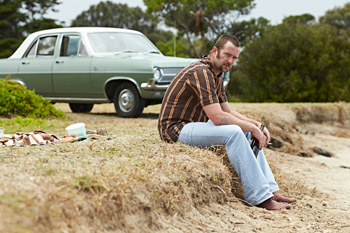 Sparra is a very private man in his twenties who is trying to make a fresh start in a new city. He has honest work and becomes engaged to Paula. Sparra and Paula appear as a regular young couple – in love and setting up their new home together. They are busy planning for their future, until Pommie turns up.

Pommie, just out of prison, tracks down Sparra, expecting to pick things up where they left off. Sparra is thrown by Pommie's arrival. Paula is initially intrigued by Pommie – she knows little of Sparra's past. But when Pommie starts to talk to Paula about Sparra's criminal past she becomes suspicious of him and his motives. She is forced in to action.

Pommie exerts his influence on everyone around him. Sparra is conflicted between his criminal past and the prospect of the new life he has been building with Paula. Torn between the two, Sparra ultimately realises that he'll have to fight to keep the past from destroying his future.

Cut Snake
Release Date: September 24th, 2015



About the Production
About The Script
Cut Snake was the winner of the Inaugural Adelaide Film Festival/Insite award for Best Unproduced Screenplay in 2002. The prize for Blake Ayshford was a rehearsed reading of the screenplay directed by Tony Ayres. After a number of years it came across Tony Ayres's desk again, at which point he decided to option it.
While it has gone through a number of changes since 2002, Tony Ayres always loved the character of Pommie. "He really jumped off the page – a charming charismatic psychopath in love. He really embodies a lot of contradictions which makes for a great character."
Tony was also interested in the central dilemma of Sparra: "He is caught between these two oppositional forces. His love for Paula, and a kind of purity in that – and his attempt to keep his relationship in the chaos that Pommie represents. The two forces were really interesting as a central dynamic."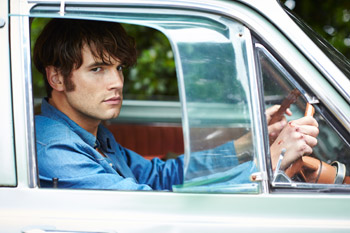 "The idea is a thriller where the dilemma is no longer the bad guy – it's about what is dark within yourself. Pommie ignites this dark flame in Sparra. I found it intriguing to make a story where you start off thinking one thing and by the end of the film you've swung around 180 degrees – the world no longer seems as two--‐dimensional. Because for me that's the truth of relationships – we start off with more conventional ideas of who people are and the more you explore the more complicated and grey it becomes."
The Look Of The Film
Cut Snake is unashamedly an interpretation of the 70s. "We haven't been obsessive in our details ‐ we wanted to create a feel rather than a literal description", says Tony Ayres. "I think that suits the nature of the film. Our interpretation is aimed to evoke a mood or feeling – an emotional landscape."
This is a film with a rich colour palette and an elegant, sophisticated and bold look. Cinematographer Simon Chapman notes: "I wanted the movie to look cinematic even though we were working in sometimes very small interior spaces. I was interested in darkness around the actors and creating mood that helped underline the subtext of each scene."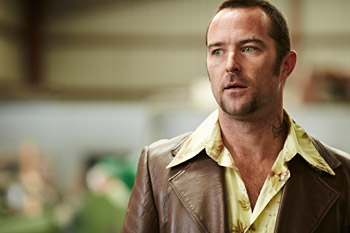 "The production design guided the colour palette and we tried to light each set to create the right emotional tone. We used older lens' to help with the period feel but never tried to force a look on it. We would let each scene develop quite naturally but then frame and light in a more striking way than perhaps 'reality' would suggest. That is what makes it feel like a classic drama plucked from the era."
The production design for Cut Snake was very consultative and drew on the strong relationship Tony Ayres shares with the Production Designer Jo Ford. "The look of Cut Snake was very much directed by the decision to give it a contemporary feel, even though the story is set in the 70s," Jo Ford says. "We decided to restrict the obvious stand-out design elements of the period and create a world that was more everyday and therefore less distracting. This helps the camera, and thus the audience, concentrate on the story unfolding. To achieve this and working with the costume and makeup departments, we started by limiting our colour pallete choices."
Costume Designer Cappi Ireland adds, "I wanted the audience to feel like they were in the 70's without the obvious garish 70's looks. It had to be subtle and sexy and keep in line with the moods and emotions of the characters and script."
Director's Statement
Cut Snake is a crime thriller about a young couple, Sparra and Paula, who are visited by someone from Sparra's dark past. This man, Pommie, wants Sparra to go back into crime, and threatens both his relationship and then his life.

This is a story about passion and fire. It explores secrets, desire and the consequences of truth. In many ways, Cut Snake starts as a conventional thriller, but as it progresses, the usual black and whites of this genre become more complicated. By the third act, all bets are off, and anything can happen.

Given that it is predominantly a three-hander, the central performances are the key to Cut Snake. For me, the three leads ‐ Sullivan Stapleton, Alex Russell, and Jess De Gouw - are what makes this film work. Watching their passion and commitment to their roles and this film leaves me in awe and gratitude.
Cut Snake is my third feature and a great direction for me as a director. It is a kinetic crime thriller, yet still explores the moral ambiguities and complexities of the human heart which have always fascinated me thematically. - Tony Ayres, 2014
Cut Snake
Release Date
: September 24th, 2015