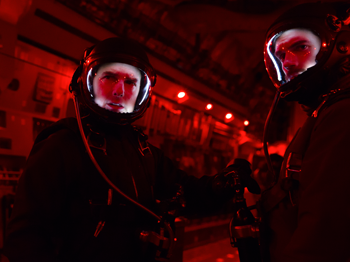 This mission will push the team like never before.
Cast: Tom Cruise, Rebecca Ferguson, Henry Cavill, Simon Pegg, Ving Rhames, Alec Baldwin, Angela Bassett
Director: Christopher McQuarrie
Genre: Action, Adventure


Synopsis: The best intentions often come back to haunt you. Mission Impossible: Fallout finds Ethan Hunt (Tom Cruise) and his IMF team (Alec Baldwin, Simon Pegg, Ving Rhames) along with some familiar allies (Rebecca Ferguson, Michelle Monaghan) in a race against time after a mission gone wrong. Henry Cavill, Angela Bassett, and Vanessa Kirby also join the dynamic cast with filmmaker Christopher McQuarrie returning to the helm.

Review: CAUTION! This film will make your jaw drop; your heart race and mind bend with its thrilling high intensity action scenes, beautiful and suspenseful cinematography and clever plot twists that'll have you on the edge of your seat, holding your breath!

Some might have said it'd be impossible to top the last seven movies in the series, but somehow, the new hot-shot-action extravaganza has made THAT mission, possible!

Mission: Impossible – Fallout has outdone itself and this time 'round shows up in a new class all of its own. You'll be kept on your toes as you traverse the compelling story and try to figure out who's good and who's bad. With some of cinemas best fight scenes, even the most peaceful soul will be inspired to take a class in Jiu-Jitsu after seeing this epic adventure flick.

The brilliant and sexy Tom Cruise does a remarkable job driving the plot home; an otherwise unbelievable series of events are supported by seamless details and directing by Christopher McQuarrie. It's so real, thorough and unexpected; you'll believe the actors had actually pulled off this mission.

The story line is refreshed with lots of new gadgets and high level tech, that'll pierce your imagination. It's safe to say people, Mission: Impossible – Fallout will succeed in quenching even the biggest thirst for another smash hit mission impossible.
- Madeleine Coleman

Mission: Impossible – Fallout
Release Date: August 2nd, 2018
Team Featurette