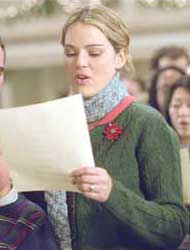 AUSSIE ACTRESS BARRETT ON THE RISE IN HOLLYWOOD Jacinta Barrett/Ladder 49 Interview by Paul Fischer in Los Angeles.
Jacinta Barrett may be from Queensland, Australia, but this pretty blonde Aussie actress is not willing to share that info with prospective producers. In auditioning for the role of Joaquin Phoenix's love interest in Ladder 49, Barrett said that she convincingly kept her background from the film's producers. "When I auditioned, they didn't know where I was from or that my dad was a fire-fighter or any of that stuff, so I just auditioned like anyone else and then, I tested with Joaquin. I guess they just reacted to my test and I got it."

While many Australian actors working in Hollywood initially established themselves in their native homeland, Barrett was the exception, having left Australia to pursue her Hollywood dream, and finding original success in the MTV series The Real World. The ex-model, who bore all in the Anthony Hopkins-Nicole Kidman drama The Human Stain, admits that her very down-to-earth family still has no idea of what to make of this glamorous life in which she has found herself. "It's like a world that is so foreign to them and they almost have no idea where I got the idea to do them. They just say "OK, that's you", and they encourage me to be my own person." Jacinta says that when trying to become an actress here initially, she had much to prove, especially being a foreigner. "In the beginning they didn't want to give me a job playing an American when I hadn't proven myself, so I had bigger obstacles in the beginning. Now that I have done it, I don't have to prove that any more, so I don't feel that, but it was much harder in the beginning."

Ladder 49 marks an auspicious development in the actress's career, in this powerful human drama set amidst the world of firemen and their families, spanning over a decade in the relationship between the characters played by Phoenix and Barrett. Barrett says that she was unconcerned from the outset that she was merely going to play 'the girl. "It was on the page from the first time I read it, so I knew that it wasn't just the girl with nothing to do and that's what drew me to it among other reasons. As an actor that's the stuff that motivates you and I mean, ultimately for me the movie was about more than just my part or even working with these great actors and the director, but about the story and the fact that these guys need to be honoured in a truthful way. So I just felt like it was more about them than about us," Barrett explains.

It was additionally ironic that she was starring in a film about fire-fighters, having a father who has been one most of his life. She recalls being pleased by his reaction to her getting this film. "He thought it was great. You know my Dad is like a lot of fire fighters that I met. He's so humble about what he does, and the guys that I know anyway, seem to have this sort of quiet dignity and strength about them. My Dad doesn't think that it is some great big thing he does, has always just been really humble about it and so I guess he doesn't really see it in that heroic way. So he was like, 'OK, that sounds like fun'. ".

While in the Ladder 49, Barrett's character remains concerned over her husband's profession, she remembers as a child not having those concerns about her dad. "I always had a sense that it was special and every morning, he'd get up, he'd have his uniform on and I said goodbye to him. I have such memories of seeing him with his hat, hugging him goodbye and just thinking that he was special. He did something different than other people did, and you know, as a kid you take your trip to the fire station when you're in like grade 1 and you're made aware of what these men do, so it was in my consciousness that that was my dad." Far removed from Jacinta's whirlwind Hollywood career, her parents won't be attending the glitzy premiere of Ladder 49. "They'll see it at home."

For a change of pace, Barrett will next be seen in the upcoming Bridget Jones sequel, Bridget Jones: The Edge of Reason. "I play Rebecca Gilles and I work for Colin Firths character, Mark Darcy. Everyone's back from the first, which picks up 2 months after the first one left off." Barrett won't give much away, including whom she gets up close and personal with. "That's a surprise, but, there are some twists in it, especially for my character and it is still seen through Bridget's crazy insecure view of the world."

As Jacinta's film career begins to take off, this native Queenslander looks forward top an equally burgeoning career back home, given the fact that she yet to work in Australia. "I am dying to go home to do an Australian movie. I am I mean there are so many people that want to get the opportunity to make these movies, that every time you get the opportunity, you're one of the very lucky few, so I'm always thankful for that. I am aware of how fickle the business is and how quickly it could not be there." But she still does, on occasion, still call Australia home. "I miss the wide open skies, that sense of really being able to see the world that you have there and the smells and the sounds, but I don't miss the cane toads," she finally adds, laughingly.

LADDER 49 OPENS JANUARY 5.