by Paul Fischer in San Diego.
SWANK REAPS WHAT SHE SOWS.
Hilary Swank, casually attired in jeans and t-shirt, is in the midst of the annual Comic Book convention, Comic-Con. Perhaps its not the obvious place to find this two-time Oscar winner, here to promote the creepy thriller, The Reaping, specifically, though audiences will next see her in Brian De Palmas Black Dahlia. Talking to the press for the first time since her marriage break up to Chad Lowe, Swank, though guarded, says she deflects her personal life from the paparazzi, by "having great people in my life - great friends, great family and I think that it is all about the work to me." Swank says that she "didnt get into this business for accolades of for the celebrity part of it. It is all about the work to me and I love my job." The actress recognises that with success, comes a downside. "Anything in life has a ying and yang in life. There is the double-edged sword in everything, but I dont understand the whole culture or the fascination with celebrity. At one point I think, paparazzi used to be beautiful, when you see the pictures of Jackie O or something, they actually wanted people to look good but now it is like this fascination with getting someone picking their nose, or cleaning up after their dog and I dont understand it. I really dont know what it has to do with movies."
Swank, 32, has come a long way since her less lofty days in The Next Karate Kid or TVs Beverly Hills 90210. Nobody, not even the actress, could have predicted not one, but two Oscars, in this actresss future, but the always circumspect actress says she has no regrets about her earlier choices. "I never knocked a job and I took any job I could get, especially in the beginning and was never a snob about it," Swank recalls. "But you look at a lot of peoples careers - everyone kind of did that. You take a job where you can for a couple of reasons. One - you need to live, and you dont want to just be a waiter, but you want to make some money, but more importantly, I never knocked an opportunity to learn, and there was so much to learn. Every bad movie of the week; every bad TV show; anything that I did, was preparing me for, hopefully, an opportunity that I was going to have. You know that great saying - the definition of luck is when preparation meets with opportunity."
Opportunities for the actress emerged shortly after she left 90210 and decided to audition for a miniscule Indie film, Boys Dont Cry. The rest, as they say, is history, and her Oscar win cemented her career as one of Hollywoods newest and brightest. But when she talks about her Oscars, she still maintains a very philosophical and down-to-earth approach to her own, extraordinary success. "In an interesting way I never went in this business for the acclaim of it, or the dressing up part of it. I love people and stories, so all that is a side-effect that happened and still blows my mind. Seriously, I walk by, and I see them, and I think I am in the wrong house. I go to these shows and I keep thinking, Who is going to come and pull me out, because I dont know if I belong here, because it feels like me. It is just Hilary from this little town. I am like, How did this happen? Seriously, because all these people you look at around you inspire you. You watch your whole life in movies - to be nominated with Meryl Streep? Ive watched Meryl Streep my whole life. It just feels very surreal - I guess that is the best way to put it." Those earlier choices were justified, as now Swank is one of Hollywoods elite, picking and choosing what she does. "I wake up every day, go to work and I am really grateful. I cant imagine doing anything else, and I wake up and I say, I am so lucky to be working on a movie set. Inevitably, it is usually with people that blow my mind."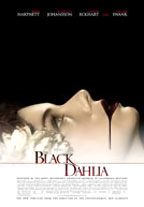 Swank will next be seen in Brian De Palmas period mystery thriller, The Black Dahlia, based on the true story of one of the great unsolved crimes of the twentieth century. "It was great I loved it, even though I come in on about page sixty-two. I am really a complete supporting character, but it was so much fun - I loved it. It was my second movie with Aaron Eckhart and my first with Josh Hartnett and Scarlet Johansson but Brian De Palma is amazing and it was fantastic."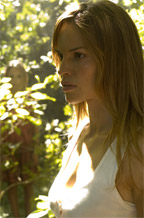 And Swank is equally excited about The Reaping, due out in the new year, a contemporary take on the Old Testaments ten plagues. Here Swank plays a myth debunker who tries to prove that a small girl is not the supernatural force behind the devastation of a small, religious Texas town. For Swank, who can afford to be choosy, she was attracted to this film, she says, because "It was a real page-turner for me. It is really rare for me to sit down and not look at a page count: How many pages are in this script? And I was reading it, reading it, reading it and the next thing I knew it was over and I kept thinking about it. There is something that happens in this movie that I didnt see coming, and let me just say, I see things coming a million miles away." Swank says she is a fan of smart horror films, this being one of them. "The idea in this movie that this could really happen is whats scary. It is not the whole wielding a knife through a forest that are harder movies for me to go see, but there are dramatic qualities to this movie; religious qualities and a lot of analogies to life too. It seems you cant judge something by first glance, all thats kind of wrapped up into it." Though Swank could identify with her character, she adds that identification is not really necessary. "I think you have to find some element that makes you go, Oh, wow! What an interesting way to look at things, how she is seeing this, or what has happened to her - how she experienced it and how she reacted to it". "I think that the idea of having such a strong belief, and then having something shake you so profoundly that you lose that belief and then regain it later is powerful and that is what lifes about."
Playing characters that are so colourful, she says, was one of the reasons why she became an actress. "I think the really interesting thing about life, and why I am in this business, is that everyone has their own story, and it is different to the next persons. I just love getting underneath that, understanding that and I found that really powerful." After our interview, Swank was leaving the mayhem of San Diego, to continue work on a new film, Freedom Writers. "It is a true story about a teacher named Erin Gruwell, and it accounts for my weird hairdo", she concludes laughingly. Its what you say: you really do reap what you sew.
More Female Interviews:
www.femail.com.au/interviewsfemaleactors.htm
More Male Interviews:
www.femail.com.au/interviewsfemaleactors.htm
DVD Releases:
www.femail.com.au/dvd_video_releases.htm