McKellen ready to move on after 'rings' but won't rule out another X-Men.
Ian McKellen/Return of the King Interview by Paul Fischer in Los Angeles.

Prior to our interview in a Los Angeles hotel room, Sir Ian McKellen had been interviewed by the religious press and seemed a bit exasperated when they suggested that his Gandalf in Lord of the Rings was akin to being a Messianic saviour. The openly gay actor clearly disagreed with such an analogy. "Well I certainly wasn't the Saviour. What I liked about Hobbits was that it was the perfect community but it didn't have a church. There is no God in Lord of the Rings, no Pope, no bishop, no credo, or no one telling you what to do." McKellen dismisses any religious undertones of the character, pure and simple. "Gandalf just says all we have to do is do what we can do in the time that we've got which is the closest that you get to a belief system."

It's been four years since the 65-year old actor began his journey to New Zealand playing the enigmatic Gandalf in Peter Jackson's Lord of the Rings trilogy. Dying for a cigarette, but still relaxed and in droll spirits, McKellen has mixed feelings as to the final demise of this epic undertaking. Asked whether he will miss Gandalf, the actor smiles slightly, referring to his beloved character as "Randy Gandy". McKellen says he hasn't as yet had time to miss Gandalf. "The last bits of Gandalf I did was shouting down the line from London to Wellington, adding the last final grunts for the battle which was only 3 weeks ago, so I have to keep thinking about him because his image is everywhere." Not that McKellen hasn't been busy since completing the final stages of principle photography. "I've done a play on Broadway, then the West End and I've made 2 movies so it's not as if it's been an ongoing obsession in the way it has been for the director and even the workshops."

Obsession or not, McKellen still took a lot away from working on Rings, he says, including "a confirmation that I like working with other people. I think people's image of actors is that they are selfish, egotistical, self-obsessed and surround themselves with support systems to boost their ego. Now those things may go on but actually most of the time what is going on is that you are accommodating other people and working with a team, with a fellowship if you like, and that was certainly true of this over a long period. Therefore your relationships became more intense and more meaningful because you were away from home, and alongside that was the other experience of living in a country that I didn't know before, in New Zealand and falling in love with every single aspect of it."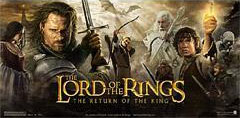 McKellen is looking forward to returning to the stage in January, for an Australian production of his acclaimed Broadway hit Dance of Death, playing a character as vastly different from Gandalf as one can imagine. It is clear that McKellen loves acting and the sheer diversity that has been a part of his career since the beginning. "In the nineteenth century actors had a repertoire of parts, which were very often way past the sell by date. You shouldn't play Hamlet when you're 60 I don't think, but I've revived Macbeth over and over again and went around the world with Richard the Third and we filmed it and I did The Dance Of Death on Broadway. We also did it in London with another cast, and got better and deeper. It's one of the great parts which I don't think I've cracked yet, so maybe I'll be cracking it in Sydney."

As for an X-Men 3, McKellen is hopeful for a return to the franchise. "Bryan Singer said in an email that if there was a third one that he would like to direct it and if he directs if he'd like Magneto to be in it but he didn't say he was going ask me to play him. It could be about a younger Magneto, since those X-men stories go forward and backward in time."

Unfortunately, what is not going to happen is McKellen starring opposite Al Pacino in a film version of The Merchant of Venice. He was committed to playing Antonio, but constant delays meant he had to pull out. "I've got very few ambitions and one is to play Antonio, Shakespeare's major openly gay character who says 'Sooth I know not why I'm so sad' but everyone else knows why he's sad: His boyfriend has just told him he's going to get married, which is what that is all about. But you don't see it played like that and at last I was going to get to play it on film, but my loss is Jeremy Irons' gain."

Asked if after 40 years, there was still another character he wants to play, McKellen responds smilingly. "I want to play a dame in pantomime, which is the first thing that British kids see in the theatre when they are very, very young. It's full of dance, song and poetry, has a simple story, audience participation and cross dressing. The principle boy is played by a girl and the mother, the comic dame, is always played by a man, which is why the British love the theatre so much, because they get it all, like a Christmas pudding. But mind you, I think pantomime confuses them as well, so next Christmas I'm going to play a dame in Aladdin," McKellen says laughingly.

Ian McKellen considers himself to be incredibly lucky, a gay actor who, in this conservative world of political correctness, is more than happy to express his views on homosexuality in this, or any other forum, though he won't be drawn on the cutest male actors with whom he has worked. "Ah yes, Hugh Jackman, Brendan Fraser, Brad Renfro. I don't really label people in that way but I suppose I got closest to Brendan Fraser yet I was also very touched by Brad Renfro, whom I thought had a wonderful spirit, a hard life and really wish him so much good luck. Robert Downey, who I worked with in Restoration and then Richard the Third, is one of the most beautiful men that I know, physically and spiritually and I've always wished him the best and now here we are with this gaggle of beauties in Lord of the Rings who were all delightful. I woke up on the New Zealand flight, took a sleeping pill, went to sleep then woke up in the same room on this flight as Orlando Bloom, Liv Tyler, Elijah Wood and Viggo Mortensen and I thought 'Wow, aren't I the luckiest man in the world?' "

LORD OF THE RINGS - THE RETURN OF THE KING opens on boxing day.