MARSHALL KENNEDY AND BENJAMIN BUTTON.
Frank Marshall and Kathleen Kennedy, The Curious Case of Benjamin Button Interview by Paul Fischer.
Frank Marshall and Kathleen Kennedy are two of the most powerful and prolific producers in Hollywood, dating back to the early days of Speilberg [Marshall produced the original Raiders, while Kennedy worked on a little known alien film called E.T]. Over two decades later the pair is still growing strong as producers of the golden Globe-nominated The Curious Case of Benjamin Button, with Brad Pitt in the title role of a man who ages backwards from the end of World War 1. The pair spoke to Paul Fischer.
THIS HAS BEEN AROUND A VERY LONG TIME I UNDERSTAND.
FRANK MARSHALL. A long, long time
KATHLEEN KENNEDY. This was 18 years ago. It was initially bought by Ray Stark . . . Ray had it for his own company and then there was an early incarnation when Steven and Frank and I had Amblin, they brought to us, and Steven toyed with it for a bit, and then several years after that, when Frank and I formed our own company, this was near and dear to our hearts and no one was doing anything with it, so we acquired the rights at that point for ourselves, and continued the development process for 18 years, and ironically David Fincher on his own - separate and apart from us - had an read an early draft of the script about 12 or 13 years ago, and he too had sort of stayed intrigued and interested and always kind of wondering what was happening with it. It really wasn't until Eric Roth came on board and did a draft that David read it and said, I want to do this. And then it all started to take off.
FRANK MARSHALL. And it was really because we had taken it with us to Paramount, Sherry Lansing.
KATHLEEN KENNEDY. Sherry loved it.
FRANK MARSHALL. And we kept pounding away. How do we have a crack at it.
YOU SAID AMBLIN WAS GOING TO DO IT. HOW DIFFERENT A FILM WOULD IT HAVE BEEN HAD STEVEN DIRECTED IT. IT SEEMS IT HAD SPIELBERGIAN MOMENTS. WERE YOU EVER THINKING OF GETTING HIM TO TRY TO DO IT?
KATHLEEN KENNEDY. Sure. We try to get Steven to do everything (laughs). Actually Steven and I talked a lot about this, and I think - it's funny, I was just on the phone with him today, actually. He just recently saw it and he said to me right away, "you know what? The brilliant thing is that you let David Fincher do this. The fact that David could approach this in a way that is not overly sentimental is what really gives it its power. I think Steven questioned it in himself, whether or not he would have approached it in the same way. He thoroughly appreciated what David had done.
YOU'VE WORKED WITH A LOT OF DISTINGUISHED ARTISTS. DID YOU HAVE EXPECTATIONS OF FINCHER AND HOW DID HE SURPRISED YOU?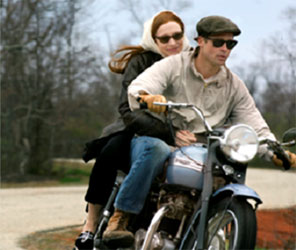 KATHLEEN KENNEDY. I've always loved what a meticulous filmmaker he is. Every film he's made, at least from a filmmaking appreciation, I've just always loved what he's done. It was clear from the outset he was going to approach this movie in that way, and he raises the bar for everybody, so every single person that comes in, whatever it is they're doing, whatever their participation in the movie, he's very demanding but in a way that I think every single person on this film is so proud of what they did, so becomes extremely rewarding.
FRANK MARSHALL. He's demanding for the right reasons, not unreasonable. He's a perfectionist. He wants to get it right and he wants his vision to be perfect. I admire that.
WHEN YOU DO A FILM LIKE THIS, ARE THINKING ABOUT AWARDS PLACEMENT?
KATHLEEN KENNEDY. No this is a big budget movie, and the awards are a great adjunct, but we need to open the film. We need to hopefully find an audience, and that is really much more of a concern on a picture like this when you set out. You know you're taking risks because you're moving outside of the mainstream of what's getting made today. And we knew we were returning to almost a kind of old-fashioned, big Hollywood epic that wasn't necessarily going to have things boiling up every 10 minutes. And right away that's a challenge. So those were much more what we were talking about there and what we're still talking about in terms of getting the movie positioned and making sure people know what it is, and understanding -
FRANK MARSHALL. It's hard to tell people what this movie is in 30 seconds.
KATHLEEN KENNEDY. It's really hard. Just creating television commercials has been extremely difficult because to do anything less than a 60-second commercial, about the only thing you can try to tell people is that he's aging backwards. No one really understands what that means.
IS IT BOTH A CHALLENGE AND A GAMBLE?
KATHLEEN KENNEDY. Yes, challenge and a gamble.
HOW MANY WRITERS DID YOU GO THROUGH?
KATHLEEN KENNEDY. Really not a lot. Primarily Robyn Swicord over a majority of those years, and we brought in a couple of people who tried a draft, and that was it. Eric was the next major writer who did several drafts.
WHAT DID HE DO THAT WAS DIFFERENT.
KATHLEEN KENNEDY. Well, Robyn had done a spectacular job. I give her credit for being the one who took the short story and really understood how to move off the short story into a much more expanding universe. Eric not only focused on the love story - he made that the core of the piece - but he recognized this was the accumulation of small moments that make up a person's life - those things that you may not even at the time they're happening realize the effect? They're going to have on you. That was what really made his storytelling very unique.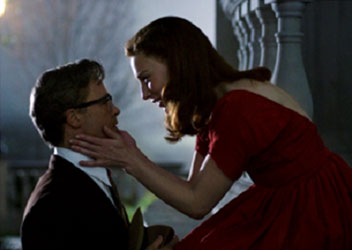 I READ THE ORIGINAL SHORT STORY RECENTLY. IT'S DEFINITELY DIFFERENT FROM THE SCREENPLAY. AT WHICH POINT DID YOU DECIDE TO COMPLETELY DEVIATE FROM -
KATHLEEN KENNEDY. That was decided right at the beginning.
IT WAS ALWAYS THE INTENTION TO SET THE PIECE DURING WORLD WAR 1
KATHLEEN KENNEDY. We actually set it a little bit further into the 20th Century, but yeah, that decision was made quite early.
FRANK MARSHALL. The original script was also kind of a history of jazz.
KATHLEEN KENNEDY. Because Fitzgerald was writing during the jazz age.
FRANK MARSHALL. It was really about going through time and the historical perspective rather than about the characters themselves and what they were experiencing.
CASTING WAS OBVIOUSLY CRUCIAL. WHAT ABOUT BRAD'S INVOLVEMENT?
KATHLEEN KENNEDY. Because Fincher and Brad have this long association with each other -
FRANK MARSHALL. First choice.
KATHLEEN KENNEDY. - and Brad immediately responded to the material, and obviously when Fincher got involved, he said, absolutely, I want to do it. And I think the only resistance that he had and any actor would have was the realization that even though there's a lot of CG work in this, there was a lot of sitting in a chair, waiting for makeup.
FRANK MARSHALL. Brad's chief concern was that he could do the whole character -
KATHLEEN KENNEDY. - from beginning to end. He didn't want to start in the middle of the movie.
FRANK MARSHALL. And David lied and said oh yeah, I know how to do that.
KATHLEEN KENNEDY. There were people, department heads, who actually sat and turned down work for 3 or 4 years to do this movie.
FRANK MARSHALL. Because we were going forward, and then Zodiac came along, and they wanted to do that first . . . so we postponed and these people who were ready to go on Benjamin waited. Then Katrina happened and then we had to gear up again. Then, actually, Katrina was not in the original script of Eric's.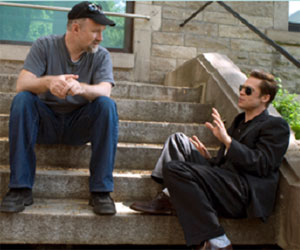 TALK ABOUT HAVING BRAD, A STAR MARRIED TO A MOVIE STAR IN THIS AND THE RAMIFICATIONS.
FRANK MARSHALL. Well, yeah, it adds its complications. You can't just -
KATHLEEN KENNEDY. I think it was the interesting thing that Brad and David spent a lot of time talking about. I think David would say that one of the biggest challenges was making Brad an everyman, that the need to shed that kind of movie star persona - I think it's very difficult for any major star. I think he does that very effectively. You really do stop thinking about him as Brad Pitt and quickly just start thinking about him as Benjamin Button.
HOW IS THE FINANCIAL CRISIS AFFECTING THE INDUSTRY?
KATHLEEN KENNEDY.I think we're all watching it day by day.
FRANK MARSHALL. . . .Take no more private jets . . .
KATHLEEN KENNEDY. I think it's scary for everybody. It's definitely scary.
FRANK MARSHALL. Which is why we're really supporting this movie because we feel that6 these kinds of movies need to get made as well, as well as the tentpole, comic book superhero movies, that movies with a story that have a sweeping arc to them still can be made, because the studios are looking for that home run every time andn they want it to be easy and they want it to be a no-brainer. It's Spider-Man or Batman or it's Jason Bourne. It's much more comfortable for them in this environment.Cause they're looking at their bottom line now with a big corporation. They're not just a movie studio.
I THINK THE RESULT IS THAT THEY'RE SHUTTING OUT A LARGE CHUNK OF THEIR POTENTIAL AUDIENCE.
KATHLEEN FRANK MARSHALL. We agree. It gets very narrow.
WHEN ARE WE GOING TO GET OUR FIRST LOOK AT TIN TIN.
KATHLEEN KENNEDY. We're shooting all the capture beginning in February.
THERE WAS ALSO AN EXCITING PRESS RELEASE ABOUT A LONG-TERM BOURNE DEAL. YOU WERE NEVER REALLY TIED TO THE BOOKS . . .
FRANK MARSHALL. No. We have access to all the Ludlum story ideas so we're going to make the fourth movie.
MATT SIGNED ON?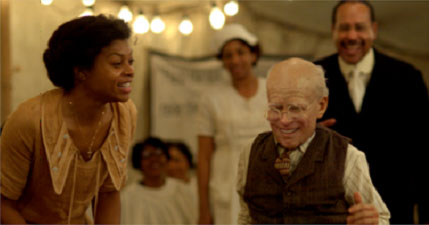 FRANK MARSHALL. No, the only person who's signed on right now is the writer and me. We have to get a good script and then Matt and Paul Greengrass
AT THE LAST PRESS JUNKET HE WAS DETERMINED THIS WOULD BE IT.
FRANK MARSHALL. Oh, I know that feeling.
WHAT ABOUT THAT RECENT BOOK THAT CAME OUT, THE BOURNE BETRAYAL?
FRANK MARSHALL. No. The Bourne Betrayal was written by a friend of Ludlum's . . . but it had nothing to do with us.
YOU'RE NOT INVOLVED WITH ALL THESE GHOST-WRITTEN LUDLUM BOOKS.
FRANK MARSHALL. We wanted to stay true to the original character and the original books.
YOU HAVE A THINK TANK WORKING ON TITLES? The BOURNE BLANK?
FRANK MARSHALL (laughs). Well, there are a lot of jokes, you know. Bourne Again. Bourne Yesterday. Bourne Free. Bourne OnThe Fourth. I actually wanted to do that, release the movie on the fourth and call it Bourne On The Fourth.
ANY BOOK OF LUDLUM'S YOU'D LIKE TO DO?
FRANK MARSHALL. Actually, there is - the Parsifal Mosaic is one that we like.
ANYTHING ON JURSASSIC 4?
KATHLEEN KENNEDY. No.
WHAT HAPPENED?
FRANK MARSHALL. The original stories are hard.
KATHLEEN KENNEDY. When Crichton passed away, I sort of felt like maybe that's it . .
WHAT ADVICE WOULD YOU GIVE TO PRODUCERS WHO WANT TO MAKE IT BIG IN HOLLYWOOD?
KATHLEEN KENNEDY. The one thing I always associate with success, and I wouldn't apply it just to us, but to other people that we work with - everybody really works hard. They spend an enormous amount of time working on the craft of what they do. And I think there's a tendency for people to think it looks easier than it is. You have to love it because it just takes an enormous commitment of time and energy. Both Frank and I have different stories of how we started out. I actually started out as a football camera operator down in San Diego.
FRANK MARSHALL. I didn't know I wanted to be in movies.
KATHLEEN KENNEDY. And I've always said that I think you could line up producers in the room randomly and they all have a completely different story, so there are many different ways to break in, and once you break in, it's just a lot of hard work.
FRANK MARSHALL. And then do your best. If you're making the coffee, make the best coffee. Collating the changes, collate them.
FRANK, WILL YOU DIRECT AGAIN?
FRANK MARSHALL. Yes.
The Curious Case of Benjamin Button
Cast
: Brad Pitt, Cate Blanchett, Taraji P. Henson, Julia Ormond, Jason Flemyng, Elias Koteas, Tilda Swinton.
Director
: David Fincher
"I was born under unusual circumstances."
I was born under unusual circumstances. And so begins The Curious Case of Benjamin Button, adapted from the 1920s story by F. Scott Fitzgerald about a man who is born in his eighties and ages backwards: a man, like any of us, who is unable to stop time.
We follow his story, set in New Orleans from the end of World War I in 1918, into the 21st century, following his journey that is as unusual as any mans life can be.
Benjamin Button, is a grand tale of a not-so-ordinary man and the people and places he discovers along the way, the loves he finds, the joys of life and the sadness of death, and what lasts beyond time.
"The Curious Case of Benjamin Button"
In Cinemas December 26th 2008.


Trailer
www.benjaminbuttonmovie.com.au