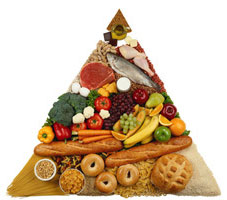 There is technically no foods that breastfeeding woman must avoid. However some foods can cause mild reaction such as spicy foods, cabbage, chocolate and foods high in C concentrate. It will depend on your own body and the sensitivity of your baby.

Foods such as cabbage, garlic, chilli & curry may cause your baby to experience discomfort with wind. Although there is no research to support this, centuries of mothers will agree that keep these foods to a minimum if you want a good nights sleep. Some strongly flavoured foods may change the taste of your milk, although babies enjoy a variety of breast milk flavours, if you baby suddenly becomes fussy at the breast after you eat particular foods (for example garlic) you be best to avoid or tone down that food while breastfeeding. However you baby's tolerance may improve as he/she gets older so you may be able to re-introduce that food.

Other foods & drinks to watch out for are; pineapple/juice (being the worst offender) and other vitamin C rich fruits such as oranges, tomatoes, grapefruit and lemon, that can cause your baby to get a nappy rash. If you think something you are eating is affecting your baby, you may need to do a bit of detective work to figure out the cause of the sensitivity. If you are not sure, try cutting the food out of your diet for up to a week to see if things improve. If avoiding the food causes a nutritional imbalance, seek professional advise before removing from your diet.

Moderate your caffeine intake, a small amount is fine, but too much can interfere with your baby's sleep, or make him/her fussy. Keep in mind that caffeine is found in some sodas, teas, and over-the-counter medicines, as well as in coffee. Having an occasional social drink will not hurt your baby, but it's not encouraged as it can cause restlessness & unsettle your baby during the night. Always keep everything in moderation.