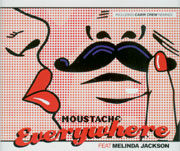 TRACKLISTING:
1. Radio Edit
2. Cabin Crew Radio Mix
3. Extended 12" Mix
4. Cabin Crew Club Remix
5. Cabin Crew Dub Mix
6. Remix

BIO:
What will, without a doubt be the next massive crossover dance single... the hairy ones 'MOUSTACHE' deliver a familiar hook from Fleetwood Mac's immortal 'Everywhere' & turn it into a modern feel good dance anthem.

Essentially made up of producers: Richard Sanford (Producer/Keyboards & Guitars) & Michael Di Francesco - (Producer/Bass & Keyboards). Michael Di Francesco met Richard (Delta Goodrem's Musical Director) whilst working as Delta's bass player on Delta's live shows (ARIA Awards, AVMA's etc..) Michael & Richard found that they had many things in common musically. Michael invited Richard to meet him at his partner's (Harris Meitanis) iSPY Records offices & studio, to lay some tracks down and see if they would gel in the studio as they had done in session.

They instantly clicked, with Richard taking advantage of all the vintage analogue synthesizers at his disposal, within the studio that had previously churned out hits for: The Platinum Groove Project's #1 Club song with 'True Love' 2001 & Elektrik Force #1 ARIA Club Chart (Hyp-no-tize & Coolin' At The Bar) 2004/2005

Amongst themselves they have worked on & for people like: PNAU, Craig Obey, Sneaky Sound System, Disco Montego, Rockmelons, Paulini, Steve 'Silk' Hurley & Chance.

'Moustache' show how well a cover version can be done & vocalist Melinda Jackson shows how well she can channel Christine McVie.

Listen once & try not to sing along for ever...

Already causing waves overseas & signed instantly to label of the moment 'OXYD' in Italy & a host of other international labels. This local production will only serve to further enhance our local scene's reputation..

Complete with brand spankin' new mixes from Cabin Crew & a funky filmclip, 'Moustache' are sure to be hair for a long while!