Bana Sees Green
Eric Bana/Hulk Interview by Paul Fischer in Los Angeles
Eric Bana is the latest Australian seeking Hollywood gold and The Hulk may well be his ticket to superstardom, but he'd still rather live in Melbourne. PAUL FISCHER reports.
Stage 12 at Universal Studios is a long way from Melbourne, but sitting in this soundstage, Aussie Eric Bana is feeling relaxed. Sporting a slight beard and longish hair for the epic film Troy, which he is in the middle of shooting, the 34-year old actor remains unconcerned at the level of stardom he may attain following the release of Hulk, this year's anticipated Ang Lee-directed take on the classically dark comic strip. "On the one hand, it just provides you with further great opportunities, professionally, which is what we all dream of. To me, the greatest part of it is having choice and being able to find great roles like the one I'm shooting right now. Personally it really doesn't have much of an effect because I still live home in Melbourne and as you know I've been recognized at home a long time and they're probably sick of the sight of me so I'm easily able to lead a very normal existence in Australia."
In Hulk, Bana plays scientist Bruce Banner, experimented upon in genetic research by an arrogant father [Nick Nolte] the outcome of which leads to his rage-induced incarnation of the monolithic Hulk. In landing the role, Bana says he was not surprised that director Ang Lee cast an actor, rather than a name star, "but I WAS surprised that the studio were going to give him the power to NOT cast a star. But when you think a lot of his movies, he has never really cast a lot of major superstars in a lot of the roles, but has generally gone dor actors, so if anything, I was obviously humbled by it and flattered, but it actually gave me a lot of confidence because it made me think that there was a reason why he's chosen ME, and without knowing that reason, I'll just go in and do the work and give everything I can." Far than just another comic book character, Bana says that part of the attraction of portraying this version of Bruce Banner, "is that, as an actor, there are no free moments. The kind of base level, for him, is someone who has wheels spinning, mentally, and we can see that on his face at all times, which means you're never let off the hook. So I knew it would be a good workout", he says, smilingly. Bana says that it's not difficult to identify with Banner. "I think we can all relate to the elements of Bruce that as a person surviving in society, there are elements of ourselves that we don't reveal or there are things that we may want to say or do that we simply don't."
Bana admits that it when it comes to comic books, he "was a bit of a late bloomer with all that stuff. I wasn't a big comic book READER as a kid, though I enjoyed the television shows from Hulk to Bionic Woman, but like a lot of people, I discovered that whole Marvel genre later in life and find it very interesting. There's very little mythology in modern day society and I think subconsciously, that maybe part of the attraction."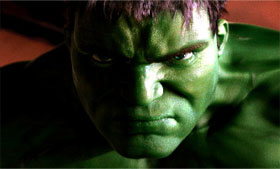 As Bana's once unknown name outside of Australia becomes a force to be reckoned with, all of this Hollywood stuff seems eons away from his Melbourne upbringing. His father has been working at Caterpillar, an American tractor company, for 40 years, involved in logistics while his mother is a retired hairdresser. Yet with no theatrical background to speak of, young Eric was always interested in acting, though conceding "I never for a second envisi oned that I would end up here but I most definitely felt as a child that this is what I wanted to do. Ever since I was just past being a baby, I did mimicry, characters and impressions and had no idea that was useable in a professional sense until I got much older. Then it slightly kinda dawned on me, when I was introduced to movies as a young boy and saw some films that really transported me and I thought: Well maybe this skill is a home for those skills." He revelled in the classic Australian film Mad Max, but though it was his ultimate performance in the hard-edged Chopper that would win him international acclaim, Bana began his career not as a dramatic actor, but in stand-up comedy. He says that comedy was a way into the medium, admitting "I don't have in me a desire to be a joker and I've never been one to want to make a room full of people laugh unless they are friends and I like doing impressions and stuff. But to me, it was a medium. My stand-up comedy was never really jokey, but more anecdotal and storytelling which is probably why sketch-comedy to me was a much better fit and where I really kind of found my feet." Those feet were found, he recalls, after leaving school "when I was kind of bumming around. I had done a bit of travelling and a few odd jobs and was really professionally at a loose end. I knew I had wanted to do acting, I had absolutely no idea how to go about it and I was so bloody arrogant that I had no interest in going to drama school." He was in his early twenties at the time and was suggested that he try his hand at stand-up comedy. "Now in my mind I thought everyone was as good as Richard Pryor, so I thought I didn't have a chance. Then they took me to a stand-up comedy venue and there was one person who was great, and the rest frankly were shithouse. I thought: Are these people actually are getting paid? And my friend said not only are they getting paid they are travelling around the country doing this. So I tossed in my day job and said I'm going to have a go at this comedy thing." He began to work on characters, using his comedy as a framework. "I wasn't angry enough about the world to be one of those trailblazing comics, which is probably why the sketch comedy for me probably was a better fit."
Bana's various TV shows led to his feature debut playing the hilarious Con Petropoulous in The Castle, and then Chopper changed his life. Ang Lee and the producers of Hulk all saw Bana's rage-filled performance and knew they had found their Banner. The rest, as they say, is history. Eric is currently starring in the period drama Troy, admitting that he has "not had as much fun since I was in school." Working opposite Brad Pitt as Hector, Bana can't help smiling when talking about Troy. "It's one of those very rare moments I think in your life, professionally, where every single thing comes together. It's without a doubt the best script I have ever read and there is a good reason for that because the story's been around for thousands of years and they survive." Eric says that he has many a fight scene with Hollywood star Brad Pitt, but insists that he's "trying my best not to disfigure him."
This father of two is looking forward to taking some time off back in Australia with his wife and two young children, all of whom are with the actor when he's working in many exotic locales. As for returning to Australian movies, he's happy to do so under the right circumstances. "I don't see that it is my duty to do an Australian film for the purpose of doing one, because quite frankly they don't need it and if we were all to go back there and star in the movies, we would actually be doing the industry a disservice. I think that The Nugget proves that you don't need our batch to make Australian films any more special. The talent pool there is so deep as you know so yes I would love to find another Australian film but when I do it will be because it's a great project not because I feel as though it's my national duty. It's gotta be for the right reasons and they just don't need me. I'd like to feel that they do but I just don't feel that right now."
HULK opens on June 26.
Order Now from Dstore
Order Now from Top Shop
Order Now from Chaos
Order Now from Sanity